There are co-champions in every division.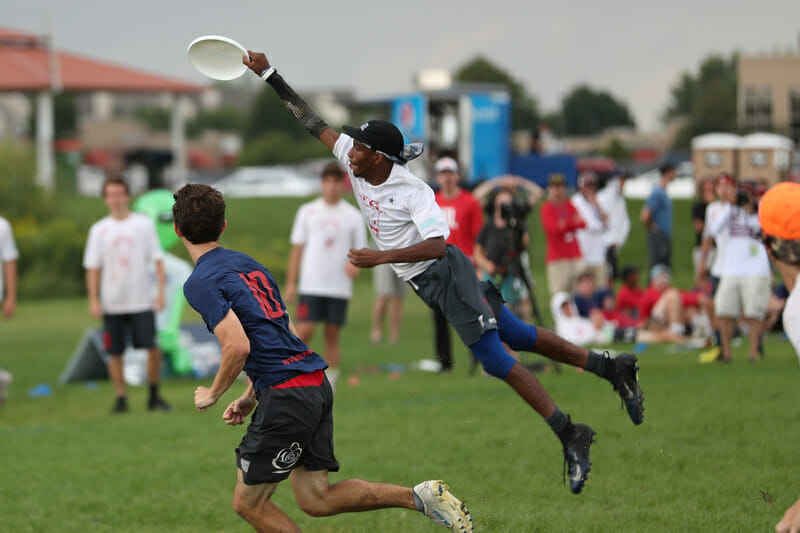 BLAINE, Minn. — The 2019 Youth Club Championships finished with co-champions in every division after thunderstorms first delayed the start of the finals before ultimately causing them to be canceled.
The finals were originally scheduled to begin at 2:45 PM Central time but were moved up to 1 PM before the start of competition on Monday due to concerns about the weather. Unfortunately, that alteration was not enough. Just before finals were set to begin, a large thunderstorm moved directly over Blaine, delaying competition for over two hours as torrential rain, heavy wind, and hail buffeted the field complex, destroying tents and blowing over portapotties.
Finals began at 3:15 PM, but with a hard cap at 4:30 PM (the originally scheduled end time). But a second thunderstorm hit Blaine 30 minutes later, and USA Ultimate canceled the rest of the tournament, since many teams had flights to catch on Monday evening.
"Having to cancel the finals was obviously a difficult and disappointing decision for everyone involved, but given the circumstances, and with the health and safety of participants being a top priority, there was unfortunately no other alternative," said USAU Director of Communications Andy Lee. "The original schedule called for the tournament to end at 4:30, so once that second delay occurred at around 3:45, it became clear that there was no way to continue playing and accommodate teams' logistical and travel plans – flights, long drives, etc. – that were made with that end time in mind.
"After monitoring the forecast Sunday evening, into Monday morning and throughout the day, we adjusted the competition schedule accordingly – starting earlier, and then shortening the finals by 30 minutes after the first delay – but unfortunately Mother Nature just did not cooperate. It's unfortunate and disappointing to say the least – particularly for all of the competitors – and it's not the way anyone wanted a championship tournament to be decided."
Because none of the games reached halftime, the game results were vacated and the teams that reached the finals were named co-champions. Here is a list of the winners:
U20
Boys: Atlanta ATLiens and Boston BUDA
Girls: Triangle (NC) Warhawks and Maine Riptide
Mixed: Seattle Bankroll and Indianapolis INcognito
U17
Boys: Oregon Eruption and Seattle Horizon
Girls: Seattle Blossom and Atlanta rATLers
All of the finalists were undefeated except Boston BUDA, who lost in power pools to Atlanta 15-10, and Indianapolis INcognito, who lost in pool play to Seattle 15-5.