With all of the buzz about Washington DC Ultimate, top men's club team Truck Stop has been a bit of an afterthought. Can they change that this season?

When it comes to the club division, Washington D.C. Ultimate has been all about Scandal in 2013 and 2014. The defending champs of the women's division made a name for themselves on their run through the competition last year, and all eyes have focused on their early season struggles to hold up the title while they attempt the elusive "double-peak" season at WUCCs and Club Championships.
Other District Ultimate buzz surrounded the MLU's DC Current, the unquestionable winners of the league's second season. Still more news has flooded us as the AUDL's DC Breeze made some high profile out-of-region signings, added a new co-owner, and made a major improvement on their inaugural season.
So what about Truck Stop, the area men's club team?
An elite group of competitors has helped Truck Stop become and remain a Club Championships-bound team nearly every year since their founding in 2005. They boast top 10 finishes in four of those nine seasons, though they have never won a title. With the inception of the Triple Crown Tour last season, Truck Stop became the Mid-Atlantic's undisputed regional kings — a club in a slim region that at their current pace will never be forced to play in Sectionals again.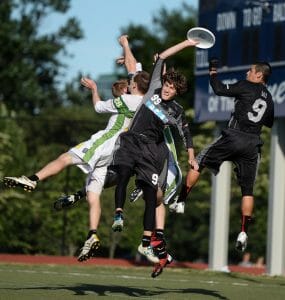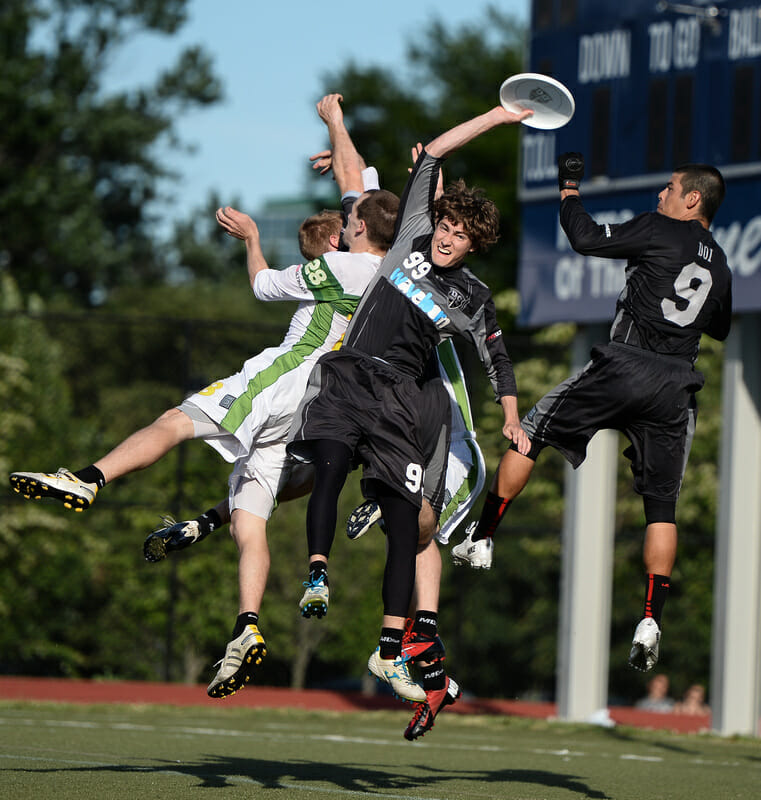 Yet, even with a decade of play on the national stage and talent coming from two semi-professional teams, Truck Stop has rarely cracked the upper echelon. In 2013, Truck finished second-to-last in Frisco after being bounced from the bracket in the first round, losing 13-14 to Atlanta's Chain Lightning. They finished the weekend 2-4 — a disappointing result after blowing through the Mid-Atlantic region.
In 2014, results improved greatly for both the MLU and AUDL franchises, but the question remains: Can the club team translate the success from the two semi-pro leagues?
Blowouts in Pro, Double-Game Points in Club
I had a chance to follow Truck Stop through Sunday morning at the Chesapeake Invite, a unique experience for Truck, since they were using it as a tryout. Saturday, despite running very open lines, D.C. pulled out some impressive wins: second half comeback against Chain Lightning; win for Truck 11-10. A 13-7 win over a depleted Sub Zero. Another second half comeback and win against Florida United. The blemish on the day? An 11-9 loss to Michigan High Five. And Sunday morning? They caught eventual tournament champions and early season semis-hopeful Chicago Machine snoozing with an early lead and pushed the game to the wire, before losing on double game point (12-11 Machine).
A look at the scores will tell you that this year's Truck is up and down. A look on the field will tell you that they can scrap with just about anyone.
The Truck Stop of 2014 will be a team that is able to plan well and execute adjustments in-game. Being a dangerous second half team, even in a tryout phase, says a lot about the ability of their personnel to trust each other and stick to a game plan. What Truck may have this year, that they haven't in the past, is focus and cohesion, especially at the leadership level.
New Faces, New Confidence
Veteran captain (and well-known deep threat) Jeff Wodatch is joined this year by Jonathan Neeley and David Cranston, both rookie captains on the DC squad. They'll be coached by Will Smolinski, who coached the team last year, but was unable to attend many tournaments. When Neeley and I spoke by phone earlier in the summer, he was confident that Smolinski's greater availability this year will have a huge impact. "This year, knowing [Smolinski] was going to be in a bigger role, he was able to talk with his family and set his schedule sooner," he said. "He'll be able to travel to tournaments with us, which makes a big difference."
What's more, Smolinski will bring his experience from two years coaching the DC Current's D-line to Truck Stop, adding a angle of focus in both practice and tournament planning that the club may not have been able to rely on before. "Keven [Moldenhauer] and Will were laboring over practices all week," said Neeley when we talked about the coaching core's experience in the MLU.
And when we talk about new faces in DC, one can't forget Peter Prial. "It's very hard to limit Peter," Neeley explained. The former Ironside/Whitecaps player is a forced to be reckoned with downfield, and Truck will look for Prial to gain big yards, taking pressure off their backfield. "Having [Prial] downfield, he's just another person that really gets open…over the course of a game, that can mean that Alan [Kolick] only has to get open for fewer resets over the course of a point," added Neeley.
Another huge key for Truck Stop: the backfield dominance of Alan Kolick. Anyone who watched a DC Current game this past season saw Kolick absolutely command the backfield, racking up major stats in all tracked MLU categories, including points played. While Kolick is currently out with a hand injury from Sunday at Chesapeake, Truck leadership expects his healthy return for the series in September.
In the absence of Kolick, Markham Shofner is more than ready to take over. With the hubbub around Kolick's injury taking up much of the airtime and print space in the week between his injury and the MLU championship, Shofner took over the DC backfield and won himself Player of the Game recognition. With his quick cuts and bladey hucks, Shofner will continue to present a difficult matchup for all competitors this season.
Translating the Success, Overcoming the Reputation
Between the newcomers in both leadership and on the field, Truck is hoping to bring their players' cohesion from the Current and the Breeze and shirk a longstanding reputation in the Ultimate community of having the right pieces, but not putting a complete season together. "Everybody's excited to play together, there's a good vibe, and a good willingness to learn together and build something…to continue the success had in the pro leagues," Neeley told me.
"There is a lot more buy in that Truck's status quo was not cutting it and not allowing this team to play to its full potential," said Smolinski, echoing Neeley's sentiments. "To me, that is what is driving a lot of the change, including being willing to learn something or try something new. That buy in did not come easy, and it has been a lot of work."
It's still a little unclear how well experience in the professional leagues manifests itself on the club field. Beyond readjusting to the narrower fields and taking back the responsibility of making your own calls, other intangibles and more nebulous factors have slowed teams transitioning into the Triple Crown Tour. "I think it's a city to city thing," said Neeley. "For us, the pro scene has been great because of the continuity that it builds." For Neeley, a captain who sees playing as a team as a skill in itself, the semi-pro experience has to be exciting.
As far as planning, Smolinski admitted that it would be impossible to plan tournaments for Truck Stop to the same depth allowed by the MLU's single game format. "…I think we have expanded our vocabulary and theory to a point that Truck as a team can be much more clear about what we want to do, what individuals roles in that are, and then make adjustments," he said.
They certainly have a good fundamental base to work from. The DC Current defense was very efficient later in the MLU season, and especially during the playoffs. Considering that Truck Stop had trouble taking advantage of break opportunities last year, the core of the team now has a season behind them having eliminated that issue.
Just Getting Started
Results from the Chesapeake Invite and more recently, the Colorado Cup, suggest that the team is still finding its identity in the club season. PoNY and Truck Stop played through to double game point in Colorado — yet another close game — with the New York squad edging out DC. Sub Zero tasted revenge against Truck in the same weekend, winning a 14-13 game after their loss to DC at Chesapeake. The difference? Truck Stop gave up some of their closer games in the second half at Colorado.
Smolinski was not in attendance in Colorado, and was debriefed by captains after the weekend." My understanding of what happened in Colorado for all those close games, is they didn't know how or what to adjust to be more efficient…those close games are the reason we aren't winning on Sunday.  By the time we reached quarters at Colorado, we had played 20+ more points than our opponents.  To win on Sunday we need to be cleaner on Saturday and FINISH games."
Truck Stop will now look ahead to Chicago Heavyweights. At press time, DC holds the fourth overall seed in the top tier at the tournament, landing them in Pool A — easily the most competitive pool in the men's division. Truck will face Boston Garuda, a feeder to Ironside, Columbus Madcow (who they beat at Colorado Cup, 13-9), and Chicago Machine. One more opponent remains unannounced in the pool, but Truck already have their work cut out for them against two scrappy competitors looking to break into the Elite Flight, and one looming matchup against a semis-favorite.
What to Look For
While he didn't share the exact systems, Smolinski said that Truck Stop has been working since making their roster after Chesapeake to implement an offense "that is not 'stack first.'"
"Our cutters will have a lot more freedom (and responsibility) to cut and clear according to the rules of whatever package we are running," he said. If Truck is able to get their offensive systems clicking, the combined talents of big cutters like Prial and Wodatch will benefit greatly from even more control of downfield space.
On defense, Truck will continue to try and create short-field turns with stifling handler defense. "We want to be scary on dump D: Physical, smart, coordinated, and aggressive," said Smolinski. With so many tight games already under their belt, and too many points played, the team will focus on this backfield work — looking to score quickly and easily by giving themselves shorter fields and less cutting required to score.
The pieces may still be coming together, but Washington D.C.'s Truck Stop might just be able to instill their newfound confidence and cohesion into their core. If this team has yet to look different to some so far this season, the combined efforts of an experienced D.C. Current coaching staff1 and a strong defensive line might turn some heads in 2014. The question is, will they be able to execute their new systems in time for a deep run in Frisco?
---
Current Head Coach and Truck Stop stalwart Keven Moldenhauer is on hand as a rostered player for Truck ↩