Portland Schwa has had disappointing finishes at the last two National Championships. Could a younger roster help them improve this season?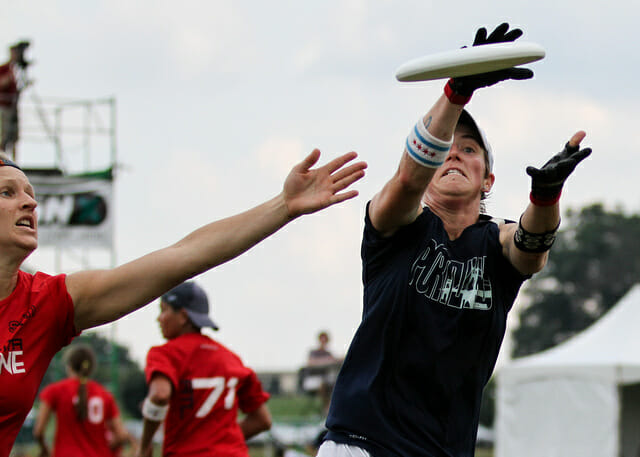 This article was written by Beth Daviess.
2013 looked like a promising year for Schwa, the elite women's team based in Portland, Oregon. It began as a year of big additions, which included Oregon Fugue heavyweights such as Adie Bovee and Kimber Coles, as well as stars from outside Eugene like Emelie McKain. But despite this influx of talent, Schwa failed to give us much to talk about in their Nationals appearance, placing 15th (out of 16), their lone win of the tournament coming against Nova in the game for 15th place. Their most exciting performance came against Boston Brute Squad in pool play with a somewhat tight 15-12 finish. This was an improvement, however slight, over 2012 which left the Portland women winless in Sarasota.
This season, talent from Eugene and elsewhere has poured onto the fields of Portland once again, including Oregon Callahan nominee Sophie Darch and her teammate Jesse Shofner (1st team all-region), former Washington Element rival Amanda Kostic (USA U-23 National Team), and both Northwest and Ultiworld Freshman of the Year Hayley Wahlroos. Wahlroos and Shofner both demonstrated themselves as star cutters and lock-down defenders at college nationals in May. As powerful throwers, Kostic and Darch will step into the large holes left by the departures of Kelsey Colpitts, Jill Hutchinson, and former captain Bre Austin.
Schwa's roster is teeming with stars from highly talented college rosters, many of whom have also made their mark on the international scene at U-23 Worlds. Will this be the boost Schwa needs to step out of pool play, or will this young team need another year (or two) to find their groove?
Schwa captains seem unsure as well: "It's hard not to call it a 'building year' when you turn over half of your roster," says captain Emily Flanders. "We lost some ballers, but we picked up some too and I like what we've been building. We're definitely looking for a better finish this season."
The season so far has been rocky. "It was a weird year," says Flanders, referring to the difficulty of the Chesapeake Invite which Schwa attended with a roster of only 15, "but it definitely gave us something to work for." At Colorado Cup, despite a larger roster and a few more weeks of practice, trouble continued with tight losses to Raleigh Phoenix and New York BENT. Close games have weighed on Schwa this year, who fell against Phoenix multiple times. But Flanders and fellow captains Sarah Read-Brown and Katie "Nij" Weatherhead refuse to be dissuaded: "[Phoenix] had our number this season. We'd love to see them again at Nationals."
According to the team leadership, Schwa's youth could also be a mixed blessing. "We're the youngest Schwa team I've been a part of," says Flanders. "We still have great players with a lot of experience in Trish Thoms, Delia Chiu and Cate Roscoe. The older players bring poise, maturity, quality play and examples of what it takes to be a good teammate. The younger players bring firepower and fearlessness. It's a really fun combo."
Fun and dangerous.
Of course, there still remains a stack of older, more seasoned women to hold everything together. Chiu, who got her start on Stanford Superfly, has also played at the international level with the German National team. Thoms returned to Schwa this season after a brief affair with Portland Stormborn, a newly formed Masters team. Other veterans grew through the Portland scene and have stayed with Schwa through many roster turnovers and are unfazed by minor upheavals.
Looking towards the postseason, coaches Danny Quarell and Mike Knapp will take Schwa into some tough competition. With four teams solidly in the top 15, the Northwest landed 4 bids, giving Schwa perhaps the best Regionals outlook the team has ever seen. Seattle Underground, sitting at 12th, suffered a tough early season loss to the Portland women at Summer Solstice. Though both are near-locks to make it to Frisco, the parity between these teams, who have been butting heads behind the region's giants for years, should make Regionals a battleground.
Looking towards Nationals, Schwa will come in seeded higher than they have in over a decade and have to prove itself worthy of being a 3-seed team in strong pools. If they can mentally and strategically adjust to the roster turnover and capitalize on the influx of new talent, Schwa could cause some exciting upsets and get past prequarters bracket play. Schwa is nothing if not scrappy, and the Portland women want to fight their way out of pool play. Watch your backs.