Alec Surmani breaks down the Mixed Division seeding and pools at the 2014 National Championships.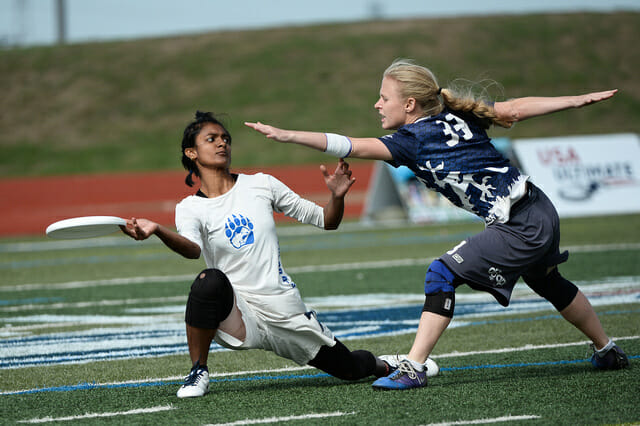 Pools are up for the mixed division, and USA Ultimate's rationale for their order seems very clear: follow the rankings.
With the exception of Seattle D'oh Abides stepping in front of Seattle Mixed after the former's Northwest Regionals victory, they're exactly the same order as the post-Regionals rankings.
First Thoughts
– I took some flak in the comments section of my seeding predictions article, with claims that I did almost no research and slopped something together. The truth is quite the opposite, but regardless, it turns out they were right. Rather than trying to parse out amidst confusing results which teams were likely to be better and thus deserve higher rankings (and admittedly factoring in my own experience watching and playing against many of the teams), I should've just gone with the rankings. Honestly can't blame USAU for doing so in a division that's terribly difficult to predict.
– Some facts from last year: Two of the top four seeds got knocked out in quarters, including number one overall seed and regular season champion, Philadelphia AMP. The tenth seed, Boston Wild Card, beat AMP to qualify for semis, and the national champion, Minneapolis Drag'n Thrust, came in as the eighth seed. Conclusion: Seeding has little correlation with results, particularly in the mixed division.
– Pool D, as it is in every division, is most certainly a pool of death. San Francisco Blackbird and San Francisco Mischief are both serious semis, if not finals, contenders. Boston Wild Card, too, despite their perplexing performance at Pro Flight Finale, is the most dangerous of the bottom seeds.
– The San Francisco Polar Bears-Atlanta Bucket and Ames Chad Larson Experience-Los Angeles 7 Figures match-ups look to be thrilling contests. Bucket has yet to take a loss this year, but also has yet to face an elite opponent. The late Thursday game will be their first chance to see how they stack up. After also enjoying a perfect regular season, 7 Figures slipped up a bit at Southwest Regionals and will be looking to return to top form early against one of the most consistent teams in the nation.
Pool A: Polar Bears, Bucket, Seattle Mixed, American BBQ
Though the one seed commonly enjoys an easy ride to quarters, that may not be so this year. While it's quite unlikely to be like last year's complete reshuffling of pool A, a swapping of the one and two seed is not out of the question. PBR will likely come out hungry and focused though—a hallmark of their strong program—seeking to wipe the memory of a disappointing fourth place finish at SW Regionals from their minds.
Looking to complicate matters is the as-of-yet untested Bucket. Loaded with talent pulled from the Men's division including former Atlanta Chain Lightning studs Dylan Tunnell, Jason Simpson, Sam Gainer, and Ben Spears, it's nevertheless next to impossible to predict how good Bucket really is, since the team hasn't played against a top 16 side once this year. Almost all of their games were blowouts, though, so don't be too surprised if they manage to upset the perennial favorites.
Seattle Mixed and ABBQ, however, will have a tough go of trying to earn easier match-ups in prequarters. Seattle Mixed (formerly Ghetto Birds) have an intriguing roster of explosive young talent and veterans of the Seattle and Portland scenes. ABBQ, while they could just happy to be there after snagging the last bid in a tough region, has been in this position before and are capable of great unity when their backs are up against the wall.
Pool B: Drag'n Thrust, Slow White, D'oh Abides, Santa Maria
As probably the easiest pool to predict, one can expect the results to fall much in line with their original seeding. A brief post-Worlds slump at Pro Flight Finale might have led some to doubt Drag'n Thrust. But their 15-6 walloping of CLX at North Central Regionals illustrated that they're not to be challenged by anything but the best. One can expect them to clean up the pool with ease.
Though they walked away champions of a bid-strapped Northeast Region, Boston's Slow White will need their best performance of the year to take down the defending national and world champions. While actually featuring two close victories over Drag'n Thrust, their showing at Pro Flight Finale was somewhat underwhelming due to big losses to CLX, PBR, and even Austin's Cosa Nostra. As Minneapolis essentially flopped against almost everybody at that tournament, Boston's overall results indicated that though they're certainly strong enough to make it to quarters, but it's tough to see them making it out without a good match-up and an even better game.
D'oh Abides and Columbus Santa Maria both appear to be in a possible situation to upset Slow White, and in Santa Maria's case D'oh Abides as well, but lack the firepower to do much else. D'oh Abides excel at wielding the chemistry they've developed between their core players over the last few years, and Santa Maria come loaded with a handful of ballers from Ohio State's national champion women's team. But both only had decent showings at Colorado Cup and have yet to prove they can consistently defeat strong teams outside their own region.
Pool C: CLX, 7 Figures, AMP, Cosa Nostra
Despite their anomalous blowout loss to Drag'n Thrust at NC Regionals, CLX still look to be the real deal. They've made it to the finals of every tournament they've played this year except the relatively early U.S. Open, where they blew a late lead over Polar Bears in the semis. Much like PBR, CLX have established themselves over the past few years as among the nation's best. There's good reason to believe next weekend will further ratify that claim.
Yet, 7 Figures have enjoyed one of their best seasons to date so far. Stacked with a diverse mixture of young athleticism and wily veterans, Los Angeles have proved throughout the year that their dangerous array of dynamic throwers and hardworking cutters can match up against anybody. Their late match against CLX could prove to be the most exciting of the day.
AMP and Cosa Nostra each come into the tournament as something of a question mark. Plagued by some key injuries like lead handler Nick Hirannet and a few disappointing performances, it's tough to know how good AMP really are when they're running at full strength. Similarly, Cosa Nostra were missing a few players at Colorado Cup and consequently faltered, only to return and make the semis of Pro Flight Finale, albeit on the back of only two wins. The two teams endured a sloppy mess of a game against each other in quarters at that tournament. One could expect a similar dogfight next week, but it's unlikely either will be able to manage an upset of CLX or 7 Figures.
Pool D: Blackbird, Mischief, Wild Card, The Administrators
In a rematch of the SW Regionals finals, Blackbird and Mischief will once again face off, though this time with a much different reward. Instead of a regional title, the two will essentially be playing to see who gets to play the loser of the CLX-7 Figures game when they all (most likely) make it to quarters. As their previous contest was the only time all weekend where a team came genuinely close to defeating Blackbird, Thursday's pool play clash will likely yield similarly exciting results.
Though coming into the season with a good amount of hype, thanks in part to their addition of ballers like Shellie Cohen, Seth Reinhardt, and Adrian Banerji, Wild Card experienced a somewhat disappointing season. After being knocked out in prequarters of Worlds by Boston The Ghosts, Wild Card nearly left Pro Flight Finale winless were it not for the seventh place game. Yet, that may not matter. Boston had a similarly scattershot season in 2013 but still managed to make semis of Nationals. If they can figure out how to apply their arsenal of weapons and reach more of their potential, an upset could very well be in the works.
Unfortunately, such hopes cannot be reasonably applied to Oregon's The Administrators. As the only team at the tournament not to finish in the top 20 in rankings, the squad doesn't look to have too much of a shot at pulling off a shocker on any of the other three in their pool. Their most impressive win was over Seattle Mixed at Kleinman Eruption. They'll need to reach a much higher level to finish above fourth in Pool D.