Top seeded Brute Squad and reigning champion Scandal are set to collide in the semifinals.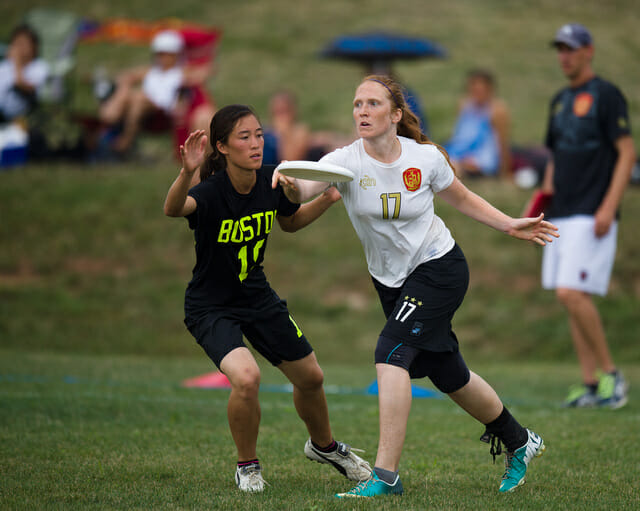 In a tournament that's gone entirely to seed, we have long expected and considered a matchup between Boston Brute Squad and Washington D.C. Scandal. The #1 and #4 seeds each have a central role in the Championship cast – the top contender for the throne and the reigning and current National Champion, respectively – and each enter the game undefeated. If you want to be the best, you've got to beat the best; Boston gets their shot.
Both squads are coming off quarterfinals comebacks that made both look like potential victims of upsets. Scandal found themselves in an 8-5 hole against Vancouver Traffic and Brute Squad was up against it when Showdown held a 13-11 advantage. Parallels continue: both teams fought back with fierce defense, both lower seeds shrank in the face of pressure, and star players made huge plays. Both teams will rally around these victories.
"We're better for it," said Boston captain Emily Baecher of the challenge they faced. She added that the team finally "found our fight", lamenting that it took that long.
Meanwhile, Scandal Coach Alex Ghesquiere painted a picture of team that also was finding the emotion and mentality that drove them to the 2013 title. Their fire was lit.
That means both teams can expect the games to play out differently than their prior matchups. Brute Squad is 2-0 against Scandal this season, having beaten them 14-10 and 13-9 at the US Open and Chesapeake Invite. Information gleaned from those run-ins will still be used, but neither team is going in taking anything for granted after having to make intense comebacks last rounds. They know even a few points of poor play can squash a semifinalist's championship hopes.
"We match up really well on Scandal," said Baecher. "It's just about bringing the defense from the start. It's more of our mental game for us."
Brute Squad is the new kid on the block and the mental game will prove to be critical for them. While they have a number of elite players who've played in some high stakes environments, few have handled a situation like playing in the semifinals of club nationals. Now the reigning champions will be lined up across them and a slow start or bouts of nervous play might not cut it.
The potential for strong winds could be a boon for Scandal. Floaty discs are excellent targets for Sandy Jorgensen, who was on the warpath in quarterfinals, Sarah Itoh, and company. D.C. has looked less attached to their zone looks this season, but are still happy to poach in lanes; no team in any division spends more time looking at the disc while playing downfield D than Scandal. On the other hand, Brute has looked disciplined in their windy performances and can excel at small ball.
It is likely this game will be decided in the backfield. The handler and handler defender matchups promise excitement. Expect to see plenty of Opi Payne on Leila Tunnell and Claudia Tajima getting to know Anne Mercier. Whoever can effectively reset the disc and hit the break space is going to have the edge offensively. Downfield matchups — perhaps Alicia White and Kami Groom — have big play potential of their own.
There's a case to be made either way. Boston's had a much stronger season. D.C.'s been here before. The #1 seed has been extremely impressive nearly all tournament. Scandal made a run just like this to win a title last year. Brute Squad is going to come in the favorite, but the women from the capitol relish the underdog role.
Can Scandal repeat the defensive mastery they showed last year on Saturday at Nationals? Tune in to find out.
The Brute Squad v. Scandal game will be broadcast on ESPN3 at 3:30 PM Eastern.