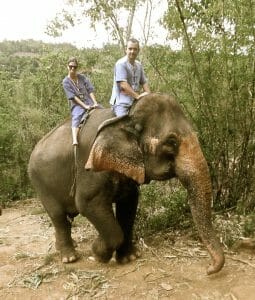 This post is brought to you by Mandarin Journeys.
To start off silly and become serious (much like the history of the greatest sport on earth), I would say that any great adventure reminds me of a push pass:
Something all too short and either the best or worst decision at the time.
In my 'career' as an Ultimate player there have been many decisions good and bad; this in no way makes me unique. Indeed this is why I've fallen in love with the sport: that I will never know what will happen next. My love affair with Ultimate for the respite it gives me from the predictability of work and the 'real world' is an obsessive desire for the unknown . . . this thrill of when a disc goes up, or when two players bid, or when the scrawny guy with a handlebar mustache and a ponytail brutally embarrasses you athletically.
This aspect of the game, this obsessive desire for the unknown seeped into me the more I grew and the more I grew with Ultimate. It lead me to fall in love with literature (the ability to create something from nothing), teaching (the ability to create knowledge from nothing), and ultimately travel (the ability to go somewhere completely new and foreign)
This is known as having a 'beginner's mind'. And while it's useful for falling in love with the world, sometimes it prevents you from seeing the world as an expert.
For my first three years in Asia (as a teacher and Mandarin student), I missed out on Meili and perhaps the best views in China because, the wayward Dharma Bums of Yunnan spoke only of Dali's Boho charms. I missed out on Hiroshima's unearthly floating Torii Gates and the incredible 'kawaii' Okunoshima because of the expat perception that only trauma's echoes awaited me there. I missed out on Battambang because "Cambodia is nothing except the temples'' and Nam Ou because ''Laos is nothing except for the temples" and Chiang Mai because "Thailand is forgetful except for elephants."
Ignorant as hell, I know, but I didn't know any better at the time. I was traveling as I played, with no expectations and spontaneity as my muse.
Now some six years after I first bought my one-way ticket to China, I find myself in an enviable position. For the past three years, I have worked for the bespoke travel company Mandarin Journeys building adventures for C-suite travelers wishing to explore the Far East. Like all of us, I am able to fondly reminisce on my youth, but I am now able to help bespoke adventure-seekers maintain the wonder and joy of a beginners mind, knowing that they can safely explore Asia  with our expert team of guides, logistical professionals and hotels for each step of their stay. Sometimes it's fun staying on the grass-floor hut of the Red Dao Tribes, other times you'd prefer the private island that tech industry leaders stay at when they wish to be utterly pampered in Cambodia.And sometimes you want both!
For the fall months of 2014 we are partnering with Ultiworld to introduce stories on Far East Ultimate, the greatest of which will be one any ultimate player can undertake: a trip to the 2015 Bangkok Hat Tournament (the biggest in Southeast Asia) and traveling with our company through Thailand, Cambodia, or any destination that interests your party afterwards. From the stunning mountains and river valleys of Sa Pa, Vietnam, to the imposing forests and brown bears of Hokkaido, Japan, the smiles of Irawaddy River Dolphins in Cambodia, or the spired ice cream cone temples of Bagan in Myanmar
. . . and yes the elephants of Thailand. Here's a sample itinerary. Come join us in Thailand for the Bangkok Hat and stay a while longer.
As we are a custom travel company, we welcome any and all travel inquiries, tournament included or excluded, Ultimate Player or non-Ultimate player. We're not the cheapest travel company, but we're also not the most expensive, and as far as I know are the only one co-managed by two former ultimate players.
Thank you ultimate, and thank you Ultiworld; we look forward to any and all inquiries for this bespoke adventure and hope no matter what that you enjoy the stories we'll be providing that have given both our G.M. and myself so much joy over the years, and perhaps inspired us both to try and 'master the unknown.'
Matt can be reached at  [email protected] or 1-734-649-5783.