Pittsburgh's offense was spectacular and led the team to a Stanford Invite title.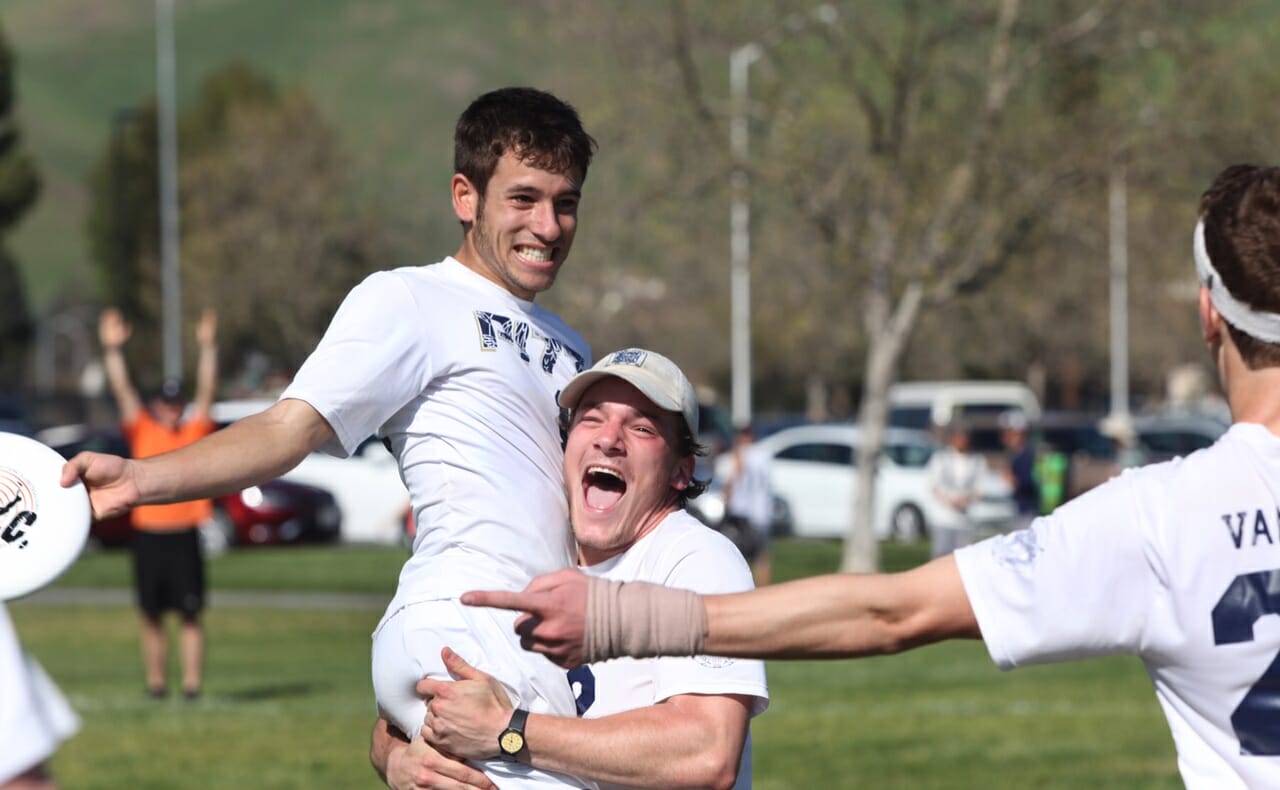 FREMONT, CA — #1 ranked Pittsburgh turned in a crisp performance in the final of the 2015 Stanford invite, defeating #2 Oregon 15-13 in a highly anticipated matchup.  Pitt was clinical on offensive points, giving up zero turns in the first half and ending the game only allowing a single break.
"No one was forcing anything and we took the best look possible fairly consistently," said Pitt coach Nick Kaczmarek.
Pitt's defensive unit did just enough to win the tournament comfortably. The game flipped on its head when Trent Dillon, twice beat deep by Oregon captain and fifth year player Dylan Freechild earlier in the game, got a hand block on a Freechild backhand huck early in the second half. The short field led to easy end zone offense and a quick break for Pitt, who followed it up with a second break on the ensuing point. In such a clean offensive game from both teams, that lead proved to be insurmountable.
The stars for Pittsburgh on the day were a few players that often receive less attention from both defenders and from the national spotlight. Christian Pitts was a scoring machine for En Sabah Nur in both the semifinals and finals, as teams struggled to control his well-timed deep cuts. He finished with four goals versus Oregon.
Tyler Kunsa also turned in a dominant five assist performance as the steady center offensive line handler. His connections with Max Thorne (4G, 3A) in Pitt's pull play sets were a huge part of Pittsburgh's success.
"He is a strong, experienced leader for the O-line and he's growing in that role," said Kaczmarek. "I think it showed this weekend. His play in finals was exceptional."
Pittsburgh utilized a few different variations of a side stack a Thorne initiation cut, and Oregon's defense struggled to stop the initial movement.  Those players effectiveness covered up a pedestrian afternoon from Marcus Ranii-Dropcho, last year's Ultiworld Player of the Year runner-up, who finished with a team-high three turnovers.
For Oregon, the game and the weekend reinforced a lot of themes coming into the tournament. They're athletic enough to beat any team deep, as they showed in their games against Texas in the quarterfinals, Colorado in the semis, and Pittsburgh in the finals. But, with a thin roster of just 18, they wait to pick their spots to dig in, and they didn't have the ability to put teams away early like Pitt did.
"It's awesome having everybody be a part of what is going on on the field and not just at practice," said Freechild. "There are a lot of lessons I think our program is learning from our situation. In the past we have leaned heavily on the top of our roster even when we had the numbers [to substitute deeper]. We are now forced to save legs, trust everybody on our roster, pick our chances to attack with a heavy line, not try and win games by blowing people out. If we can get two or three breaks with our steady D line and allow people like Trevor [Smith], [Chris] Strub, and Adam [Rees] to save themselves and have the confidence to play a clean offensive game then we will take a 15-12 win over a team that maybe others will beat by a larger margin."
When it matter most, however, in the final, Oregon delivered their strongest performance of the weekend. They, too, went the entire first half without being broken (though they did have three turnovers that Pitt failed to convert).  Freechild, who finished with five goals and two assists, and Conner Matthews impressed attacking deep, and their cutters — particularly Strub — were often getting good separation for underneath cuts as well.
The team struggled to create defensive pressure against a clicking Pittsburgh offense, however, and there remain question marks about how the team will generate turnovers against the country's top tier programs. Part of that is due to the relative inexperience of many of Oregon's defenders. "Many of the players who were trying to generate pressure versus a hugely experienced and talented Pitt team had never seen that much playing time versus teams at Regionals," said Freechild. "It's exciting because it's a giant learning curve that Oregon teams in the last haven't had."
Pitt's defense was also not able to get much against Oregon — a testament to the excellent spacing and timing from the Ego O line. The first half saw a lot of Oregon hucks, followed by a ground attack underneath after Pitt overpursued on the deep looks. At halftime, Pitt assistant coach David Hogan suggested that the game felt a lot like their quarterfinals game against UNC Wilmington at Nationals in 2014, a game that they lost by a single break on double game point.
"In the end, I am confident in our D-lines ability to adjust, bring energy, and improve," said Kaczmarek. "They've demonstrated their strength as a unit over and over again this year."
Both teams took most of the first half to figure each other out; the contrast in styles was apparent and made defense a challenge for much of the contest.
Both teams will play again in three weeks at Easterns in Myrtle Beach, SC.
Correction: An earlier version of this article said that Oregon would play at Centex and that the final score was 15-12. It was in fact 15-13.