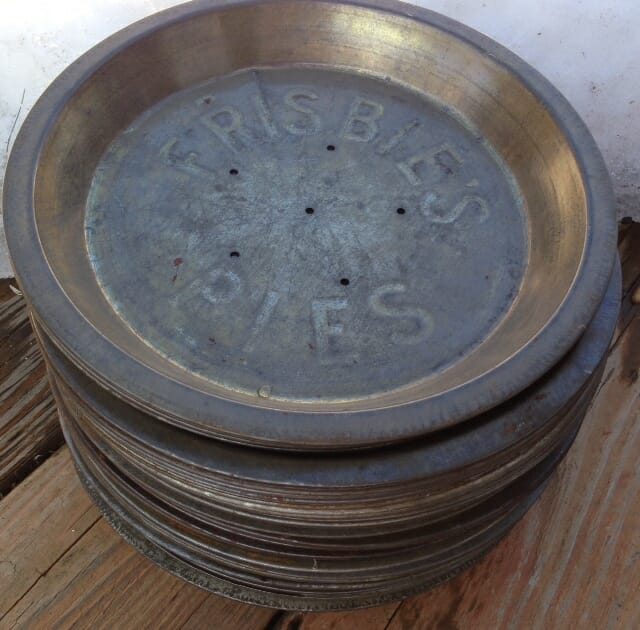 For those of us who did not choose lucrative professions, making a few extra bucks on the side is often necessary. As a public school teacher and ultimate coach, I decided long ago that if I could consistently pay all my bills and put a little away, I would be just fine. For those of you who are choosing a vagabond life — either as a college student or an unpaid touring ultimate player — earning some extra money is often the final determinant on whether you can get to a tournament, contribute gas money, or sleep on a slice of a bed instead of in the bath tub. While most will never get rich selling on Amazon or Ebay, with a little time-tested knowledge, you can continue postponing your entry into adulthood for many years.
Amherst is an academic town, as well as an ultimate town, so when I first started making extra money reselling items online, I chose books. I learned about it from a friend who owned a used furniture store. She told me how to set up an account on Amazon and I was in business. I bought a huge ugly bookcase and put together a small inventory of about 500 books within a few months. I soon learned which books sold and which didn't:
– Humanities-based books by small academic presses were the best. They never had a second run and they rarely became out-of-date. The weirder the topic, the better. I found a number of them at the Book Shed at our local dump. There is nothing like the thrill of turning nothing into something.
– Very recent science books were also easy to sell, but as soon as a new edition came out, they were virtually worthless. You all know how that market works and the resale market is no different.
– Coffee table books never sold.
– Popular novels never sold. You could always find them at tag sales, but you could never get more than a nickel for them online.
– Anything that Barnes and Noble puts out as a specialty item at Christmas is worthless.
– Vintage children's books that had not been reprinted were sometimes worthwhile. People often want to share childhood favorites with their offspring but they had to be in excellent condition. These were difficult to find.
I first started buying and reselling when cell phones were only phones, so I had to guess whether a book was worth anything or not and lug it home. I made a lot of mistakes that way but nowadays I see books vendors, usually college students or recent grads, with their smart phones and an app that can read the ISBN and tell you immediately what the resale value is. I rely mainly on my Ebay app these days, because I eventually left books behind and moved onto things.
I now have the time to travel to auctions, estate sales, and tag sales in the off-season. If we are out of town for a tournament, I may arrive late to the first warm-up if I see a tag sale on my way to the fields. I have been doing this for about seven years now and have a much better idea of what to look for and what to ignore: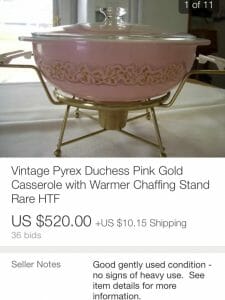 – One of my specialty areas is kitchenware from the 1950s, particularly Pyrex bowls and dishes. Pink and aqua sell the best. Brown or anything with an American eagle does not sell. Condition is everything and if a bowl is faded from the dishwasher or chipped, leave it. The current Holy Grail of Pyrex for me is this pink and gold casserole. I have yet to find one.
– Cast iron pans also do well, particularly if made by Griswold. Wagner is ok but ignore anything by Lodge. When buying any kind of pan, make sure it sits flatly. No one wants a wobbly skillet. Condition does not matter as much, as chefs often like to clean and season their own pans. If something is particularly dirty, I soak it in a plastic tub of Coke, which easily takes off the first few layers of grime.
– Any board game that is still sealed is an instant sell. The older the better. These sell particularly well around the holidays and my most recent sale was a Scooby Doo Hide and Shriek game. Some used old games still sell, such as Operation. Just make sure that all the body parts are there.
– The American Girl market is insane. If you can find any clothing with an AG tag, buy it. Furniture, dolls, and other accessories can be turned over easily. Even books and play sets will sell, but the cleaner they are, the better.
– If you want to try to make big bucks, immerse yourself in the stuff that middle-class middle-aged white guys like to collect: baseball cards, trains, Boy Scout memorabilia, etc. Condition matters above all and it will take you weeks to understand the fine points of grading and writing accurate descriptions. I have been burned in these markets and I now only sell one of these items if it still sealed.
Selling an item that appeals to two or three market segments can also be lucrative. For example, if you are selling a Spiderman ashtray, this appeals to collectors of Spidey and ashtrays from the 70s. I found one once that I bought for $6 and sold for $170. It turned out to be a salesman sample from 1972 and was very HTF. I also found a sealed Pete Rose jigsaw puzzle that I bought for $1 and sold for $130. As soon as I listed it, I heard from Ohio collectors who wanted to know what other Rose memorabilia I might be selling. Clearly, this puzzle appealed to collectors of puzzles, the Cincinnati Reds and disgraced sports stars.
And, finally, Legos. The resell market for Legos remains hot, particularly for mini figurines, or mini-figs. A recent Star Wars Boba Fett mini fig sold for $225. A Harry Potter dragon-Hungarian Horntail, brought in $199. But even bulk Legos without minifigs will sell. So either visit a few tag sales in upscale neighborhoods or search through your childhood closets the next time you are home. For more info, visit swfigures.com
This last website was sent to me courtesy of Ivan Chow, renowned ultimate photographer and even more renowned father of ultimate players Caroline, Jason and Wes, who is currently playing for Colorado's Mamabird. Ivan has been collecting Star Wars figures since 1988 and stopped in 2008 . He used to bring his children to Target to search for the newest item and eventually amassed over 800. Wes says, "I was never into action figures so I thought it was weird that my dad was, but he never played with them." The figurines are, of course, unopened and mostly catalogued. Ivan writes, "I tell the kids, this is their inheritance. They just have to figure out how to divvy up the value of it. " Ivan's collection is currently residing in a climate-controlled storage room somewhere in the state of Georgia.
Which brings me to my only real collection, the one that I call my "retirement."
While on the hunt for items to resell on Ebay, I sometimes come across Frisbie Pie Tins. They are difficult to find, even in New England, and I still relish the story of the Connecticut ultimate player who found a huge stack of them years ago and bought each one for a quarter. I usually pay $5 to $30 for each and I have been collecting them for about 20 years. I checked Ebay the other day and their prices seem to be on the upswing, ranging from $10-$175. Here is what else I can tell you about them:
The ones with the perforated F's are the oldest one from the Frisbie Pie Company. They are usually the easiest to find and do not bring that much money. They are still cool.

Serious collectors of pie tins want to have the full spectrum: tall letter, short letter, 5-cent deposit, 6 holes, no holes. I am not kidding. Here is a quick look at the different variations.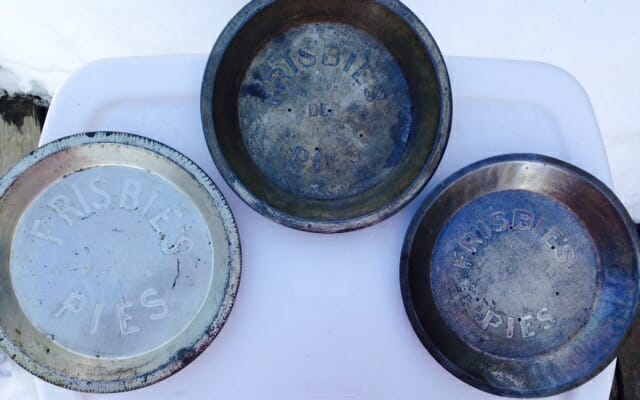 The most valuable one I have is below. Years ago, I was offered $300 for it because it is in excellent condition, has a 5 cent deposit stamp, and can be read the correct way if hanging on a wall, facing in. These things matter.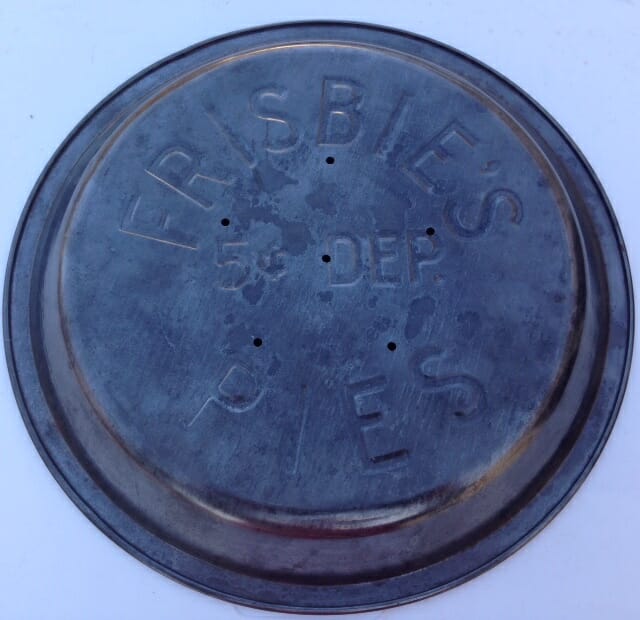 For those of you who want to collect pie tins, or find out what their ultimate disc collection is worth, you must check out The Complete Book of Frisbee: The History of the Sport and the First Official Price Guide by Victor Malafronte and others.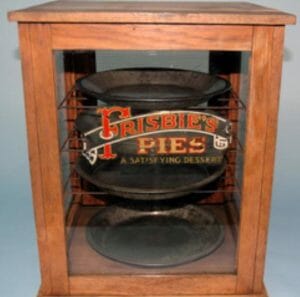 I store my collection in my basement, of course, although sometimes I worry that the humidity is rusting them out. I haven't found any new ones in about a year although I always look feverishly when at a sale. What I really want is a Frisbie Pie Safe to hold my collection. The Frisbie Pie Company gave these to diners to display their wares on the counter. One sold last week for $900.
I stopped collecting discs and gear from tournaments many years ago and I rarely buy something new. I used to have a tradition at Amherst Regional High School that I would give every graduating senior a pie tin at our final banquet. The jury is out on whether I will continue that tradition with the UMass men this year. We will see.