The South Central has 3 bids, but with a wealth of powerhouses, nobody feels safe.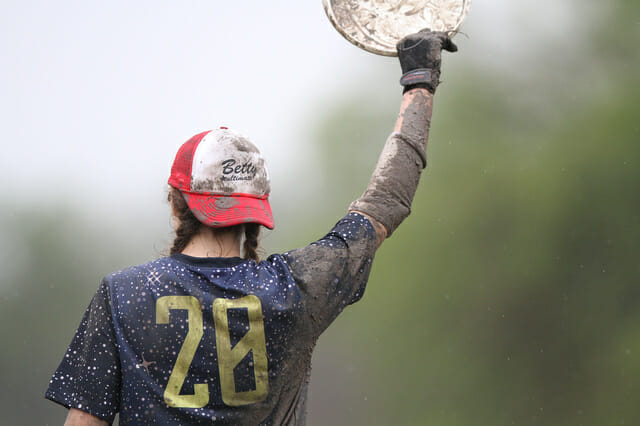 They had three bids. Then two. Then three again, and the region released the tiniest sigh of relief. But nobody feels safe, particularly after Kansas and Colorado College rewrote the status quo at the same tournament last year.
The South Central's utter refusal to relinquish their strength bids speaks to the stubborn and unique character of the region. Teams in this region have to fight harder to get better, traveling 6-8 hours to even play regional rivals. They're isolated, and for a long time most teams were overlooked besides Colorado.
Now that they have national attention, they're not letting it go, even if it means Kansas claws back in every double game point, and Colorado College goes undefeated in a weekend. While every team wants to go, there is an understanding that any three teams going is still a victory for the South Central.
Tournament Profile
Date: April 25-26
Location: Denver, CO
Bids Available: 3
Colorado Kali Confident But Cautious 
This season's Kali plays a different, more grounded game than last year's team. Colorado has never struggled to attract talent: Nhi Nguyen is one of the country's rising stars, and players like Megan Cousins and Dori Franklin are rounding out a strong college career with the team. Instead, intangibles plagued the team. They were swayed by the uncontrollables, or they let another team's game change their own.
This season, Kali has worked to play one game at a time, focusing their mental strength on each opponent. They have the player versatility to adjust their strategy to match what opponents throw at them. They can blow out teams, and, after Conference Championships, they know they can win close games. They closed out a double game point against Colorado College to win 12-11.
"We just kept grinding," remembered coach Claire Chastain. "That was the team we want to be." That's a valuable lesson to learn before South Central Regionals, and Kali will likely need to use it against the region's other elite talent. They have lost most of their close games this season, including to Kansas 10-12 in the Texan mud.
Kali has the 1-seed, the best record in the region, and a deep bench of talent. But they aren't booking hotels in Milwaukee just yet.
"We keep telling ourselves the bids don't belong to us," said Chastain. "They belong to the region. And there will be 10 teams vying for them." Kali won't be taking any of them for granted.
When The Cards Are On The Table…Kansas Is Ready
Kansas has played more double game points this season than any other team in the top 20. They've also won a good deal of them. Betty has thrived on the 0-0 game to 1 mentality, but not by choice. The steady loss of their strongest athletes all season has shown Betty their creative side: losing Clare Frantz, then Kelsey Akin, Nadine Rowen, and Kailee Karr – by the end of Centex Betty's roster was looking bedraggled.
While they will have Akin, Rowen, and Karr back to full strength for this weekend, Betty didn't take any chances at conferences: they pushed to give their rookies experience in bigger roles while resting the two women who have carried the team so far this season, Caitlin Fitzgerald and Jenni Corcoran.
Kansas has relentlessly executed on their strategy all season, sometimes at the expense of a win and regardless of their available roster. The commitment pays off 90% of the time, but the 10% includes their blowout loss in the Centex final and their choking at Midwest Throwdown. They're a nationals caliber team, but they are particularly prone this year to falling to a team who simply converts more.
Colorado College Quietly A Contender 
Strata ambitiously attended President's Day Invitational and Stanford Invite this season, hot off their nationals appearance last year. They stayed under the radar at both tournaments, only winning four games between two trips to the west coast this year. Strata was shuffled off power ranking lists, and people were ready to file them as a one hit wonder.
Then they decided to go undefeated at Centex, the women's division's national pit fight. They beat six strong teams from three regions, securing their region's bid and proving their team is so much more than a shadow of Lisi Lohre. Chloe Rowse, a 2015 U23 Worlds player, has stepped it up for Strata with fantastic field sense and a dominant presence. Robin Fassett-Carman was an experienced rookie with promise last year, and already this season she's owned a central role for Colorado College.
Strata won most of their conference games handily, losing only to Colorado in two close battles, and they're poised to give them another this weekend. Seeded second in the region, they now have the position of power they stole last year, and they can't hide under the radar anymore. To return to nationals for their sophomore appearance, they just have to hold strong against Texas and avoid losing the third spot to another contender.
Texas Melee Might Face Trouble
All season Texas has had the right players and the right plays, but they have only been able to produce wins against mid-level competition. Their straightforward offense, bolstered by excellent throws from Shiru Liu and Lauren McKenna, will earn them opportunities, but Melee has struggled with execution errors and red zone turns all season. If they want to reclaim their former glory, Texas will have to ramp up their man defense intensity. So far they have contained team's options, but they haven't changed them.
In most other regions, three bids would guarantee a team like Melee a ticket to nationals. In the South Central, they are instead one team in a four-team game of musical chairs, and their prospects for a seat aren't promising. Melee is a good team, but surviving in this region demands more than good: it demands guts.
Washington University Peaking at the Right Time
WUWU has improved all season, turning around from a one-win Midwest Throwdown to Centex where they only lost one game, on double game point to Northwestern. They carried this momentum into Conference Championships where they lost to Kansas in the final 9-13, and they're dangerously positioned below the vulnerable Texas women.
Washington's success this year is driven by the chemistry between WUWU's handlers. Veterans Eileen Duffner and Anat Gross are well coordinated behind the disc, and they're willing and able to take the first options cutters give them. When they open up the deep game, it's done from intelligent power positions generated by handler movement. Their consistency helps them navigate zones with patience and precision. If their defense and downfield cutting can match their handler play, WUWU will be scary.
Their chances at a bid are slim, but after years of struggling to reach full potential, WUWU is finally starting to put their pieces to work.
Notes
– The Colorado State Hell's Belles were the talk of the town last year. But after losing Becca Miller, Christy Cheung, Paige Applegate, and more, the team struggled to duplicate their success, and they weren't able to break out of the conference.
– Texas State Trainwreck should not be taken lightly. Their season is littered with wins over big D-III names like Truman State and close games with Rice.