Stanford and UCLA are the two heavy favorites to win the Southwest's two bids. But the Southwest's crown is a prize worth fighting for.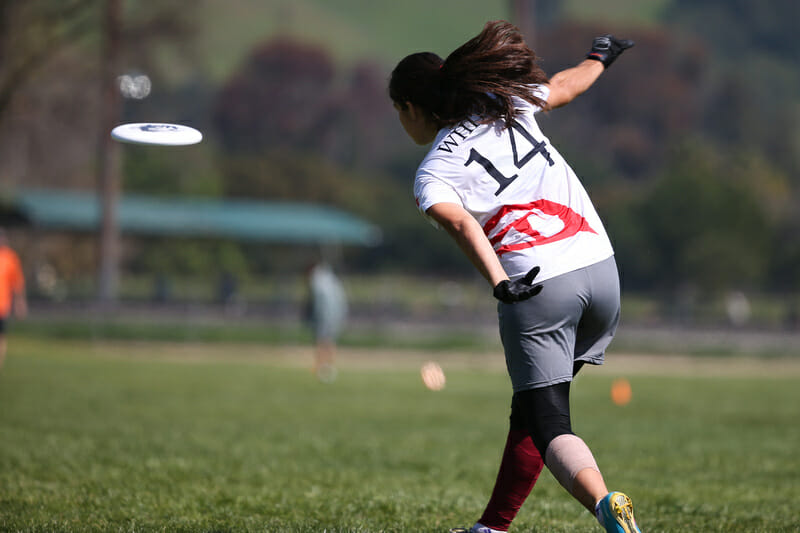 Life is all about perspective. 12 teams are headed to Antelope, CA hoping for the exciting and dramatic conclusion to the Southwest season that many expected at the beginning of the year. Two teams — favorites #3 Stanford Superfly and #6 UCLA BLU — are hoping it's a snoozer. Each of those squads has designs for the Southwest's first semifinals appearance at Nationals since UC Santa Barbara won it all in 2011, and Stanford finished third. With a pair of bids and a pair of heavyweights, they have a perfect fit.
The teams below them are a cluttered mess of interconnected wins and losses, so the second place bracket could be populated by a varied cast of characters. Could one of them rise up and challenge the heavyweights?
Tournament Profile
Date: May 2-3
Location: Antelope, CA
Bids Available: 2
The Favorites
Stanford
"I don't see them being threatened by anyone in Regionals this weekend if they play the way they have so far this season."
When one of the other top seeded teams in your region says that about you, you know you've done something right. Of course, Stanford Superfly doesn't need to be told that. Their 17-6 regular season was good for the #3 spot in both the Ultiworld Power Rankings and USAU rankings. Outside of losing four (five counting a loss to Fryz) games at the Northwest Challenge, running a tiny rotation due to illness and injuries, they've lost just twice this season, both times to Oregon. Now they're in line to be a #1 seed in their pool at Nationals should they win the region.
A clash with UCLA looks inevitable. In their seven games against the rest of the field this season, Stanford has yielded a meager four points per game on average, so the rest of the Southwest looks like they pose little threat. And while UCLA has the ability and grit to go toe-to-toe with Superfly, Stanford is 2-0 in the season series. One of those games was a dramatic double game point affair in the Stanford Invite semifinals, a game both teams will undoubtedly think about as the weekend approaches.
The names are known: Michela Meister and Steph Lim head up a very strong top half of their roster. When healthy, they can reliably put out ten high level contributors, including rookie deep threat Courtney Gegg. But Amanda Somvilay, Halsey Hoster, and Gegg have missed time to injuries at various points this season. Defense is the team's core strength, particularly in person to person sets, but their handlers' experience and cutters' size allows them to fight through most defenses comfortably.
UCLA
While they aren't the favorite to claim the Southwest championship, UCLA BLU is the heavy favorite to snag the second bid and return to the College Championships. Their numbers stack up closely with Stanford's – 18-7 regular season, #6 in the Power Rankings and fourth in the USAU rankings – and UCLA's rise into the upper tiers of the division has been one of the season's most intriguing surprises.
They've made it clear: they are gunning for number one.
"It will take a lot to beat a team like Stanford," says BLU captain Margot Stert, "but we're willing to put it all out there because winning Regionals is our ultimate goal this weekend."
With a 9-0 record against the rest of the field, albeit by smaller margins than their top seeded counterparts, UCLA has a key focus on taking out everyone standing between them and the Regional title. But especially Superfly. They're hoping to use the lessons of the first two matchups to craft a new result in the third, and so far, most important, game in the series.
UCLA seems intent on trying to beat Stanford at their own game, potentially  turning the game into a possession oriented battle of attrition. "Stanford isn't going to give us the disc, so we can't give it up to them either," explains Stert.
With a very athletic roster, UCLA's defense has what it takes to disrupt Stanford and outmuscle them in that area too. Stert recognizes how the nature of their offenses impacts their defenses, adding, "On defense, we're going to have to take it."
To UCLA's disadvantage, they are a bit more dependent on their top end than Stanford is. Stert, a senior handler, is
rangy and dynamic
, and the same could be said of sophomore playmaker Han Chen. Senior Kristen Pojunis is a true workhorse who refuses to give any quarter in her matchups. Ann Lee, Melissa Kan, and Camille Wilson fill their key roles admirably, but UCLA's big three really drives the action for them.
The other element to BLU's weekend is their penchant for close games. They've played a remarkable seven games decided by a single point and are 4-3 in those games. The grit and unrelenting effort they've demonstrated in those games is one of their greatest strengths. But their inability to avoid these situations could be their undoing, either at the hands of a shock upset, or by wearing down their legs before their big battle with Stanford.
The Field
UC Davis
Best wins: Colorado College, Western Washington, UCSD, Cal
The third overall seed, UC Davis Rogue have the strongest resume of any challenger.
"Rogue has been preparing all season for this weekend and will fight tooth and nail for that second bid," says Davis captain Jazmine Jordan. #19 Western Washington was a bit healthier when Rogue caught them than they'll end this year, making for one of region's better trophies. In addition to some good in region wins over UC San Diego and Cal, they've got a host of "good" losses: 11-8 to UCLA, 16-15 to #9 Carleton, and 14-12 to #5 Washington.
Unfortunately, they have also taken some scary in-region Ls. They are 1-2 against UCSD and the same against Cal, negating the value of those wins. Worse still, they have lost twice to scuffling UCSB. There may not be a team that could have such wildly different outcomes this weekend, which will be heavily influenced by the play of mark-crushing handler Cheryl Hsu on offense and the success of the team's defensive schemes.
"We like to disturb our opponents' offense by throwing junky defenses and zone," says Jordan. That strategy will be tested by their opponents, many of whom have had a chance to grow very familiar with Davis – and one another – through the Southwest's constant run-ins at tournaments. They'll need to survive that gauntlet to get their shot.
Southern California

Best wins: Colorado College, UCSD
Not unlike Davis, the USC Hellions of Troy enter the tournament with a lot of "good" losses under their belt and some midlevel wins. They played close with Washington, Whitman, Ohio State, and most importantly, UCLA, but failed to win any of those matchups.
They've fared much better against fellow Southwesterners; unlike Davis, they've gone undefeated against UCSD and UCSB. USC did, however, fall to Cal and took an early season loss to Cal Poly. Amy Lee and Kathryn Fowler occupy central roles in the Hellion offense, and will see plenty of touches and be given a large swath of space to work with.
Cal
Best wins: Whitman, Minnesota, Davis x2
The best win among the challengers belongs to the Cal Pie Queens, who defeated Whitman 9-8 at Stanford Invite. Past that, their season is just filled with bright spots too fleeting to turn into valuable victories. So many of their games feature a good half and an ugly one, leading to ranging deficits all saying the same thing: if only they could get it together for the whole game.
The PQ's in-region performances have left reason to be nervous. They lost to Davis the Sunday of Conferences after beating them Saturday and have losses to SDSU and UCSB to their name. Big things come in a small package with star cutter Sharon Lin, but Cal is running out of chances to live up to their talent.
UCSD
Best wins: Colorado College, Davis
It has been a tough year for the UC San Diego Psychos, who have gathered a handful of wins during the season. Even as the fifth seed, they look like they are a step below the top four teams, based on their below .500 record against the field. Their best wins don't really stand out and UCSD lacks the close losses to top competition of their ilk.
The bright side is that the roster is still talented. Shelimae Reyes and Julia Salvacion are the centerpiece of a strong core. Their aggressive deep game can heat up and put teams behind the 8-ball. But the Psychos will need to ramp up their level of play to make noise, but they shouldn't be ignored.
UCSB
Best wins: Davis x2
The drum of "disappointing" for the UC Santa Barbara Burning Skirts has been well beaten. Last year's Southwest Champion comes into the weekend as the lowly ninth seed, having barely made it to Regionals at all. Last year's team had huge wins – namely one over Oregon – to hang their hat on, but this year's squad's best resume builders are two wins over UC Davis.
Lisa P's health has turned into a huge factor. The 2014 Offensive Player of the Year has been hampered by injuries for the season's duration. If she's healthy, she's still one of the division's most difficult players to defend. If not, she slows down, and UCSB's offense does with her. There will be a lot riding on Joy Kang, Angela Dong, Talia Barth, and Winnie Lam this weekend.