Time to bet $1000 Ultiworld bucks and win a free disc.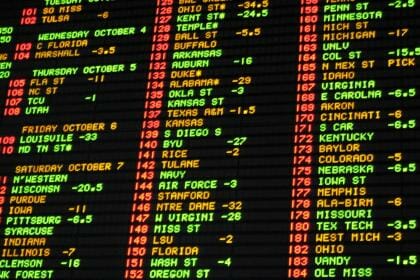 Last week 25 top college teams played themselves into a lovely trip to Milwaukee over Memorial Day weekend. There are 15 spots left.
So with national prestige and the chance to extend the season hanging in the balance, let's bet fake money on it. Rules are the same as last week — see below.
If at least 10 people enter their picks in the comments below, the most valuable portfolio will win a free Ultiworld disc.
How to enter: You have $1000 in Ultiworld bucks to bet. You can wager that $1000 however you like; sorry, no parlays or teasers. Just straight bets. If you want to put all $1000 on one team, go for it. Of course, if you bet it all on a heavy favorite, there's a good chance someone else will beat you by betting underdogs. Allocate your $1000 however you like (with a $50 minimum bet) and comment with your wagers before 9 AM Eastern tomorrow.
The numbers below are moneyline wagers. – symbols indicate favorites, + symbols indicate underdogs. A negative number means that you must bet that amount in order to win $100 (i.e. -300 means you have to bet $300 to win $100 or $30 to win $10). A positive number means that you win that amount when you bet $100 (i.e. +200 means you have to bet $100 to win $200 or $10 to win $20). This is for entertainment purposes only.
New England
Men's (1 bid)
UMass: -175 to WIN; +150 to fail to qualify
Tufts: +150 to WIN; -300 to fail to qualify
Harvard: +300 to WIN; -400 to fail to qualify
Field: +500 to WIN
Women's (2 bids)
Dartmouth: -120 to WIN; -400 to advance; +400 to fail to qualify
Tufts: +100 to WIN; -300 to advance; +200 to fail to qualify
Field: +350 to advance
Metro East
Men's (1 bid)
Cornell: -200 to WIN; -110 to fail to qualify
Connecticut: +110 to WIN; -275 to fail to qualify
Rutgers: +140 to win; -300 to fail to qualify
NYU: +200 to WIN; -400 to fail to qualify
Field: +500 to advance
Women's (1 bid)
Cornell: -250 to WIN; -150 to fail to qualify
Princeton: +175 to WIN; +150 to fail to qualify
Field: +350 to WIN
Northwest
Men's (2 bids)
Oregon: -300 to WIN; -10000 to advance; +3000 to fail to qualify
Washington: +200 to WIN; -500 to advance; +300 to fail to qualify
UBC: +350 to win, +300 to advance, -250 to fail to qualify
Field: +800 to Advance
Women's (5 bids)
Oregon: -150 to WIN; -15000 to advance; +5000 to fail to qualify
UBC: +100 to WIN; -10000 to advance, +3000 to fail to qualify
Washington: +250 to WIN; -8000 to advance; +1000 to fail to qualify
Whitman: +600 to WIN; -1000 to advance; +400 to fail to qualify
Victoria: +1000 to WIN; -300 to advance; +150 to fail to qualify
Field: +5000 to WIN; +300 to advance
Southwest
Men's (1 bid)
Arizona State: -175 to WIN, +150 to fail to qualify
UCSB: +140 to WIN, -150 to fail to qualify
UCSD: +200 to WIN, -275 to fail to qualify
Field: +250 to WIN
Women's (2 bids)
Stanford: -300 to WIN, +500 to fail to qualify
UCLA: +200 to WIN, +350 to fail to qualify
Field: +350 to advance