Colorado easily dispatched Georgia in prequarters.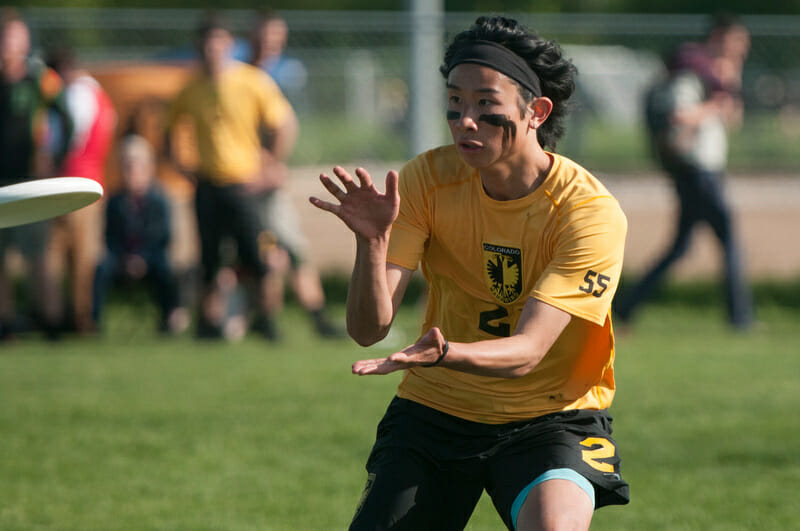 Colorado opened up a 10-5 lead and cruised to a 14-9 victory over Georgia to clinch a spot in the quarterfinals.
The entire tournament Jojah has lived and died with their deep game. Georgia didn't have it going against Colorado, and they didn't seem to have a plan B. Colorado, the defending national champion, ran away with it quickly.
It started looking like things might go Georgia's way. Shawn Paul scored twice deep and hauled in a handful of other away shots to advance possessions. Mamabird, not to be outdone, was working their system to hang with Georgia, connecting on deep looks from both open and break side power positions and flowing down the break side. Colorado eventually started running a 2-3-2 transition zone to stymie Georgia's flow off the pull, and in doing so were able to generate the turns they needed to punch in the first break.
The next part of the game proved to be the turning point, as Mamabird started to play Pawel Janas both ways. As Georgia's deep game broke down, they tried to work the underneath cuts more but struggled heavily (on two points, they had five turnovers on uncontested in cuts). Janas was a big force for Colorado in converting those turns into breaks. Colorado collected four to build a 10-5 lead that would be the difference in the game.
Janas finished with three goals, one assist, and many untracked throws that helped open up the offense for Mamabird. Tristan Voss also had a valuable performance for Mamabird, despite his unflattering stat line of one goal and one assist. While Colorado's big names had a strong games, Elliott Erickson's four recorded turnovers left an unfortunate blemish on an otherwise outstanding year for the Georgia captain.
Though Georgia did not get the result they were looking for, the future remains bright. Sophomore Parker Bray turned in a great performance for UGA, notching three blocks and two goals. Even better, freshman Nathan Haskell was the best player on Jojah this game, registering four goals and three blocks, plus numerous skies to save possessions. Further, though Sebastian Di Francesco had his weakest game of the weekend (frequently needing bailout plays from his receivers), the fact that he is a featured handler on offense at College Nationals as a freshman speaks for itself.
Colorado moves on to face North Carolina in tomorrow's quarterfinal match, a rematch of last year's National Championship game.