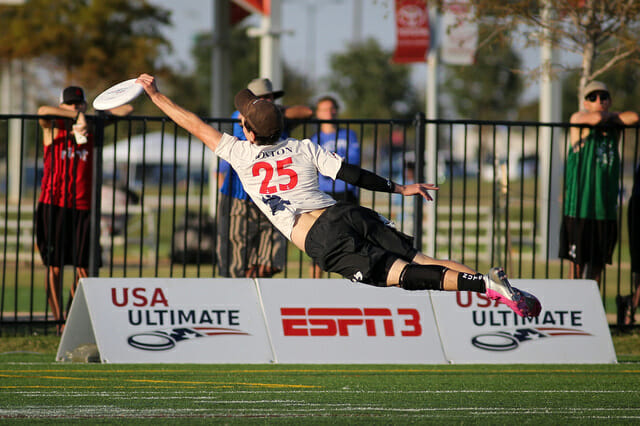 Let's go ahead and get this out of the way: It's no secret that Ironside lost some crucial players this season. George Stubbs, Russell Wallack, Brandon Malecek, Brian Garcia, Jeff Babbit, Jamie Quella, and others… the list goes on. Due to a combination of life, career choices, and fatigue, a huge chunk of the 2014 Ironside squad is gone in 2015.
Ironside has made the semifinals at Nationals for an astounding seven straight years, every year since the inception of the team. Popular opinion suggests that Ironside surely can't repeat this feat for an 8th time in 2015. This isn't sensationalism or an overreaction. This is simply the reality for the boat: they lost some big guns.
Yet the 2015 squad remains adamant they aren't going to be defined by the players they lost. Ironside isn't the same team as last year, but with the addition of some key youth, a steady core of veterans, and a coaching staff that's among the best in the country, it's probably a mistake to count out Ironside. People do it almost every year, and every year, the boys from Boston prove them wrong.
Some Firepower Remains
Lost in all the hubbub about the team's departing players is the fact that Ironside retained plenty of talent. Danny Clark, Will Neff, and Josh Markette are getting older, but on a team that picked up 10 rookies, their experience will be invaluable as their younger guys try to figure out their roles on the team.
Your traditional Ironside grinders also remain. Jack Hatchett, Alex Cooper, and Christian Foster bring back their typical grit to an Ironside team that puts a great deal of stake in their defense and willingness to work.
We spoke earlier of youth, and Ironside has plenty of that. Tyler Chan (Tufts) absolutely blew up this year, finishing in the top 5 of the Callahan voting and comprising nearly half of the E-Men's highlight video. We got a taste of Chan at the US Open, where in the team's game against Revolver, he introduced himself to the high level club game, roasting a few defenders deep and showcasing his elite speed. Other young guns include Eli Motycka and Mark Vandenburg, who were big names in the Northeast this year, playing at Brown and Harvard, respectively.
Finally, the men in the boat shanghaied Tom Annen, formerly of Chicago Machine. Annen was overshadowed somewhat in Chicago, due in large part to his backfield partner Bob Liu's penchant for flash, but make no mistake: Annen is a workhorse of an O-line handler. We saw his skills on display in Ohio for the US Open, where his presence brought composure to an Ironside offense that some thought would be in trouble this year. 
Something New This Year?
The hallmark of past Ironside teams was a unique vertical offense that relied heavily on cutters for resets. It takes a special roster to pull it off. Throwers need to be able to break any mark to get tough throws off, and cutters are often trusted to look upfield for gainers, rather than the handlers. It's a novel system that few teams beyond Ironside have been able to make work.
However, this might be the year of a new Ironside offense. Good coaches are willing to adapt to the personnel of their team, and Ironside head coach Josh McCarthy is no exception. We saw this a little bit at the US Open, where for the first time in years, Ironside was seen running a vert with a dump in the backfield. Clark admits that some of the changes we saw at the US Open were personnel based, and others were simply "continuing to evolve and adapt." This hints at an Ironside team that will be willing to experiment through the regular season. They know they aren't the same team.
For the most part, Ironside's offense has looked good. "Losing [Matt Rebholz] and [Brandon Malecek] and having a guy like Tom [Annen] and a guy like Mark Vandenburg be able to step into those spots has been huge for our offense. I don't think we lose much despite losing two pretty phenomenal and pretty core guys," said Clark, when asked about the loss of Rebholz and Malecek.  His optimism held true at the US Open, where Markette and Annen quarterbacked an Ironside offense that looked crisp all weekend. Expect Ironside to lean on them to make things happen with their throws, completing passes to the likes of Tyler Chan and Danny Clark, whose respective speed and height make them dangerous downfield options. Vandenburg should also see meaningful time in the backfield.
Clark actually isn't concerned about the offense, but rather about the other side of the disc. "I think that we will have some pretty significant differences on the D-line as far as the looks that we are trying and just personnel matchups," he said.
Guys like Jack Hatchett who formerly were allowed to specialize a bit will have to step into bigger roles, both in terms of matching up and in contributing on the turn. Eli Motycka (U23 Mixed) definitely brings some swagger and incoming UMass freshman Tanner Johnson is a big body, but club experience on their D-line is sparse at best, especially if former D-line guys move onto offense to fill the roles of departing players.
A note about Tyler Chan: Clark and the leadership are so high on him that they expect him to see play time on both sides of the disc. His athleticism is off the charts, so don't be surprised if they put him in on the field in key situations, whether that's a desperately needed break or a key hold. He brings a big play spark to an Ironside team that many have considered boring in the past.
Young Guns
Ironside's average roster age is 25, and if you remove old timers Danny Clark and Josh Markette that number drops even lower, hovering right around 23. In fact, a couple months ago, Tanner Johnson had to miss a team workout for his high school prom. I think it's safe to say the members of this year's boat are a little bit younger than they've been in the past. However, the advantages of youth on a roster are often overlooked. Clark and the leadership feel that these guys are "so new to this level of ultimate that they are eager to learn as much as they can." They will have plenty of opportunities for growth.
With all the talk about their roster, Ironside's coaching staff and program can't be ignored. A team whose success is as consistent as Ironside's doesn't come about solely because of the members of their roster. McCarthy is a huge part of this team and this year he has help. Jacob Goldstein and Matt Rebholz (former Ironside handler) are on board as assistants this year. Concerns about a drop off in leadership and veteran presence should be at least somewhat soothed by the addition of two coaches whose primary purpose is player development.
Ironside's team philosophy for the past few years centered on a process oriented focus, rather than a results oriented one. Thus, the captains aren't worried about anything beyond playing "the best ultimate that we can possibly play. That doesn't change with personnel."
It's a familiar theme, no doubt, and it's become a bit of a cliché, with nearly every high level ultimate team espousing "process over results." However, Ironside is one of the few to back it up. No other team in the Men's division save Revolver has had the high and consistent level of play that we've seen out of Ironside over the past decade.
Clark admits this year is somewhat liberating, with the priority on development and growth shoving aside other concerns, like playing for seeding at Nationals. For Clark, 2015 is about "look, let's go figure out who can improve as quickly as possible and let the chips fall where they fall." If that means rough results at a couple early season tournaments, that's something that the team is willing to suffer through.
Don't let his seemingly cavalier attitude fool you though – Clark and company are as confident as ever. "I moved to Boston ten years ago, and there is not a single year where I didn't believe we had the talent to win every single game we play," he said. History has mostly sided with Clark on this one, but only time will tell if Ironside can pull together all the pieces in time for Frisco.
Final outlook  
Right now, this team is not as strong as previous Ironside teams. However, a reinforced coaching staff, a few key pickups, and a veteran core will ensure a more than competent Ironside offense. Their defensive rate of improvement should be phenomenal, but they will be pretty raw all season. Expect big plays, but trouble converting breaks consistently.  With little punch on the defensive side of the disc, if their offense gets stalled, Ironside will be in trouble. If they can get their rookies meaningful play time on defense in the early season, they might be able to hold up their end of the bargain, and make a strong run at nationals. If their rookies don't develop as expected, it could be a rough year on the boat.
Likely Ceiling
National semifinals appearance. It's rare that the ceiling of an Ironside team isn't a National Championship, but this team is probably not ready, not this year. They could be right back there within two years if their younger players develop properly.
Likely Floor
National quarterfinals appearance. Frankly, the team is better than people might care to admit. They played plenty tough at the US Open and may have been the team closest to knocking off Revolver. It would be a shock to see them lose in prequarters.