A quick run down of every team that will be competing in Blaine this weekend.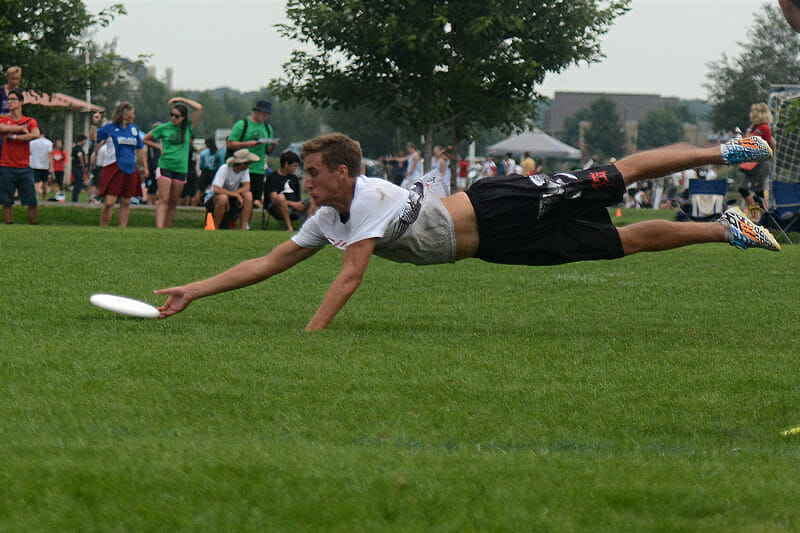 This year's Youth Club Championships are once again the largest in the history of the tournament, as the U19 Boys division field grows from 23 to 25. Last year, North Carolina's Triforce battled back from an 8-5 deficit against Atlanta to win their semifinal game on double game point and then take down surprise finalist Cincinnati Flying Pig to win its first ever U19 Open championship. Repeating at this tournament is not an easy task, evidenced by the fact that a different team has taken home gold in each of the past five years.
This year the tournament expands to three days and introduces a new format. Gone are power pools, replaced by four large pools of even strength to be played out over two days. With only the top team from each pool advancing, there's no room for error; one slip up on Friday and your championship hopes could be dashed.
Pool A
North Carolina Triforce (1)
The eight players that Triforce graduated from last year include two U19 Worlds players, one U19 alternate, the Atlantic Coast Freshman of the Year, and another member of the AC All-Freshman team. That's why it's so amazing that this year's iteration of Triforce is the favorite to repeat. The team features Carolina Friends players Liam Searles-Bohs and Dillon Lanier, who were virtually unstoppable at High School Southerns, accounting for 83% of their team's assists on the weekend. Their supporting cast includes seven players with college ultimate experience, including Matt Gouchoe-Hanas who played significant minutes for UNC in the National Championship game and earned a Rookie of the Year honorable mention from Ultiworld. Triforce also adds Tyler French who was far and away the best player in the U16 division last year and played high level club for Cash Crop that same summer. It would be a shock to not see Triforce playing on Sunday.
Minnesota Superior (8)
Since winning the tournament in 2012, Minnesota has achieved mediocre results, finishing in 11th and 9th in the past two years. Because the tournament takes place close to their home, Minnesota is one of the few teams able to field a full roster of 27 players. This could be a huge benefit to them over the three days of competition. They feature a group of players from Edina, St. Paul Charter, and other area high schools that aren't new to the elite youth game. It won't be easy to take down Triforce, but Minnesota will be hungry to make it happen.
Pittsburgh Impulse (9)
Pittsburgh's 1-5 record at YCC 2014 is not indicative of the talent of that team, as three of the losses came by just one point. Despite losing a slew of top players including Max Sheppard, Impulse looks to prove that it's still a top team. Last year's goal leader Bobby Lincoln is coming off a year of college experience with the University of Pittsburgh and should be a big name to watch this tournament. Nick Haser brings experience from the Pittsburgh Thunderbirds and should be a dominant deep threat. It's unclear if Pittsburgh has the depth to challenge Triforce, but expect them to finish near the top of the pool and in the top tier of teams.
Maine Rising Tide (16)
Rising Tide returns exactly zero players from last year, making it very difficult to get a read on this team. The program has enjoyed a decent amount of success at YCC in the past, including a second place finish in the Mixed Division in 2013. Additionally, Maine tends to have some of the coolest jerseys at the tournament, so watch out for those.
New York Little Pony (17)
New York has been attending YCC for a few years now but has yet to break through to become a contender. Little Pony is looking to change that this year with strong fundamentals and "in your shorts" defense. The team has a large presence from New York state champion Stuyvesant, including crafty handler Eric Chen, who will be attending Tufts starting in the fall.
Houston Helix (24)
This is Houston's first appearance at YCC, but hardly their first time playing together. They've attended two tournaments already this summer where they were able to win a few games against low -club teams. However they suffered an 11-3 loss to their Texas YCC counterparts Two Step. They are hoping that their chemistry will help them break seed and surprise some teams. Onyekachi Osuorji and Logan Crocker both have experience playing for the University of Houston and will be names to watch for this team.
St. Louis Storm (25)
St Louis has made only one previous appearance at YCC in 2013, where they finished in last place. Despite the growing youth scene in St Louis—which includes 20 high school teams—Storm is bringing the minimum number of players (12) to this tournament. This makes it probable that they will suffer the same fate as their last appearance, thought it's still sure to be a fun weekend and great experience for these players.
Pool B
Boston BUDA (2)
This year's BUDA team is absolutely stacked with talent. Mac Hecht has just finished up a season playing with the MLU's San Francisco Dogfish and was a part of the 2014 U19 Worlds team. Tanner Johnson plays for both Ironside and the Whitecaps in Boston and will be one of the most complete players at the tournament. University of Pittsburgh commit Noah Robinson has been one of the most dominant players in the mixed division for the past two years. Jeff Dreyfus just finished a season on the UMass D line and Tim Schoch has high-level club experience with Garuda. The biggest question mark for BUDA is whether they will be able to develop chemistry between all their stars. If they can, this will be a very dangerous team and absolutely a title contender.
Chicago (7)
As they head to Blaine, Chicago has high expectations for this year. The team is primarily made up of players from Neuqua Valley and Jacobs, two schools that finished in the Top 10 of Ultiworld's high school power rankings. Additionally, they have already had a very successful tournament at the Motown Throwdown, where they defeated Cincinnati 11-8. Tyler Barrett, Jake Marrapode, James Bigiovanni, and Dylan Power are names to watch for this team. Their clash with BUDA should be one of the better games to watch in pool play and will most likely decide who advances to the Championship bracket.
Connecticut Insomnia (10)
Connecticut was the Cinderella story of last year's tournament, breaking seed by 15 spots to finish 7th. Although they've lost most of their playmakers from that team, they have a strong core of players from Middleton High School which finished 5th at Northeasterns. Connecticut is looking to prove that last year wasn't a fluke and assert themselves as a top-tier program.
Indiana INferno (15)
INferno returns to YCC for the third time with a goal of playing close games against the best teams in the country. Although they've lost 12 out of 18 players from last year's team, they should once again be stocked with athletes from 24th ranked Center Grove. Phillip Simcox is a key returner and should be a player to watch as a deep cutter.
Michigan SEMI (18)
SEMI came to YCC for the first time last year with the roster minimum of 12 players and struggled to compete with good teams. This year they upgrade that number to 15 and add another year of experience. Chenxi Sun will be the main handler for the team after finishing up a year at Carleton playing for the Hot Karls. Downfield, Nathan "Skunk" Champoux is an athletic stud. Michigan may not have the talent to challenge for a spot on Sunday just yet, but this is a program on the rise.
Iowa Goliath (23)
Goliath will play the role of David in Pool B, as Iowa is attending YCC for the first time. The 13 players on the roster will undoubtedly learn a lot from this tournament that they can bring back to the growing youth scene in Iowa.
Pool C
Seattle Shogun (3)
Despite Seattle's dominance in every other division of YCC, they haven't taken home a U19 Boys title since 2011. It looked possible last year after they took down the eventual champion in pool play, but then they ran into a red-hot Cincinnati team in the quarterfinals where they lost on double game point. On paper, this year's Seattle team, going by Shogun, could be one of the best in years. Other top teams may boast one or two players who have stepped on a professional field but Seattle has five of them. Sam Cook and Steven Benaloh were both members of the 2014 U19 Worlds team as well as members of the AUDL's Seattle Cascades. Benaloh was also one of the most outstanding college rookies in the 2015 season.
Seattle also has experience playing together; most of their team played together on the Fryz which won Neuqua Knockout handily earlier this spring with a 15-6 victory over Jacobs. Shogun should win their pool and will be hard for anyone to beat.
Texas Two Step (6)
Texas is in a rough spot geographically for youth ultimate, falling in a Southern region whose Championships have been located in one of the Carolinas (15+ hour drive) for each of the last three years. This leaves YCC as the only chance to prove themselves against out-of-state competition. Last year they exceeded expectations by taking 5th on the back of Ultiworld's College Rookie of the Year Brett Gramann. While Gramann is gone, Two Step returns most of the rest of their core, including Bradley Pfeiffer and Michael Wilson. Two Step has a very high ceiling but they'll have to fight off Carolina and a hungry Colorado team to hold seed.
Carolina Sky (11)
Carolina Sky was the shock of YCC last year as they beat DEVYL to take 7th place as a B team. While that result might be a tall task for this team to live up to, Sky is a real threat. They return much of last year's team as well as adding two players, Yuma Kobayashi and Valeri Kozarev, who played for Triforce last year. Despite their status as a B team there are no weak links on this Sky squad which really speaks to the depth of the Triangle area. Expect them to finish in the top half of their pool and really frustrate top teams.
Colorado Cutthroat (14)
Colorado's 13th place finish in 2014 was the lowest in their history by a good margin. As a result, this years Cutthroat team is dangerously underseeded. They return a large portion of their team including assist machines Will Lohre and Morgan Scott. At the Fort Collins Solstice tournament earlier in the summer, they finished 5th out of 10 teams, a good result for any youth team competing against adult club teams. Colorado may not be able to challenge Seattle for the top spot, but they'll definitely compete with Carolina and Texas for second in the pool.
DC Deadrise (19)
Deadrise suffers from splitting talent with the DC mixed team. They have solid fundamentals and a strong young handler corps in Adam Norrbom, Jonathan Malks, and Garrett Johnston. However, the size and athleticism needed to compete with the top teams is lacking. Look for Deadrise to get some wins in consolation.
Neuqua Nightmare (22)
Although Neuqua Nightmare isn't technically a B team, they definitely play second fiddle to the IYU team in the Second City. Made up of mostly new players, Nightmare will try to improve upon last year's last place finish. Jake Kaindl and Reid Martin of Neuqua Valley High School are names to watch for the future.
Pool D
Atlanta ATLiens (4)
The ATLiens had waltzed through their power pool unscathed and were up 8-5 on Triforce in the semifinals of YCC 2014. A combination of uncharacteristic throwaways and stellar plays by Triforce left Atlanta wondering what could have been. This year Atlanta fields another strong team returning Lakeside stars Jacques Perivier and Leo Warren and adding Auburn standout Eric Sjostrom. Atlanta is no stranger to out-of-region pickups, as Nashville natives Eli Motycka and Jack Spiva led them to a national championship in 2013.
Sjostrom could have the same kind of effect as he is a game changer both behind the disc and downfield. As usual, Atlanta's sights are set on a Championship, but it won't be easy to get out of a deep Pool D. They certainly have the talent to take the pool, but this tournament's format leaves no room for error.
Cincinnati Flying Pig (5)
Last year, Cincinnati Flying Pig defied the odds by coming out of a non-power pool to reach the finals. That team largely relied on stellar play from stars Dom Schuster and John Paul Bort who went on to win a DIII National Championship with Franciscan. This year the focus shifts to Jordan Monnin who was one of the best athletes at the tournament last year. Monnin will need to step into a bigger role and new stars will need to emerge for Cincinnati to repeat their success.
Nashville Nashvillains (12)
Last year's Nashville team produced a very respectable 11th place finish in its first ever YCC appearance. There's every reason to think that this year's team can be even better. Thirteen players return from the 2014 team, including captains Grant Waldron and Boone McClellan. They have attended two warm-up tournaments—which is two more than they did last year—and had a very respectable 5th place finish at Monkeybowl. Nothing will come easy in Pool D, but Nashville feels that they're in a great position to blow past their seed.
New Jersey DEVYL (13)
Coming in as a very dangerous 13 seed, DEVYL will be trying to prove that last year's disappointing result was a fluke as opposed to a trend. The core of the team is made up of players from Northeastern's champion Pennsbury. Christian Duess and Cole Drummond return as the team's goals and assist leaders respectively and are joined by fellow Pennsbury standouts Alec Hunziker and Pat Ward. While the talent is definitely there for DEVYL, it remains to be seen if they have the depth to compete on Sunday. Some of their talent has migrated to newly formed mixed team Philly Forge, including most of the players from 16th ranked Radnor High School. Regardless, look for DEVYL to break seed and compete for the pool D title.
Bay Area Bear Flaggers (20)
The Bay Area has been sending teams to YCC in the Mixed and U16 divisions since 2010, but is fielding a U19 Boys team for the first time this year. The depth of the Bay Area's youth scene will really be tested, as many top players have chosen to stick with the mixed team. Despite this, the Bear Flaggers hope to prove that they're underseeded and surprise some teams in a very strong Pool D. Most of the team plan to return next year, so look for the Bay Area to gain some valuable experience that will make them a threat for years to come.
Minnesota Superior B (21)
Minnesota B finds themselves in a very tough pool. They'll have to wait until Sunday to play competitive games, but it must be nice to be able to drive to the fields.