With just one bid, the Southwest is clearly Revolver's to lose.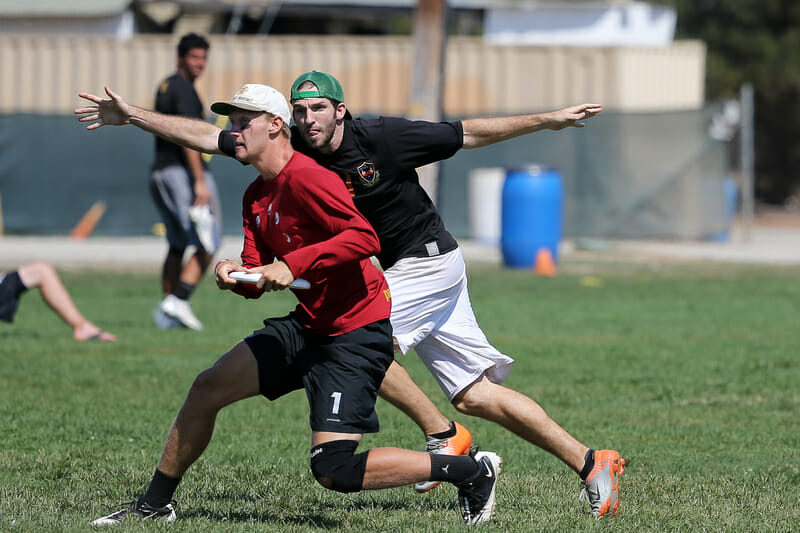 Disclosure: The author plays for Los Angeles Gridlock.
Another year, another Revolver team looking to cruise through the Southwest region on their quest to win a National Championship, the third and final leg of the 2015 Triple Crown Tour.
Tournament Profile
Date: Sept. 12-13
Location: Morgan Hill, CA
Number of teams: 10
REVOLVER'S REGION TO LOSE
There would be no bigger shock in the Men's Division than if San Francisco's star-studded elite squad failed to qualify for Frisco. The team that was stunned in quarterfinals of last year's Nationals by Toronto GOAT pulled together a significant portion of its roster in the AUDL season, leading the San Jose Spiders to a repeat as league champions. That championship run brought the team together and allowed roles to expand from what they were in 2014.
"I definitely think that the AUDL helped Revolver's development," said Revolver's Ashlin Joye. "Aside from the benefit of starting competition earlier in the season and getting a head start on strength and conditioning, spreading Revolver between the two Bay Area AUDL teams allowed people to get a lot more touches and strengthen skills, as well as play in roles that they don't usually get to on Revolver."
Revolver enters the postseason 17-2, with their only losses coming at the hands of Seattle Sockeye and Chicago Machine. The former occurred in the finals of the Pro-Elite Challenge with a limited roster, and the latter was an inconsequential loss in the incredibly strong winds of the Pro Flight Finale en route to Revolver taking home the tournament title.
While this weekend in Morgan Hill should see some light swirling winds, they won't be much more significant than those the Revolver players on the Spiders rode to the AUDL title. With Beau Kittredge almost entirely recovered from the rib injury that left him a shadow of himself toward the end of the pro season, Joye said that "everyone will be at or close to 100% going into the series."
Revolver leadership is also well aware of their primary competition at the tournament. They are very familiar with a number of the Santa Barbara Condors. "We know that have some very talented players at the top of the roster, especially the guys I have had the opportunity to play with on the Spiders," said Joye. "We will have matchups for those guys, and other than that, we will just play our game and stick to what we do best."
Like any top team, Revolver is constantly striving to improve, as individuals and as a complete team.  "Our goal is to always get better, so that is what we will try to do at Regionals," said Joye. "That means staying focused and disciplined no matter what team we are playing and no matter what the score is."
Expect the Bay Area's best to keep the intensity high and foot on the gas against everyone they play this weekend. If they stick to their gameplan and are able to execute the way they have for several seasons now, the region is theirs by a wide margin.
SOCAL'S BEST HUNT FOR THE UPSET
A couple of teams might have something to say about that.
The oldest club in the country, the Santa Barbara Condors, are the most likely candidate to earn the right to face Revolver in the final. Featuring the likes of Husayn Carnegie, Dan Bellinger, Grant Boyd, Tyler Bacon, the Condors have already demonstrated the top-end talent, depth, and mental fortitude to see out games against every team in the region other than Boost and Revolver. They defeated Streetgang in the finals of SoCal Sectionals, 13-11, in a game significantly affected by wind.
What makes this Condors team a fearsome contender is that Regionals is the first time they will have their entire roster (although Ian Chiles is out with a knee injury). They were running with a very limited roster at both Texas 2 Finger and the Select Flight Invite, and will be looking to continue on their success at Sectionals with reinforcements at Regionals. They will also be playing with the chip on their shoulder of having lost out on earning their region a second bid by 0.34 points in the final rankings.
When reached for comment, Condors leadership stated that they had no specific plans for any team at the tournament. "The Condors' game plan is simple: do the right things, have each other's back, and grind when your opponent doesn't have the strength to," said Grant Boyd. "We plan to use our entire roster to assail our opponents on the field, eat their food and vital supplies off the field, and ominously perch in their dreams."
The Condors' humor shouldn't make you think they don't have what it takes to compete. Boyd more seriously said that the Condors have significantly benefited from the Los Angeles AUDL franchise, as well as Santa Barbara's local and extended ultimate communities.
"The Aviators' season was a welcome opportunity for several Condors to get reps together against serious competition," he said. "The guys who participated are grateful for the experience. ​ As for t​he Condors' blend of chemistry and player development, much of it is thanks to a strong presence in the local youth and beach community, our focus on bringing up solid college players, our always focused and personally involved coach Steve Dugan, and 40 years of knowledge and passion​ (it's our anniversary!) from our always supportive alumni."
The Condors will be looking for a special 40th anniversary celebration this weekend. While it's difficult seeing Revolver lacking the strength to grind late in the tournament, Santa Barbara should be able to carry their "outwork the opposition" philosophy to a finals appearance, although a team a little farther south will be doing its best to rain on their parade.
That team is San Diego Streetgang. When first contacted for comment, captain Dom Leggio's only response was: "We have everything we need to go to Nationals." While blunt and brief, it speaks volumes about the belief and buy-in that no outcome is guaranteed by seeding, and anyone can win one game on one day.
Will Griffin later echoed his teammate's confidence. "It's all about who executes when the time comes," he said. "Momentum is huge and if you can gain the early edge that may be enough to push you towards the win. But all teams are dealing with razor thin margins of error to have a shot at getting to the game to go and then winning. We all know each other so well that it becomes a slugfest."
Griffin also believes that the AUDL season with the San Diego Growlers helped Streetgang, from a couple of different standpoints: "The Growlers did help us better prepare for the start of the season. We started at a higher level fitness-wise. Streetgang is a much younger and less experienced team, but playing the AUDL gave us lots of confidence going into this season."
San Diego finished runners-up to Madison Club on home turf in late June, before traveling to the Bro Flight Finale, where their only wins came over Garuda. While a 2-5 record in Wisconsin isn't exactly indicative of a likely upset over Revolver, Streetgang will give their all to be a thorn in the side of Santa Barbara and San Francisco.
It will be interesting to see how Streetgang approaches the weekend. As the second seed in a comparably easy Pool A, it may be worth not giving away too much in their pool play game against Revolver, and focusing instead on stomping the lower seeds in order to secure themselves a high-seed quarterfinal berth. Barring an upset from Renegade, they will likely face Boost or Sprawl, both of whom Streetgang have been able to comfortably handle this season. It will then be a shootout between Condors and Streetgang to see who will play Revolver in the regional final.
THE REST
Boost FC stormed through NorCal sectionals, winning the final 15-1 over Frisbee Football All-Stars. By far the most experienced team other than Revolver, Boost will be looking to impress as a semifinal contender, but have yet to demonstrate the top-tier quality that would take them to the final. Still, they have the potential to cause concern among the upper seeds, as they have a reputation of peaking well in the postseason.
Phoenix Sprawl were very good at SoCal sectionals. Their athleticism and ability to adapt with the wind were unmatched by any teams not named Condors or Streetgang. Their pool play game against Boost should be very tight and likely determine who finishes second in Pool B.
Santa Barbara Sundowners notched the biggest upset in California postseason play thus far by taking down Renegade in pool play of Sectionals to knock them out of championship contention. While they have played well this season, blowout losses to the Condors and Sprawl show that there's still significant room for improvement.
Los Angeles Renegade will be out for blood after a less-than-impressive Sectionals. A roster laden with talent and athleticism failed to live up to expectations in the wind and heat, falling to the Sundowners and Streetgang on their way to a 5th place finish. Expect them to be a primary contender in the 5th place bracket.
Los Angeles Gridlock will enter regionals without any notable wins under their belts. At sectionals, they were dismantled by Condors and Sprawl, lost to Renegade, and ground out close wins over the bottom teams at the tournament to finish 6th. Having lost to Sundowners in the game-to-go to regionals last season, breaking seed would be a vengeful accomplishment for this young team.
Los Gatos Frisbee Football All-Stars are not who most would have picked to take the final bid of the Norcal section. They ground out the double game point win over a short-staffed Sons in semis, were annihilated by Boost in the final, and then defeated an unranked team to secure their bid to Regionals. Wind may be their best friend, but it's unlikely that they make it out of pool play.
San Diego Air Show rounds out the region. 4 of their 5 wins in 2015 have come against the same team (Maximum Security), whom they edged out at Sectionals to take the final bid from Socal. Their pool will be a great opportunity to gain experience, but their only legitimate chance at a win will be in the game for 9th place.