The skeletons of Nationals past can be swept away in today's semifinal.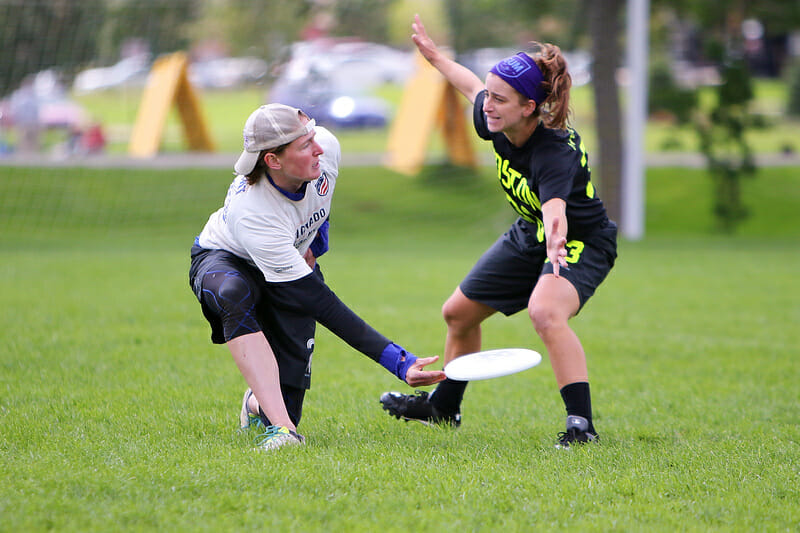 When Boston Brute Squad and Denver Molly Brown step onto the line for Saturday's semifinal, they will both be trying to look forward. The future holds opportunity for the winner, a hard earned berth into the National Championship game. Ahead of them lies an eminent and exciting challenge, the culmination of a journey. There's potential, glory, and relief.
The view in front is much more favorable than the one of what rests behind them: disappointment, defeat, shortcomings. Lengthy droughts of the top accolades. A history of the teams in the opposing semifinal forcing vanquished foes to bend the proverbial knee. For Boston, a former ultimate powerhouse who hasn't made it to the final since 2009, they don't have to look far: last season's embarrassing semifinals blowout in the semifinals is the ghost of their season. Meanwhile, Molly Brown has to dig deeper to find this level of success, but can find plenty of examples of their fellow semifinalists clearing the bar that proved too tall for Denver.
Just a field over, Seattle Riot and San Francisco Fury will do battle with the other spot in the final on the line. How many finals have pit the pair against each other? How many consecutive semifinal slots have they occupied? How many seasons have they ended?
But perhaps the #1 seed overall can afford a glance backwards. Brute Squad shouldn't forget about their torrid pace from Thursday, where they went undefeated with a +21 point differential. Nor should they ignore the pasting they handed Atlanta Ozone in the semifinals. And they'll certainly want to reference the 13-5 smackdown they laid on Molly Brown the last time they met.
Denver, if taking a similar tact, has their own fond memories. They passed the test against Scandal in the semifinals, winning on double game point over the surging reigning champions. They put together an excellent season to earned their top spot in Pool D, and defended it by dispatching Traffic in pool play. And while they fared poorly in their most recent meeting with Brute, they also upset them at the Pro-Elite Challenge a few months back.
Essentially, these two semifinalists have been playing the best ultimate of any two women's teams in Frisco. And now, after a season of preparation, pundits' predictions, and fan anticipation, the crowd will finally see the four top teams enter the ring. One of them is going home with a gold or silver medal; the other may leave empty handed.
"We match up very well," said Molly Brown's Claire Chastain.
Their 1-1 head to head record backs that up, but the quality of personnel provides even stronger support. Boston's O-line has been the best in the division, anchored by the MVP-quality play of Lien Hoffmann in the cutting lanes. Molly Brown's D-line has starpower of their own in the likes of Opi Payne, Lisi Lohre, and Becca Miller. It doesn't hurt that Payne, Crystal Davis, Ashley Daly Morgan, and offensive cutter Alicia White were all on the field helping dismantle Boston in the 2014 semifinals.
"We're not really worried about anybody, just worried about taking care of ourselves," said Brute Squad captain Emily Baecher. "We know that any game if we don't come out focused and fired up…any group of clowns can play with us or put us down."
Both teams are versatile and have some variations in their toolkits, but the game could come down to one-on-ones. Leila Tunnell and Paula Seville have combined for 17 assists to just seven turns and Molly Brown will need to find ways to clamp down. Meanwhile, Claire Chastain leads Molly Brown with 10 assists and is a devastating and poised break thrower — her playstyle is nearly identical to Tunnell's and the two were former club teammates — and Molly Brown's cutters are led by Alicia White's initiation cuts and Tina Snodgrass's goal scoring. If today's wind attends the game, the handlers' roles because even more pronounced.
It isn't enough to just get turns, but you have to score them, and both teams have really turned their focus to D-line offense. Baecher credited their defensive offense with letting them pull away from Ozone while Chastain said Kirstin Johnson's play after the turn was critical to their victory over Scandal.
"Our defensive line started trusting our offensive system more," said Baecher of Boston's quarterfinal triumph. "When it gets to these elimination games, its easy for us to feel a little bit crazy and a little bit urgent and try to end the point quickly."
It is all on the line for the South Central and Northeast champions. Only three teams have played in a women's over the past four years: Fury and Riot – the other two semifinals – and Scandal. That number will grow to four Saturday afternoon. The opportunity to start writing a new past to look back on begins now.