It's another meeting between Riot and Fury.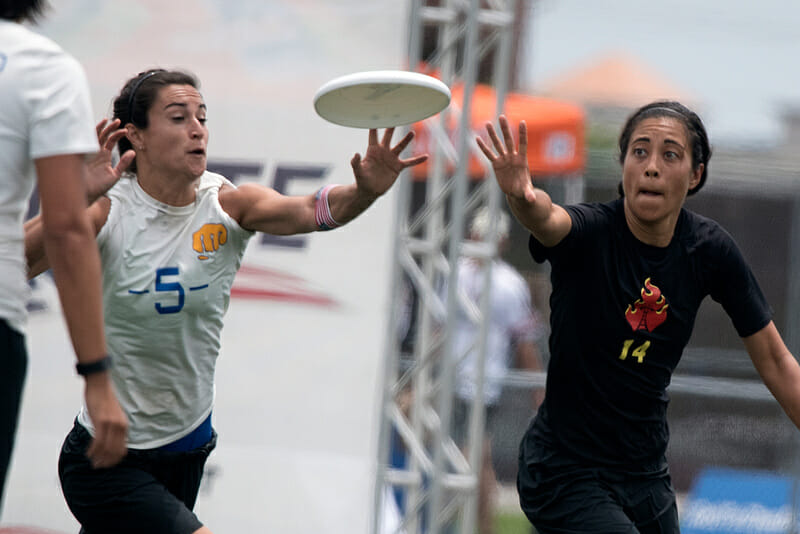 When seeds came out for the Nationals Championships in September, it seemed inevitable that two seed San Francisco Fury and three seed Seattle Riot would meet each other in a semifinal matchup. The two teams cannot seem to avoid each other in elimination games at the biggest club tournaments. Over the last 10 years, the two have met in the semifinals or finals of the National Club Championships, U.S. Open, or World Club Championships 11 times. Fury has a commanding 9-2 series lead in that time, with each of Riot's wins coming last year in the 2014 Club Worlds final and 2014 U.S. Open semifinal.
Of course, the most famous game in this stretch came in the final of the 2008 National Club Championships, when Riot roared to a 10-1 lead but couldn't stop Fury's legendary comeback.
There is no denying that Fury has had Riot's number over the last decade of play in the games that matter most, but history does little other than set an exciting stage and add drama for today's audience. Rosters are vastly different for both teams than they were even a few years ago.
Just nine of a possible 49 players from the 2008 championship rosters will be playing in this game (Riot's Shannon O'Malley was on the roster for the finals loss, but is out with an injury) and one of those players is now playing for the other team (Gwen Ambler, now on Riot). The players themselves should be minimally affected by the teams' histories with each other, as demonstrated by the pre-game comments of Sarah Griffith, one of the players who was involved in the 2008 final.
When asked about how she felt about the matchup with Fury she answered simply, "Excited." Griffith felt the team had played with great consistency all tournament and simply hoped to continue that in the team's semifinal game.
In this tournament, and really all season long, Fury and Riot have both looked worthy of finals appearances. Both have cruised through the tournament, but it may be the first game for either in which they will feel like they are playing a team that is their equal. Seattle's play has been characterized by impressive defense on both the team's defensive as well as offensive lines, allowing them to generate plenty of break opportunities while also surviving opponents' break chances when the offense has not been as clean.
"[Head coach] Andy [Lovseth] has done a good job of scheming defenses for the personnel," said Griffith on the lines.
The Northwest champion has mixed up its defensive looks as much as any team this weekend and seems very capable of adjusting to the other team's strengths. Ultimately, the goal has been to put the defense "in a position to succeed," according to Griffith, and Riot has been able to do that to this point in the tournament. Whether or not Seattle is able to do that against Fury will be a deciding factor in the outcome of the game.
For Fury, the goal should be to continue on as usual as well. Throughout the tournament Fury has put teams away so easily they have actually looked pretty unspectacular in the process, a much larger compliment to their play thus far than it reads. Again, though, this will be the San Francisco club's first real test of the tournament so it will be interesting to see how the team cranks up its play against an opponent that genuinely has the ability to hang with it for the entire game.
One of the more interesting aspects of the game should be how the two squad's different roster makeups play against each other. Riot obviously has a very strong roster from top to bottom, but they have been more visibly carried by a handful of studs than has Fury. Griffith (10 goals, 5 assists), Hana Kawai (5 goals, 7 assists), and Jaclyn Verzuh (6 goals, 5 assists) have all stood out as some of the best players in Frisco while Paige Soper has been solid as a rock as a handler and Qxhna Titcomb and Alyssa Weatherford have demonstrated the ability to take over games for stretches as well.
Fury, on the other hand, have had 17 players score multiple goals, a division high, and 17 players record multiple assists, tied for the division lead. The entire team has been dynamic and capable of making plays when necessary.
Claire Desmond (10 goals) has been as explosive a downfield playmaker as anyone in the division and Carolyn Finney (9 assists) and Alex Snyder (8 assists) have sliced up defenses with the best of them. But Fury's lack of reliance on individual stars is a distinct signature of their attack. When plays are there, the team is more than capable of making them, but the team has been so solid and played so well as a team on offense, that it has not had to rely on specific individuals to win games against the opposition it has faced so far.
Will Riot force Fury's stars to have to make plays? Will Riot be able to hang with Fury if some of the team's stars are not able to play to quite the same level that they have through five games? How these two dynamics play against each other should be one of the more entertaining developments of the matchup.
The potential for another classic between these two is palpable. The all time series history sets an exquisite backstory for a game that would be remarkably enticing even if the two teams had never played each other before. The ultimate community will likely be treated to an instant classic in semis, adding to the annals of the greatest rivalry in ultimate.