A new entrant to the ultra-lightweight shorts category.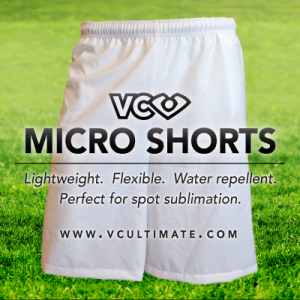 Disclosure: Ultiworld was compensated for writing this product review as a part of a larger partnership with VC. All opinions are the reviewer's own and are not subject to approval from VC.
VC Ultimate, one of the largest ultimate apparel companies, has begun releasing a new style of shorts — Micro Shorts — and they're worth talking about. The new VC flagship is capitalizing on the new slick fashion of ultimate culture.
My club team, Southern Hospitality, was one of the earliest users of the shorts in the most recent club season.
The Material: A+
If you're familiar with the typical ultimate short material, these could feel relatively new to you. The new Micro Short material utilizes a 4-way stretch, in the same fashion as most ultimate shorts on the market, but with less "give." That means that this material lands somewhere between the typical crazy stretch and the slick but unforgiving material popular with some players. These factors come together for a perfect material, one that both stretches but stays firm enough to be a close fit even after multiple tournaments.
The Design: B
The material of the new flagship certainly limits creative design, but in the new ultimate era, that doesn't turn as many customers away as it might have in the past. These won't have crazy sublimated patterns like the ones so popular in lower levels of ultimate, but the smooth "clean" look has definitely attracted more and more programs each year. VC does offer spot sublimation and screen printing on the shorts.
The interior pocket is important to some, although personally I've never found a use for it.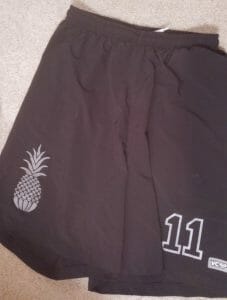 The Printing: A-
The screen print is where the Micro Shorts overtake other shorts on the list of my favorites. Some apparel companies don't do their printing in-house, which adds another wrinkle to the logistical nightmare of ordering team gear. Not only is the VC print done in-house, but the quality surpasses most shorts I own. After multiple washes throughout a club season and a grueling weekend of beach ultimate, the logo has held up beautifully. Only now after two months of heavy use are the corners starting to peel up off the material.
Durability: A+
This category is a simple one. These feel the same as they did the day I got them. With their slight give but more lightweight design, the shorts are going to have a hard time ripping on anything. As the self-proclaimed gratuitous layout champion, these shorts have held up wonderfully over multiple tournaments.
The Feel: A
The community can sometimes be divided on how they want apparel to feel, but for the most part the consensus of shorts is that you need something lightweight that can stretch. Most shorts up to this point have been extremely stretchy, but when they get wet they can get extremely heavy. The Micro shorts have enough stretch so that they're not going to rip, but when water hits them it just bounces right off. I've even used these shorts as a bathing suit, and after three to four minutes out of the water they're completely dry.
You can't ask for something more lightweight than these, but if you need something that can stretch down to your shins, you might want to look somewhere else.
The Fit: A-
I've always liked my athletic shorts to stop just above the knee. In my pair of mediums, the length suits exactly what I need. But many people like their shorts to sag down a bit lower, or go completely below the knee. For that, you'd have to order one to two sizes up, making it a fitting issue. Just remember when you're ordering that they run a bit small, so if you'd rather have them at the knee push it one size up. A big downside is that they're unisex sizes, which may bother some who have grown accustomed to a certain fit.
The Options: B-
Similar to most other shorts of this lightweight material, the only color options seem to be white, gray, and black. If a company could make these same shorts in different colors, the market would be cornered. But for now the three options are enough to get everyone started, and with the popular rise of this style, even these three colors could be very successful.
The Cost: B
These are slightly more expensive than some other shorts options, but, coming in as a team order, they may not make a substantially larger dent. Individual orders are $29, which is more than the baseline price from other apparel companies. But, to me, the durability and lightweight design greatly makes up for the small price difference.
The Verdict: A
These are simply my favorite shorts. They're my go-to for any tournament, be it beach, grass, hot, cold, you name it. $29 isn't a high enough price point to prevent me from buying more of these, and with the large team orders rolling in for college orders, these have to be on your list of potential options.