Learn more about Java's latest CUT offering: a two-day coaching clinic.

This post is sponsored by the CUT Coaching Academy.
Competitive Ultimate Training has long offered a series of popular summer camps — CUT Camps — for developing high school aged players. Now, CUT wants to help develop a new segment of the ultimate population: coaches.
CUT owner and long-time coach Arnoush "Java" Javaherian has teamed up with Chicago Machine's Cullen Geppert to offer the first-ever CUT Coaching Academy, a two day clinic in which coaches and captains will go through every aspect of being an effective ultimate coach.
Chicago Machine and Chicago YCC coach Andy Neilsen has joined Javaherian and Geppert on the coaching staff.
"One of the things I keep hearing is that there's not really anything out there to help coaches gain the knowledge to bring their coaching to the next level," said Javaherian. "The USA Ultimate Level 1 clinic is a great introductory course. Level 2 is a step higher. But this is a step higher than level 2, for those coaches who want to take their coaching beyond that."
The clinic will go deep into important elements of coaching, including strategy, psychology, team-building, practice planning, and more. You can check out a full itinerary of the clinic on CUT's website.
Every attendee will receive a three-ring binder packed with information about the topics covered; it will be a resource that they can return to for years.
"This manual is going to be very extensive, very elaborate," said Javaherian. "It will be one of the key reasons to come to the coaching academy."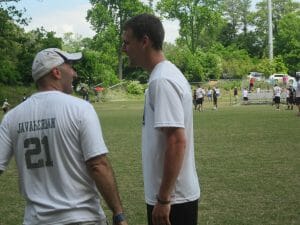 The Coaching Academy is not targeted specifically at youth coaches. The plan is to offer lessons that will help a coach at any level — even high-level club — improve their understanding of coaching and of the game.
The clinic will feature both classroom (at the Sheraton in Lisle, IL) and field sessions (at the Naperville Yard Indoor Sports Complex).
The cost of the Coaching Academy is $275, which includes two days of instruction, the coaching manual, a Patagonia 1/4-zip fleece, and breakfast and lunch on both days. Coaches will also have the opportunity to work with Tim Morrill of Morrill Performance at a discounted rate in order to develop strength and conditioning programming for their team.
The clinic will be held on March 5th and 6th in Naperville, IL, located close by both Chicago airports (O'Hare and Midway).
UPDATE: Due to popular demand, the CUT Coaching Academy will offer a second clinic on April 9th and 10th.