Brodie & Kurt have established themselves as one of the best teams in the race.
In which Brodie falls flat on his face, landing #TeamKrodie in second place. In which American women shamelessly hit on married French mountain men who couldn't seem to care less. In which we discover our Daddy's Girl Villain. 
Daniel: Based on last week's preview of this episode, it looks like this week is going to be pretty physical. That obviously gives a huge advantage to our boys, who are coming off of two successive first place finishes anyway. It may be lame, but I'm picking #TeamKrodie to win again this week. There was also footage of Kurt and Brodie watching some other person float away on a paraglider, so we know they at least don't finish last. Sure, it's the safe pick, but I'm out to be the best at this prediction thing, just like our boys are out to win The Amazing Race.
My pick for last place finishers are Erin and Joslyn. Yes, I picked them last week. So what? They finished near the bottom last week and also seem among the most likely to get ensnarled in a paragliding snafu. I also dislike them greatly after their participation in the insurrection against the models last week. And for the life of me, I can't remember why the hell it is that they're "famous." I predict karma pays them a quick visit and they're the team to get the boot.
Katie: During this leg of the race, everyone has to complete challenges on top of Swiss mountain alps. They have to rappel across a crevasse to retrieve their clues, traverse a mountain ridge to deliver dynamite and baguettes to mountaineers, and then paraglide off an Alp.
Simon: Give it up to the producers of this show for leaving absolutely zero time for any setup or narrative building. They're just racing right away. That's when you remember that this show is in the thick of its 28th season. CBS isn't clamoring for new Amazing Race fans. Why else would they not have bothered to ever explain the difference between roadblocks, detours, and speed bumps? We can hem and haw all we want, but no one at corporate is going to hear us.
Early contender for loser this week: the wardrobe people for giving us mic'd audio while everyone talks through their neckies. Good think I don't care about anything anyone says. Unless it's Dana yelling at Matt.
Daniel: As teams begin ascending some mountain that is not the famous mountain, Phil prattled on about for a couple minutes, #TeamKrodie and Tyler and Korey are in first and second place. Both teams talk about their respect for the other to the side cameras. It seems like they're all aware that they're the two best teams. They also have a pretty good rapport with each other. Really hope these two teams are neck and neck for the whole season.
Daniel: This is the first part of the race that could conceivably kill some of the contestants, which means it's surely Pat's favorite part of the season. Dana seems a little too eager to joke about Matt falling to his death.
Katie: Job Title: Chamonix Mountain Guide
Job Description: Prestigious, award-winning, and highly regarded American TV show looking for 8-10 local mountain guides for one day of work. Must be devastatingly handsome and look good in ski pants. Job responsibilities include posing importantly, keeping your mouth shut around scared tourists, and using dangerous explosives. Those with gluten allergies need not apply. Felonies okay.
Patrick: If one of the dancers falls to their death this episode, I'm declaring today a National holiday.
Katie: I wonder if contestants had to list their biggest fears on their applications, and if the producers mercilessly exploited these fears. Enough contestants list heights, they head to the Alps. Some say swimming, they're dropped into the English Channel. Contestants say "ISIS" (looking at you, Cole), and they head into the backwoods of Afghanistan.
Simon: For the dancers' sake, I hope that dynamite is real.
Daniel: Honestly, though, this is all pretty nuts. A number of the players are afraid of heights, but I feel like just about anyone up this high would feel pretty uneasy. The tension actually causes our boys to get into a minor spat after having an issue with their connector rope. They solve the issue, though, and maintain their lead. Sheri, meanwhile, begins to break down in sobs while dangling thousands of feet above the earth.
Simon: The word of the week is, "Babe." Burnie, Zach, and Matt all need to chill. Like right now. Like yesterday even. No one's impressed.
Daniel: Damn. For a grown woman who only refers to her father as "Daddy," Blair is a cold bitch. She just deliberately deceived Erin and Joslyn.
Simon:

Katie: Blair is the new villain of The Amazing Race, hands down. Erin and Joslyn are headed to the next part of the challenge, and Blair yells "Don't forget to grab the lunch!" which everyone already has strapped to their backs. Erin and Joslyn are sweet, but c'mon: Blair knew they'd fall for it. They spend an extra 10-15 minutes hunting for "lunch" before just starting the challenge anyway.
I yelled at my computer and instantly became 100% more invested in this show. From now on, I am exclusively invested in her downfall. And I'll just say it: Brodie deserves better.
Simon: Paging Kate Schlag. The real question here is whether or not a baguette serves as a proper lunch for an Amazing Race contestant. Can we get a nutritional tips for an international race that takes place in a month?
Katie: Job Title: PlanPraz Flag Waver
Job Description: Part-time assistance needed at the Grand Chamonix Lodge for one day of physical labor. Must be able to lift 5-8 pounds of French flag for hours at a time and be able to breathe in a heavy Yeti costume. Experience in competitive cheer preferred but not required. All applicants must clear a drug screen to be considered. Felonies okay.
Daniel: Damn it all. Brodie stumbles in the snow to give away first place. Korey and Tyler take first place, but our boys at least cement themselves as one of the top two teams. I can't tell if I'm upset because my prediction was wrong or if I just want Kurt and Brodie to win. Either way, I'm pretty displeased at having any sort of genuine emotional reaction to a reality TV show.
Katie: Matt reveals that he loves this leg of the challenge because he was a "professional" snowboarder for 10 years before he danced. Of course you were, Matt. Of course you were.
Simon: My winner this week is Physics. I didn't think all the nylon and French paraglider knowhow in the world could drag Brodie's massive frame and bum knee fast enough down that snowy slope for takeoff. Kurt has been taking the lead on physical challenges, and I wonder if he got hit swith the giant alpine snowball of regret when Korey came down first. Somehow, Brodie managed to make it on the second try.  Newton, you and calculus should be taking a bow right now.
Daniel: This episode flew by. It was the first time that all the challenges/detours/whatever were all actually connected apart from being related to the country they took place in. It was also the first time anything felt dangerous, and the show did a really good job of making the audience feel that intensity and suspension. Our boys were disappointed to finish second, but they ran a great leg. I still have a complaint about the editing of the show, though. We really have no idea by how much #TeamKrodie finished ahead of the third place finishers, Matt and Dana. It seemed like our boys were in a very comfortable second, but that's one place where the show lacks – giving a clear picture of the margins between the teams.
Katie: Winner: This episode was Tyler's pièce de résistance. He's fun to watch without sucking, and he's always so damn upbeat. He is the best. Let me break it down:
"When in France, find yourself a hot mountain guide." Preach Tyler.
The casual flirting with Brodie in the Gondola: "Really? You think I'm the most tender?" Lay that groundwork, dude: we all know you're the only one with actual game on this show.
He sucks it up and finishes the dynamite challenge despite not being able to see – a much more legitimate reason for struggling than Dana's panic attack.
In his cast bio, when asked what scares him most about traveling, he wrote: "Unintentionally disrespecting other cultures." #MVP
This complete and utter joy:
Loser: #TeamBlodie. The combination of alpine peril, heavy snow gear, and hot mountain guides did little to fan the flames of this budding romance. I predict Brodie will be too starry-eyed to worry about the budding reality that Blair is our generation's Regina George, but nevertheless these lovebirds need time together in the nest if we want this thing to blossom.
Daniel: My winner this week is the audience. As Simon pointed out, there was very little narrative from the onset of the episode. This week was really just about good, pure , Amazing Racing. Yes, there was plenty of dancer drama, and a hearty amount of Alabama tears, but the competitions were the real story line. This was easily my favorite episode so far and I think it's because it's the one that's most resembled an actual sporting event.  No picking out fake, matching designer bags, or reading newspapers on some long bench that is apparently important. Just good, old fashioned physical challenges that were probably more dangerous than should be allowed on this sort of show.
My biggest loser of the week is Spirit of the Game. Last week seemed to be the turning point. In the latter half of that episode we saw teams going out of their way to not help the models, sealing their fate as last place finishers. This week, there was outright sabotage and it started early.
Blair's deceit of Erin and Joslyn shook me to my moral core. Sweet "Besos for Pesos" Blair has been turned into a monstrous saboteur by the Race. Later in the round, Sheri proposed to Erin and Joslyn that the two teams work together and get to the last stage of the leg together. They coldly refused, leaving Sheri visibly disturbed. Things are really starting to heat up now and the teams are beginning to treat each other as opponents who can take their million dollars away from them rather than the adventurous friends they had been. Lovers everywhere weep as this Amazing Race begins to become something more dark than I could have ever anticipated.
Simon: My loser this week is yeti labor rights.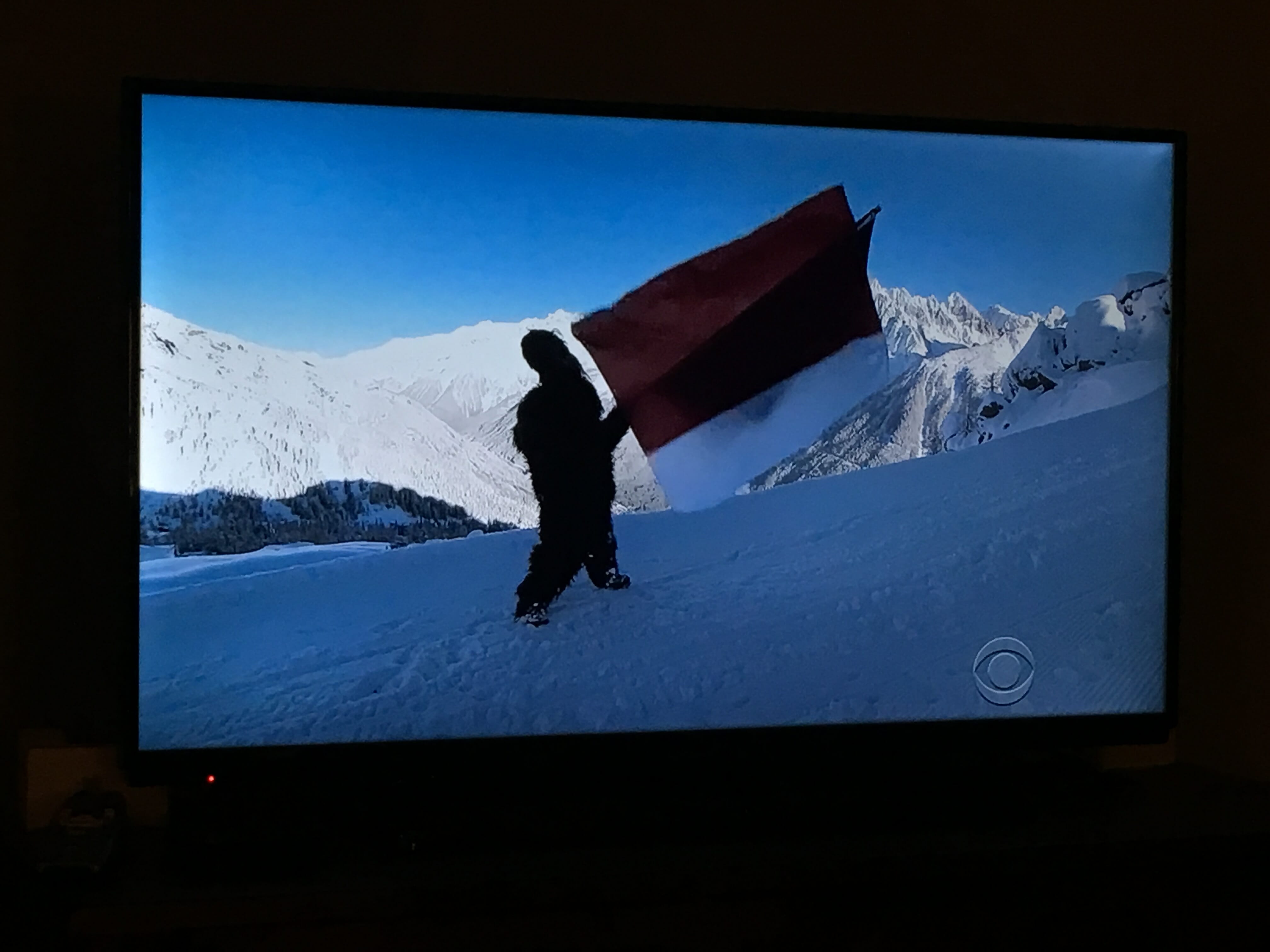 Amidst all the fun for the racers, the hot french mountain guides, Blair's true villainy and Phil's usual pageantry flanked by seemingly clueless locals who were just given one line and a wad of cash, this guy got the shit end of the stick. He's stuck there in the snow all freaking day, waving the flag of a country that he's probably never heard of, stranded in a mountain range that's actually thousands of miles from the Himalayas –you know, the mountains he's actually from? I can only assume that this poor fella is a cousin of the idiots who keep getting pwned in those Jack Link's commericals.Time for a Yeti union.
Patrick's Power Rankings: Teammates Brodie Would Eat To Survive

During the gondola trip up the mountain at the beginning of this week's episode, someone brought up the movie "Alive," in which the survivors of a mountainside plane crash are forced into cannibalism. Brodie instantly knew exactly what movie they were talking about, and then launched into some suspiciously well thought out arguments for why they should eat Tyler first if shit got real.
At first it seemed a little weird that Brodie was so knowledgeable about cannibalism, but it turns out this is something he thinks about CONSTANTLY. Like, all the time. Since he and Kurt are joining the Dallas Roughnecks for the AUDL season this summer, it seemed like a good time to go over the power rankings of teammates Brodie would eat first if things got really gully during a road trip gone wrong.
Jimmy Mickle – Such a good guy, he'll probably volunteer to be eaten first. Also, looks delicious.
Reid Bacon – By the time cannibalism becomes a viable option, everyone is going to be borderline hallucinating, and at that point someone with the name "Bacon" just has no chance.
Cassidy Rasmussen – "This Bay Area import has subtle notes of clay to balance out the zest hidden within this full flavored red. In a clear nod to its Danish heritage, this complex cab's touches of cherry serve to bring the taste buds to life without overpowering the overall flavor profile."
Dalton Smith – Much like a lighter fish or poultry, his complexion allows him to be cooked quickly, preserving a tender, juicy exterior without sacrificing a healthy looking interior.
Brandon Malecek – At around day 40 someone is going to say "Hey Muffin…" then slowly trail off as Malecek begins to turn into a dancing cartoon muffin in front of everyone's delusional eyes.
Matt Bennett – Just because he is from Houston does not mean he comes "pre-BBQ'd" a voraciously hungry Brodie will have to keep reminding himself.
Dylan Freechild – All skin, bones, and stringy fast twitch muscle. Like eating a lemur. No thanks.