The AC will be the most competitive DIII Regional of 2016.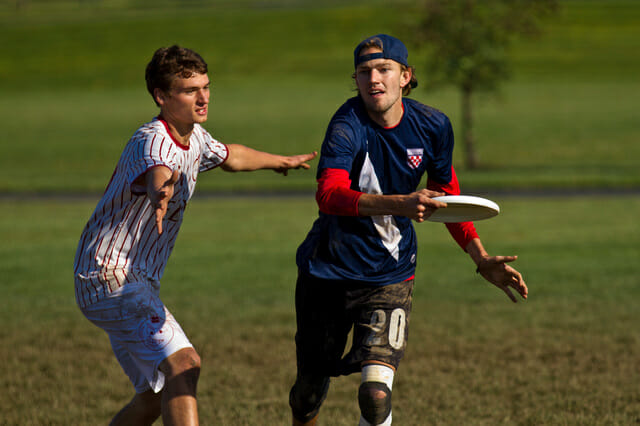 Every year at the end of the college regular season, the final USAU rankings are released and along with it, the final bid allocation.  Every year, there's one region that is left with the short end of the stick by the good ol' USAU rankings algorithm.  This year, that region is the Atlantic Coast, finishing with only two bids despite having three teams in the top thirteen.  Unfortunately, that will happen every year with a 16-team field; strength bids will always be hard to come by.  This two-bid situation creates what should be the most competitive regional tournament in the country.  Eight teams will converge on Elon University's campus this weekend for what should be a terrific weekend of competition.  Let's take a look at each team:
The Bid Winners
Richmond Spidermonkeys
Ranking: #4 Ultiworld, #3 USAU

Regular Season Record: 19-3
Tournaments: Bring The Huckus 6, Layout Pigout, DIII Easterns
If you asked anybody how Richmond's season would go, not many people would have predicted this. After graduating a senior class who led the team to three regional championship game appearances and two trips to DIII Nationals, this was supposed to be a rebuilding season for the Spidermonkeys. Nobody told them that.
Richmond had a wildly successful regular season, highlighted by a dominant 7-0 performance at Layout Pigout that featured two wins over Brandeis and a win over Franciscan. "We gained a lot of confidence from the way we played that weekend," said senior captain Dennis Maclaine. "Our offense had their best tournament as they learned how to play together and how to trust each other."
Richmond's offense is indeed a beautiful thing to watch.  They run a vertical stack, anchored by their Callahan nominee Henry Babcock. Babcock is a tall handler with precise throws from an array of release points. His height and length allow him to break his mark in a variety of ways, and his ability to hit both sides of the field consistently give Richmond's cutters the freedom to cut wherever they can get open, rather than worrying about where they can be thrown to. 
Although Babcock spends most of his time on the O-line, Richmond's D-line often operates with the same efficiency.  They roll out seven players every point that will play hard man defense, and simply don't give up easy scores.  Any throw that lacks precision will be eaten up by a nearby Spidermonkey defender, and D-line staples Maclaine and Justin Keller will punish opposing O-lines after a turn.  This defense rattles off breaks with a ruthless efficiency; watch the second half of their championship game at Layout Pigout against Brandeis, where Richmond's stifling handler defense and offensive efficiency from the D-line resulted in a 9-2 half for the comeback win.
Babcock missed Conferences due to a back injury, but according to team leadership, he should be back and healthy at regionals. Despite Babcock's absence, Richmond went 4-0 with Joey Cullison and freshman handler Chris Selwood stepping up to play big roles in Babcock's absence.  "We played really tough competition during the conference championships, and to come away with four wins without our best player gives us a lot of confidence," said Maclaine. 
This team has the talent and confidence to find themselves again in a game to keep the bid to nationals they earned for the region.  This year, don't expect them to let that bid slip away.
UNC Asheville Bulldogs
Ranking: #10 Ultiworld, #5 USAU
Regular Season Record: 13-7
Tournaments: Queen City Tune Up, Hundred Acre Wood, College Southerns
Last year was supposed to be a rebuilding year for the Bulldogs. They graduated several key offensive pieces, including first team All-Region star Sam Fontaine, and defensive standout Charlie Bridger would miss the season due to spending the semester in Boston. Instead of rebuilding, the Bulldogs reloaded and finished 4th in the region, missing out on the game to go in a tough loss to eventual 5th place nationals finisher Davidson.
UNCA didn't spend their summer resting on a successful season; instead, they pushed themselves by playing against elite competition.  Star handler Clint McSherry spent his summer playing on the new elite club team Turbine out of Durham.  Key cutters Chad Gerber and Jacob Warshauer got reps against top competition playing for the AUDL's Charlotte Express and elite mixed team Asheville Cahoots, respectively. Incoming freshman Ethan Cole spent his summer captaining Carolina Sky, a YCC team from the Triangle area.
Spending their summer improving was only half the reason for the Bulldogs' success this season: the other key ingredient was the addition of their new coach, Kyle Silva. 
Silva, a standout cutter and defender for the aforementioned Express and Cahoots, played for UNCA from 2010-2013. Silva agreed to join under two conditions: the team would focus on the fundamentals of ultimate, and the team's goal would be a trip to nationals.  Silva went to the team's second practice in the fall, and he saw everything he needed to see. "I pretty instantly knew they had the pieces for a serious run at Nationals, and I wanted to be a part of that," Silva said.
Silva's emphasis on the fundamentals is apparent in how the Bulldogs play.  Their offense, spearheaded by the previously mentioned McSherry, is crisp.  Although the disc will always start in the center with McSherry, they have capable throwers at all seven spots on their O line, and McSherry will break downfield at any time. His throwing ability behind the disc combined with his speed and athleticism downfield have placed him in the DIII POTY conversation; look for him to be a big reason for Asheville's success this weekend.
The Bulldogs defense, anchored by Bridger and Cory Oskardmay, is tenacious and athletic. They have the ability to throw out a line of seven athletic defenders to play man defense or a huge line for a 4-2-1 zone that consists of a cup where all four guys are 6'2″ or taller.  Oskardmay is the engine behind their offense after a turn.  He's the smallest guy on the D line, but he's impossibly quick on a turn.  "Cory puts everything he has into every point," McSherry said.  "He's a menace when he's moving quickly with the disc." 
Asheville's ability to keep their bid to Nationals this weekend will come down to the ability of Bridger, Oskardmay, and the rest of the D-line to earn breaks. Their O-line will take care of business; if the D -ine gets going as well, expect the Bulldogs to earn a ticket to Winston-Salem.
The Reigning Nationals Teams
Davidson DUFF
Ranking: #7 Ultiworld, #13 USAU
Regular Season Record: 11-9
Tournaments: Queen City Tune Up, Market Crash, DIII Easterns
Every tournament, there seems to be that one team you can hear no matter how many fields away they are. They have a cheer for every pull. When they score, the entire sideline erupts like they just won nationals. Ladies and gentlemen, meet the 2016 Davidson team.
Don't let their silly cheers or goofy sideline fool you; Davidson is an extremely talented group that gets results. Ask any of the teams they played at Queen City Tune Up; Davidson showed up as a small DIII school seeded last in their pool and came one 10-8 loss to D1 nationals bid-earner Ohio State from making the bracket. Despite their excellent showing at QCTU and a 4th place finish at DIII Easterns, Davidson came up just short of earning a third bid for the region, finishing one spot from a strength bid.
As cliché as this phrase has become, Davidson is a perfect example of a "faceless mob." They're a deep team that doesn't rely too much on any one player for their success. Senior handler Robby Kuster anchors the O line with his crafty lefty throws, and senior Kyle Taylor and junior Chris Johnson fuel the D line. His opponents in particular recognize Taylor as the engine pushing Davidson's success. "Every time Davidson pulls, not only do I have to think about the defense they're running, but I have to think about Kyle hauling down on the pull," said defending region POTY Zander Taylor from Elon. "Him getting down on the pull is more than just his determination on defense. Even late in games, he is willing to fight for every possession."
Davidson is certainly peaking at the right time. They won the Carolina conference championship, beating every team in attendance and avenging their only loss of the weekend, to High Point, in the championship game. DUFF's playing style and relentless positivity means that they will be in every game right until the end.  Don't be surprised when they turn these close games into wins and a shot in a game to go.
Elon Big Fat Bomb
Ranking: #11 Ultiworld, #22 USAU
Regular Season Record: 9-5
Tournaments: AFDC College Terminus, DIII Easterns
Elon Big Fat Bomb has everything you would expect to see in a Nationals team. They have a superstar in defending region POTY Zander Taylor. They have elite, experienced depth in players like Bryan Szymanski, Billy Scofield, Aaron Rodgers, and Paul Kantlehner.  They have a top coach in Matt Rushing.  They have exciting young talent with loads of potential in Connor Whiffen and Jeremy Lonnman.  So why didn't they contend for earning the region a bid to Nationals?
After spending last season dominating all DIII competition, winning DIII Easterns, Sectionals, and Regionals, BFB came into this season with an eye on developing depth for when the season really matters. DIII Easterns, a tournament they've won the last two years, became a tournament for their whole roster to learn valuable lessons.  "For many of our rookies, Easterns was their first time playing really crucial points in a highly competitive tournament," said Zander Taylor. "It was a great way to end the season and a strong first step heading into the series."
Adding even more depth to what was already an extremely talented group makes Elon the scariest five seed in any regional tournament in the country. This team won the region handily last year, and they return all three of their All-Region selections from last season (Taylor, Szymanski, Kantlehner). All three of these guys are seniors, and this weekend will be the first time all season that the three of them have played together while healthy. You can count on them doing everything in their power to make sure it isn't their last.1
The Dark Horses
High Point University Bagheera
Ranking: #20 Ultiworld, #40 USAU
Regular Season Record: 7-14
Tournaments: Market Crash, College Southerns, DIII Easterns
It's only fitting that the High Point University Bagheera are having a breakout season in the same year that their namesake makes a return to prominence with the release of the new The Jungle Book film. In only their second year as a sanctioned program, HPU has made tremendous strides, peaking two weeks ago with a second place finish at Conferences.
Last year, the team relied on all-region senior Mike Ball to do a lot of the playmaking. "Mike is the fastest cutter on our team, and his role extends to all aspects of the game," said senior captain Stephen Keeler.  However, despite Ball's return to the team as a graduate student, Bagheera's success this season has been a result of the development of the rest of the roster around him. 
Keeler and fellow senior Michael Cantor have stepped up big time to take over most of the O line handling duties.  Sophomores Austin Morris and Josh Verdeur have become key cutters that create openings downfield. The biggest improvement this season, however, has come from junior captain Cam Bellando. He spent his summer as an important D line handler for the New England open team Breakers, and that crucial summer of club experience resulted in tremendous growth in his range of throws and playmaking ability.  "Cam is one of the more versatile players on our team," said Keeler.  "In addition to being a great handler, he has incredible layouts both on offense and defense."
Much of HPU's player development should be attributed to the tutelage of second year coach Brian Gane. Gane, a member of the defending national and world champion Masters team Boneyard, brings an immense amount of knowledge and experience to the team. 
HPU proved at Conferences that they could hang with any team in the region.  The question remains whether their new depth can handle the grind of a long regionals tournament and remain disciplined in Gane's teachings enough to steal a bid away from one of the traditional powers. 
Mary Washington Mother of George
Ranking: #25 Ultiworld, #27 USAU
Regular Season Record: 6-10
Tournaments: Williamsburg Warmup, Smellfish Beenanza, DIII Easterns
Mother of George is another team that not many people outside of the region had heard of until this year. However, thanks to some very generous donations by a couple of the team's supporters, the whole world got an opportunity to watch Mary Washington play twice at DIII Easterns. What they got to see is an energetic, athletic team that plays with a relentless intensity on both sides of the disc.
Zach Norrbom is the team's most-talked about player. You won't find a player in the division more deserving of the praise he receives. "He is extremely difficult to contain in the handler space, and he's fearless throwing the disc," said Catholic Bad Habit coach Dave Ryan. "When he's on, he's probably the most influential player in the Conference, and certainly the most important to his team."  As amazing as Norrbom's playing ability is, his influence can almost be seen more when he's off the field. Watch the beginning of their DIII Easterns game against Rice; you'll see Norrbom in his white headband, walking up and down the sidelines coaching and encouraging his teammates. That kind of attitude is infectious and can be seen through the entire roster.
The key for Mary Washington is going to be scoring the disc on defense, and ideally without Norrbom having to cross over to make that happen. Their D-line is spearheaded by handler Robbie Pratt, who was described by Mary Washington coach Keys Pattie as "a feisty little man with thick skin and great spirit."  This team has shown the ability to pull off upsets within the region already, beating both Richmond and Elon at DIII Easterns and taking Richmond to double game point at sectionals.  Whether or not they can pull enough upsets to earn a bid to nationals will depend on Norrbom playing his best all weekend and his teammates playing their roles well enough to give him the support he needs. 
The Long Shots
Naval Academy Poseidon
Ranking: #53 USAU
Regular Season Record: 5-9
Tournaments: Chesapeake Classic, Garden State
Navy Poseidon is one of those teams that look different every time you see them play.  Looking at their tournament results, it's hard to figure out which results truly reflect their ability.  They began their season at Chesapeake Classic, picking up three solid wins and a close loss to a very good team in VCU.  They finished their regular season with a brutal showing at Garden State, only winning two games and averaging only 5.4 points a game over the weekend.
Navy's Jekyll and Hyde act continued at sectionals with a dominant win over Catholic and a double game point loss to Richmond (featuring this crazy play), followed by a brutal 15-8 loss to Mary Washington in the second place game.  So which team is the real Navy?  The one who lost by one to VCU and Richmond?  Or the team that got blown out four times at Garden State and by Mary Washington?
As you can expect from a military school, Poseidon is an extremely fit team with plenty of depth that will try to wear you down over the course of a game.  They don't have many players who stand out, but when they need to make a play, they turn to senior captain and handler Austin Tortorici and cutters Sam Weaver and Austin Scigliano to make it happen.  Spencer Cobb, a sophomore on Poseidon, refers to the tandem of Weaver and Scigliano as "a devastating cutter pair" who can both huck and get big in the air.  On the D line, Navy looks to JP Faucher to make the big plays for them.  Beyond these big playmakers, Cobb says that Poseidon is blessed with a full line of freshmen who "have stepped up a lot this year".  Look for some of these younger guys to get big game experience this weekend and start coming into their own.
Coming in as the 7th seed in a loaded region, the odds are stacked heavily against Navy.
Catholic Bad Habit
Ranking: #73 USAU
Regular Season Record: 7-13
Tournaments: Atlantic City, River City Tune Up, Garden State
The unfortunate reality is that there has to be a team seeded last in every tournament.  This year at Regionals, that team happens to be Catholic University Bad Habit.  That being said, choose to underestimate Bad Habit at your own risk; they're playing their best ultimate at the right time of year.
Bad Habit began their season with two poor showings at Atlantic City and River City Tune Up, going a combined 2-11 at these tournaments and getting blown out by some mediocre competition.  However, things started to click for them at their last regular season tournament.  "Garden State really brought back our competitive spirit," said junior team captain Peter Warwick.  "It let us know that we could really compete."  Coach Dave Ryan echoed Warwick's sentiment, saying that Garden State "went a long way towards restoring our confidence and giving us much-needed energy at practices leading up to the Series."
Bad Habit looks to Warwick to carry their O line, doing most of the work with his throws and hitting his teammates as they present themselves.  The team's other captain, senior Kyle Adair, leads the D line along with the energetic Finbar Kantor, who Ryan says is "as enthusiastic and un-intimidated of a competitor as a coach could hope for."
***
Through conversations with the coaches and leadership from all eight teams, one sentiment rang through unanimously: this will be one of the most competitive tournaments this region has ever seen. "What we've seen in recent years is a power shift where the Atlantic coast is the new region on top in DIII, vying for multiple bids every year and taking down big name teams from all over the country," said Elon's Zander Taylor. "I think even if we had three bids, it would still not be enough given the talent the region has." 
Every single team in this tournament is talented and well drilled; if a team loses their focus for even one game, they could find themselves battling through the back door bracket with their season in the balance. 
If you're in the central North Carolina area this weekend, I would strongly encourage you to make your way over to Elon University's campus to see some of the best ultimate the DIII division has to offer. Coach Silva summarized the weekend the best: "I'd take the top four teams in the AC against any other region's top four all day every day. I think Regionals is going to be a bloodbath…and a whole lot of fun to be a part of."
---
Important note: Elon will be without Coach Rushing this weekend, as he is off getting married. Congratulations to Coach Rushing and his bride Rachel Johnson! ↩