Heavy favorites should take home bids in these regions.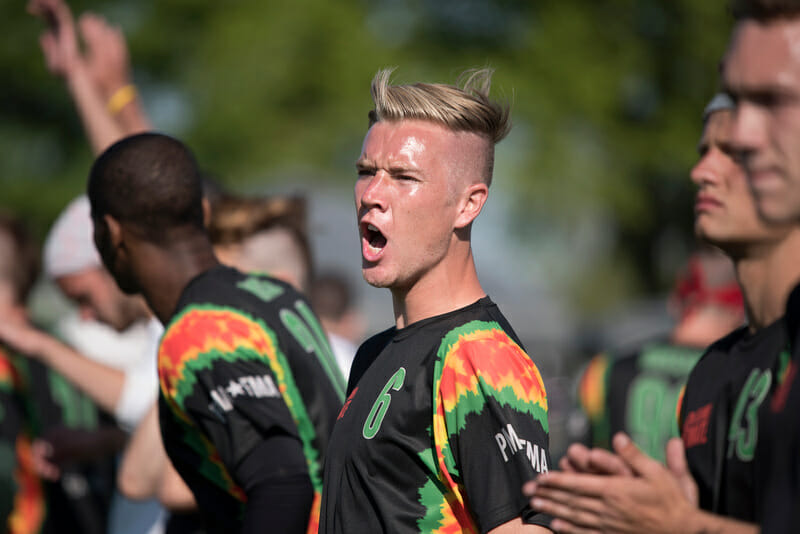 While you can never rule out some wild results at Regionals, these three regions are the most likely to finish just as you expect. The top teams are obvious, the underdogs are too far under, and the odds are heavily in favor of the top seeds.
Atlantic Coast
Tournament Profile
Location: Axton, VA
Bids Available: 2
Top 25 Teams: 3
The North Carolina programs of UNC-Chapel Hill and UNC-Wilmington have been the class of the Atlantic Coast for the last few seasons. With both finishing in the top 10 at the end of the regular season, it's hard to see any other outcome than another classic matchup between the two teams in the final and a comfortable game to go win for the loser.
Wilmington got the better of UNC at Conferences as the team's experienced core, led by Xavier Maxstadt and Jack Williams, overwhelmed the younger UNC players. Regionals is always a chance for redemption, though, and we've seen the winners flip flop in the last couple of seasons.
Wilmington is a hot-and-cold team, always a bit dangerous when you face elimination games. But their talent is well above that of the rest of the region which gives them a margin for error that a less skilled team wouldn't have.
UNC relies on its core of strong sophomores to lead the offense and a team defensive scheme led by JD Hastings and Nathan Kwon.
Both teams are well-coached and have played in very high pressure games in the last two to three seasons. Could they be challenged? Sure. But as good as teams like Virginia Tech have been at points this season, it's hard to imagine the big upset coming in a game to go.
Tech, though, will have the best shot at stunning one of the big two. While you cannot overlook their third place finish at Conferences (behind JMU and Virginia), Tech has showed the highest ceiling this year with some big wins at Warm Up and Easterns. Burn had a shot at UNC once this season, at Easterns: they lost 15-5.
There are plenty of other quality teams, including JMU, Virginia, VCU, Georgetown, and Maryland. But none has flashed the kind of ability that would be necessary to take down one of the top teams.
New England
Tournament Profile
Location: Amherst, MA
Bids Available: 2
Top 25 Teams: 2
There may be no region that so starkly divided between the bid earning teams and everyone else. UMass and Harvard are both excellent teams with visions of deep runs at Nationals. Everyone else is just hoping to get a shot in the game to go.
UMass has been the clear #1 team this season with a convincing performance at Easterns to cap off a very strong regular season. They lost two games: one to UNC Wilmington on double game point back in February, and one to Pittsburgh, 15-13, after their best player, Jeff Babbitt, left the game early on with a head injury.
They crushed all comers at Easterns despite missing some key starters like Connor Kline and Brett Gramann. They will be the heavy favorites to win the region.
Harvard hopes to have something to say about it. They also had a good year, landing wins over Oregon and Georgia and finishing ranked #11. John Stubbs and Mark Vandenberg are rightly given breathless hype and are very clearly the team's most important players. As those players go, Harvard goes.
UMass' superior depth gives them the edge in the probable final, but it wouldn't be a shock to see Stubbs go nuts and lead Harvard to a win.
Can Brown or New Hampshire make it interesting? UNH has played a lot of local tournaments against weak competition, so don't let their 21-1 record fool you. But they are talented enough to have a shot to get into the game to go. Senior Thomas Edmonds is the real deal.
Brown looks to the veteran Eli Motycka and the rookie Mac Hecht to lead the way. They went to the Northwest Challenge and lost a lot of games, but put up 13 points on both Oregon and Washington. They're solid. The depth is definitely questionable, but Motycka and Hecht have shown an ability to shoulder a lot of the load. The problem for Brown? They lost 15-9 to a UMass team playing its B game at Conferences. They just might not have enough in the tank this season.
North Central
Tournament Profile
Location: Cedar Falls, IA
Bids Available: 3
Top 25 Teams: 3
Has a region ever felt more chalky than the North Central? With two teams with semis aspirations in Minnesota and Wisconsin and a legacy program hungry to get back to Nationals in Carleton, it's hard to imagine an upset in this year's North Central.
Minnesota v. Wisconsin in the presumptive final should be a great, great matchup — one of the best at Regionals this year. While both teams should qualify for Nationals comfortably, it will be a measuring stick game for both teams. Minnesota has one of the best offenses in the country. Wisconsin has one of the the best defenses. It's a classic contrast in styles.
Don't forget that Minnesota won the region last year. While their defense is not what Wisconsin's is, it is stout enough to cause problems and features multiple Sub Zero players including Tristan van de Moortele. The Kansas transfer student Sam Bumsted has been a revelation for the D-line. Freshman Cole Wallin has also been a standout defensively.
The offense is a thing of beauty when it can get into flow against a man defense. Ryan Osgar, the team's Callahan nominee, and Ben Jagt have been a potent combination and will present Wisconsin with some matchup challenges.
Wisconsin will look to Aaron Speiss and Craig Cox to lead the way on offense as Avery Johnson provides a consistent release valve in the backfield. Speiss, in particular, has been impressive this season. Defensively, the team is chock full of playmakers, but Sterling Knoche and Nick Ladas are some of the standouts.
Please, somebody, videotape that final. It's going to be awesome.
Carleton could throw a wrench, but it's hard to see the team getting past those top two seeds. They simply have not shown enough consistency this year and the offense struggles at times. Wisconsin, especially, could eat them alive.
Luckily for Carleton, the team may not face much resistance getting to Nationals this year. The four and five seeds, Iowa and Luther, respectively, didn't have remarkable regular seasons and may be overpowered by the big three.
Iowa will look to Michael Wormley and Jimmy Hean to lead the way, but likely won't have enough depth to hang in there.