The most exciting regionals this weekend.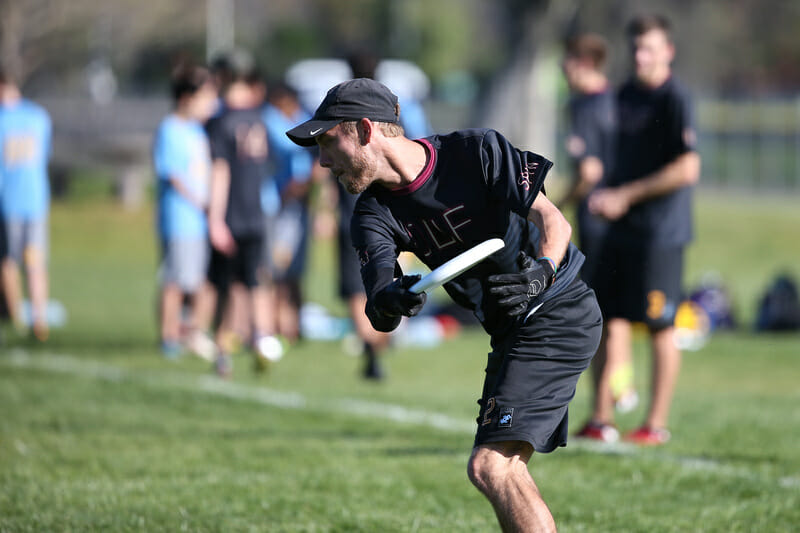 In the collection of this year's College Men's D-I Regionals, three tournaments look like real tossups. These are the tournaments that have had us buzzing. Super Sunday is days away!
Southeast
Tournament Profile
Location: Columbus, GA
Bids Available: 3
Top 25 Teams: 4
It's hard to believe this region almost got stuck with only two bids to this year's College Championships. Thanks to a last minute decision by USA Ultimate, the 16 teams in the Southeast will compete for three bids in a wild bracket. Florida and Georgia are the clear favorites to take the top two bids, but after that…
The Title Contenders
In Florida Conferences, the University of Florida avenged their double game point loss to Central Florida in game one when they claimed the Conferences title the next day. The trophy capped off an impressive season from the Gators, but there are still plenty of question marks going into this weekend's tournament. At first glance, the nine losses alone are enough to raise doubts. But examined more closely, every one of those losses came to a top 20 team (with five of them coming to a top five team). Despite what that might mean for their hopes later in the series, Florida looks like the top contender for a regional title.
The Gators have had all season to recover from the loss of veteran handler James Dahl, who graduated last season along with Matt Terza and Brian Benge. And after a disappointing 2015 in which the team missed Nationals, expectations are high from head coach Cyle Van Auken. "Not many changes from last season," Van Auken told Ultiworld at Warm Up in February. "With James and Bobby being injured for large portions of last season, several people had to take on their responsibilities a year earlier than planned." Those responsibilities typically fell to the new slate of veteran playmakers for the Gators.
Tanner Repasky and Billy O'Bryan have been successful in Florida for some time now, but this year they've taken on leadership positions. Junior Hayden Wachob has also taken on what Van Auken called a "point guard" responsibility. Repasky will likely take on some of the more challenging defensive assignments, while O'Bryan and Wachob will help facilitate movement in the backfield. But the true potential of Florida may lie with Bobby Ley, who is familiar with the national spotlight at this point. In what will likely be his last shot at a deep Nationals run, Ley will need to perform well to have the Gators peaking at the right time.
Van Auken hasn't shied away from making his expectations known. Even early in the spring, he was very clear. "We're focused on winning the Region," he said. "The Southeast should once again be one of the best in the country, so success there should portend to success in Raleigh."
Their main competition has to be the University of Georgia. UGA began their season with a great showing at Queen City Tune Up in North Carolina. They battled through close games to eventually finish third, with their only loss coming to UMass (currently ranked 1st in the country). In their Conference tournament, UGA easily defeated every opponent, with their closest game being a 14-10 win over Georgia Tech.
After some experience with Atlanta's Chain Lightning, Sam Little has been excellent this season, playing into the POTY conversation over the last couple months of the season. Things looked grim early, when a Sebbi Di Francesco ACL tear cost them a valuable handler and on-field leader. But since the fall, Nathan Haskell and Parker Bray have built on last year's Nationals experience to become tremendous downfield threats. Like Florida, most of Georgia's losses have come to top level programs, leaving people wondering how they stack up in the hunt for a southeast title.
Florida State closes out the list of favorites, but only because they earned the final bid allocated to the region. The two impressive wins for DUF came over the two programs seeded ahead of them — Florida and Georgia — but out of region this team looked exactly like what most expected for 2016: a rebuilding roster. Connor Holcombe returns as the team's swiss army knife, while Bobby Patterson and Avery Brussel have worked to fill the void left by Andrew Roney and Chris LaRocque. Despite an enormously successful 2015, this team will have to fight their way back to the national stage. Still, their ferocious defense filled with layout ready athletes could cause problems for teams this weekend.
The Next Tier
After a difficult start to the season, Auburn began to shine at this spring's Tally Classic. Back-to-back double game point wins over the two North Carolina powerhouse teams — UNC and UNC Wilmington — showed that this team can hang with anyone. 2015 Southeast Player of the Year Ryan Landry returns after last year's impressive run, poising Auburn for a return trip to Nationals. They'll open their weekend against a talented Emory team, making their weekend challenging from the start.
Central Florida returns goal machines Michael Fairley and Stuart Little, but their season has been tumultuous at best. Still, it was enough to get them a five seed in the region, but this could be the first time in a while that we don't see the Dogs of War at Nationals. However, head coach Andrew Roca could have his team peaking at the right time. In the Florida conference championships, UCF bested both Florida and Florida State on day one, only to lose to both teams on day two. Still, the Dogs of War can be comforted by knowing their team is capable of notching an upset.
One of the most interesting teams in this second bunch is Tulane. Tulane qualified for Nationals in 2015, before their bid was taken due to a rostering error that made huge headlines at the end of the year. And after the loss of standouts Greg Cousins and Pat Dougherty, Tulane will have a hard time getting back to the pinnacle for the second year in a row. Still, the hunger is still there for the team in Louisiana.
"Our journey has always been defined by achieving new heights for our program," said Tulane captain Jack Baba earlier this season. "Qualifying for nationals was certainly inconceivable five years ago but, at least for 24 hours, we broke through that barrier." Tulane returns Chance Cochran and Evan Walters, who are two the better defenders in the region. But according to Baba, their depth will see them through to the promised land. "We are just in our second year of supporting A & B teams so this year we feel we've put together a really strong team top to bottom," said Baba. Despite a lackluster regular season, look for Tulane to be hungry for an upset this weekend.
Everyone Else
If you can write off a poor Huck Finn performance because of the travel distance, LSU looks poised to make an upset. The games they lost this regular season to their in region opponents were close, and the games they won weren't. Early in the year, the Tigers lost to Auburn by one. In the recent Gulf Coast Championships they went to overtime to eventually lose by two (although they blew a big lead late in the second half). Other positive results show good signs, like a 13-11 win over Tulane, and two big wins over Tennessee-Chattanooga and Tennessee. If you pick one team outside the top five or six to make the game-to-go, LSU seems like a good option.
Georgia Tech is another question mark in the southeast. A team with a respectable record, but not enough travel to inspire belief. Stephen Burkot returns again as a captain, with Nick Ryan and Ashwin Anantharaman finishing out the throwing core. A mid-season win over DUF is a good sign for this teams potential.
***
The first and second bid for the region seem fairly locked up by the big powerhouses Florida and Georgia. But after that the region gets truly unpredictable. Most of the remaining teams have played each other already, with no real favorite emerging. A wild Sunday in Colombus, GA, will surely finish with three or four teams thinking, "it could have been us."
Ohio Valley
Tournament Profile
Location: Columbus, OH
Bids Available: 2
Top 25 Teams: 1
Heading into the final weekend of the regular season at Huck Finn, it was a toss-up as to who would land the final strength bid to the College Championships. A wacky weekend followed as many of the top bid contenders faltered; when the dust settled, it was Ohio State and the Ohio Valley region that hit the lotto. That took the OV Regional from a meaningless exercise to a thrilling event in one fell swoop.
Pitt's Going To Win It
There's not much more to say: Pittsburgh is far and away the best team in the region and they will win easily, as they have since the regional redraw. The talented trio of Trent Dillon, Max Thorne, and Pat Earles may not even play a whole lot this weekend, as the second bid makes it even more likely that the team won't face a tough challenge (why waste your energy?).
Pitt, as usual, has aspirations far beyond Regionals. Let's move along.
A Battle For 2nd
Quick, pick the second qualifier from this list: Case Western Reserve, Ohio State, Penn State, Ohio, Cincinnati. Have a little trouble?
It's a wide open year, unlike last year when Cincinnati was a clear #2. Case Western is the second overall seed and could be considered the favorite, despite not earning the strength bid. Grad student Joseph Marmerstein (formerly of WashU) has continued to be one of the best unknown players in college and he knows what it's like to play in a high stakes game. Last year at South Central Regionals, he dominated the first half of the game-to-go against Texas and led WashU to a three point halftime lead. The team fell apart in the second half, but Marmerstein surely learned some lessons.
Case lost to Ohio, though, at Conferences before beating them by one in the final. They are surely not a lock.
Bid earner Ohio State definitely had the best regular season, walloped Cincinnati four times in the last month, and crushed Ohio 15-3 in the second place game at Conferences. But they lost 14-10 to Case at Conferences and have been plagued by up-and-down play, not a good quality to have when you're facing elimination games. The team's best player, Paul Arters, is a lot of fun to watch and they'll need him to have a big weekend.
Penn State has been perhaps the most consistent team of this group over the last five years. They're always good, but they're never good enough. It feels like we say it every year: this could be their year. Well, it's true once again. What more can they ask for then an extra bid in Marcus Thaw's fifth year? Thaw's been a big contributor for years, but this year, Codi Wood has been the team's best player and they will need a strong performance from him if they want to make a push. Penn State's only losses at Conferences came to Pitt, but you can't ignore their big regular season losses to Ohio State, 15-10 and 15-8.
Ohio used to be a serious Nationals competitor back in the days of Mitch Cihon and Connor Haley, but dropped off a lot after their graduation and have been rebuilding since. They'll have a real shot this year to get back. Alex Flamm, a former standout for Cincinnati, is on the Ohio roster now and has been a big contributor. Perhaps he can deal some heartache to his former team. Ohio lost a heartbreaker in the Conference final to Case Western before getting waxed by Ohio State in the 2nd place game. Don't place too much meaning on that game. Ohio has quietly had a pretty good season and will be in the hunt.
It hasn't been smooth sailing all season for Cincinnati, but there's something to be said for having been there before. If they get into tight games late in the weekend, they will have that mental edge of having been at Nationals just a year ago. They are definitively not as talented as they were a year ago, but they have enough firepower remaining that they will have a shot. Justin Latz has been strong all season and could fill into his brother's shoes and carry the team back to Nationals.
Great Lakes
Tournament Profile
Location: Fair Oaks, IN
Bids Available: 1
Top 25 Teams: 0
One of the country's weaker regions, the Great Lakes is the only one to fail to feature a single team in the Ultiworld top 25 (even the lowly Metro East has #23 Connecticut). That said, a high degree of parity makes this year's Great Lakes a particularly exciting regional, as there are a handful of teams that will have a shot at the lone bid to Nationals.
Can Michigan Reclaim Top Dog Status?
Michigan was a quarterfinalist at Nationals just two years ago, but, shockingly, missed the tournament last season. But with Sam Greenwood, Noah Backer, and a host of defensive grinders back this year, they are once again the favorites to advance.
Perhaps the biggest win on Michigan's roster is their 13-11 one over Illinois at Easterns. The Illini have been Michigan's biggest opponent in the region since the redraw.
Outside of the region, Michigan's season was just ho hum. They beat the Regionals-level teams and lost to the Nationals ones. Their best results are all close losses to strong programs like Pittsburgh and Georgia.
Although the team's ceiling may not be that high this year, they are still the likely qualifier.
Red-Hot Purdue Hopes To Tip The Scales
Purdue hardly played this season. After a January appearance at T-Town Throwdown, they didn't take the field again until the last week of the regular season at Huck Finn, where they put up some impressive results, landing wins over Auburn, Cal Poly SLO, and Illinois. They followed that up by ripping through the competition at Conferences.
That earned them an overall two seed. But can they play up to that seeding?
With Bobby LeRoy in the backfield, they'll have a chance to do so. There are a lot of other teams that have had more historic success nipping at their heels, however.
Who Can Step Up?
Although Northwestern had a quiet season after struggling mightily at Warm Up back in February, they turned it on at Conferences and swept the tournament, including an 11-8 win over Illinois in the final. The big lefty Ben Spielman has been a strong contributor this year and Northwestern has been a contender at Regionals for a few years running now. But can they get over the hump? They ran into a tough Eastern Michigan team a couple years ago and didn't come close last season, finishing fifth.
Illinois, last year's qualifier, is always a threat at Regionals. But they have seemed to regress a bit over the course of the season. After a strong fall, they got shellacked at Warm Up and Easterns and lost to both Northwestern and Chicago at Conferences. Nick Prozorovsky is a superb player, but he's been banged up for a lot of this season. They'll need him at Regionals.
Notre Dame made the game-to-go last year and lost to Illinois; they'll still be a contender this season. But two one point games — a loss and a win — against Indiana at Conferences doesn't exactly inspire confidence in their ability to win the region.