A look at what we learned in Rhode Island at the US Open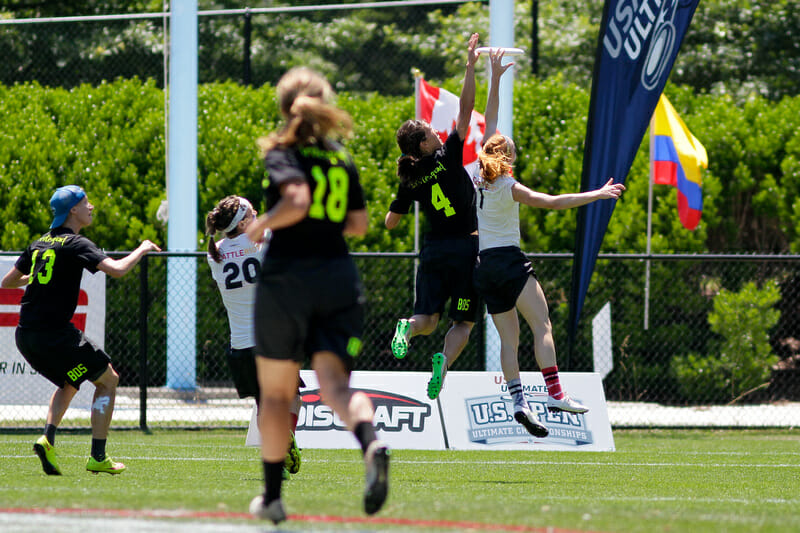 This post is presented by Disc Store. All opinions are those of the author; please support the brands that make Ultiworld possible and shop at Disc Store!
The US Open gave us a first look at the country's top club teams as the 2016 season gets underway. Although teams were clearly not at full strength and many were getting one of their first chances to play together, the tournament still provided some valuable information about where teams stand early in the season.
Fifth For Fury
For most teams, a 5-2 weekend at one of the toughest tournaments of the season would be cause for celebration. But for Fury, the lone top-5 seeded team left outside of the semifinals party, it's potentially cause for alarm. In the two games that really mattered, Fury came up short, falling to both Brute Squad and Molly Brown.
San Francisco was simply inconsistent. While there were flashes of the smooth and versatile Fury offense that utilizes the well-rounded skills of their deep roster — shifting players' positions to attack matchups or capitalize on defensive slip-ups — they were sometimes ground to a halt by execution errors. Running out of a space-heavy side stack is likely to be very effective with their personnel. What was jarring was their inability to generate pressure on defense, something that the other elite teams, who were also playing their first tournament, were able to do in crunch time.
There's no need to panic. Fury was missing some of the explosive athletes that might help them break through offensive stagnation or yank possession away from their opponents. With the level of experience across the roster and perhaps the division's best understanding of how to distribute responsibility across the team, things will clear up for Fury. Seeing them play with a greater sense of urgency and tempo in the midseason will do a lot to assuage any concerns.
Semifinalists Wrap-Up
Now that we've gotten to see the top teams in action, what's the early verdict?
– They came in #1 and they'll leave the same. Boston Brute Squad looked well ahead of the competition, especially when they were able to run out their stifling defense. Rarely complicated in nature, they rely on intensity, athleticism, and aggressiveness to wear down offenses. Yet they don't take undue risk to apply false pressure.
– There was clearly a lot of room for Seattle Riot to grow. The space they got from last year's horizontal stack was impressive, but this year's vertical stack look will really allow them to use the division's best group of break throwers as their method of attack. When they start developing their systems and refining their defenses, expect this team to return to form.
– Denver Molly Brown looked very strong at points this weekend. They were missing some important pieces, but when Denver was dialed in, they looked like the tournament's second best team. Unfortunately for them, they had trouble staying at top speed for long enough. That could be because of a worrisome lack of depth: they were borderline dependent on their top line to score. Getting back some of their missing players should strengthen their ability to put out multiple impact units.
– This was certainly a net positive weekend for Washington DC Scandal. Beating Riot and challenging Molly Brown with such a young team, even early in the year, is indicative of this squad's potential. The offense was heavily reliant on Jenny Fey and Kath Ratcliff, but they managed to be successful anyway. Their young players will only improve, Sarah Itoh's play will pick up, and they'll get more comfortable with a great system coach's directives.
Texas Showdown Struggles
This showing was not Showdown's best. It definitely rings more like 2015 Showdown rather than the program that was cultivated prior to that. Texas went 2-5, getting blown out in three games and looking for closer to the tournament's lower rungs than the elite teams. The windy conditions put them to the test and the resulting grade shows they may need to spend some more time hitting the proverbial books.
One red flag for Showdown is the concentration of their productivity. The Texas team has experienced a lot of turnover over the past few seasons, but brought one of the more complete rosters to the US Open. Yet their contributions seem steeped in their key veterans: the Forth twins, Sarah Levinn, Jennifer Schmerling, Marissa Land. They'll be aided when they get back on the field with Tina Woodings and Janel Venzant, but it will be tough to keep up without greater depth.
Bent In Two
To say New York Bent's US Open was "middling" accurately describes the end result, but fails to describe the path there. In fact, their performance never seemed to find the middle, as they were either were dominated or won comfortably in every game. It was feast or famine for the New Yorkers.
In their losses, Bent fell well short of competing with the elite teams. That's very in line with what they did last year, when they failed to even register double digit goals against the top end of the division, routinely being soundly beaten by wide margins. They brought a pretty full roster and had minimal travel, so excuses are tough to come by.
In their wins, however, Bent played much more comfortably and was able to get rolling. Comfortable wins over in-region opponents Quebec Iris and Boston Siege bode well for their chances of returning to the National Championships. A big weekend from young Sophie Hulbert, one of the top goal scorers at the tournament, also is a good sign that they'll have some potential breakout firepower to make up for their personnel losses.
Quick Hits
Despite just two wins on the weekend, Boston Siege attracted some attention. While most squads were getting run over by the future semifinalists, the scrappy Siege team made every opponent earn it and were always close at halftime. They even took half on Molly Brown! The back end of their game could use some work, though.
The lone team without a win was Quebec Iris. While they will tumble down the power rankings, they were one of the most shorthanded teams at the US Open. Sophie Dagenais, Julie Daviau, and Audrey St. Arnaud are leading playmakers, and Iris lacks the depth of elite teams. Don't write them off just yet.
There were definite complaints about the US Open. Some fields were beautiful, but plenty were patchy and uneven. It was windy for most of the tournament. The two food trucks had almost nothing under $10, with some sandwiches getting close to $20. But elite teams also acknowledged how guaranteed competition against fellow contenders was highly valuable.