Lots of "process over results" at ESC.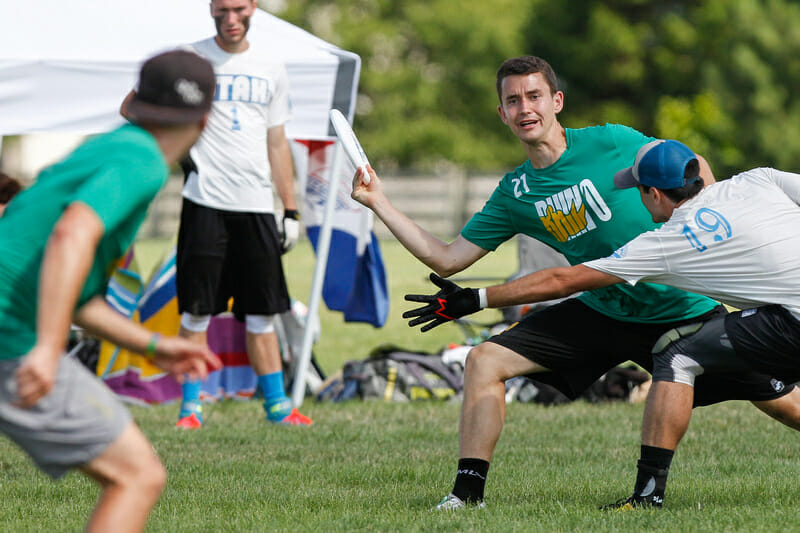 COLUMBUS — For the second consecutive year, the Elite-Select Challenge gave us a look at the up-and-comers battling with established Nationals teams the weekend after the US Open.
While teams may have talked more about process and improvement, bids to Nationals were on the minds of the 'mid-major' teams. Here's a look at the top performers from the weekend.
GOAT Emerges From Worlds With New Energy
By the lofty standards of Canadian ultimate on the international stage, the Men's team's performance at this summer's World Championships was a stinging disappointment. They were routed 15-8 by the United States in the semifinals and then missed the podium entirely with a 15-10 loss to Australia in the bronze medal match.
But failure breeds success.
Toronto GOAT, featuring a swath of players that starred on Team Canada, were the best team at the Elite-Select Challenge, pairing stifling defense with a sharp, efficient offense.
Mark Lloyd has started to regain his 2014 form and led GOAT on offense all weekend.
"Happy with how it worked out," said GOAT coach Scott Hastie. "But it could have gone the other way because we were scrambling."
Hastie said it could have been really bad for the team — and difficult to "hold everything together" — if GOAT had followed up Worlds by laying an egg in Columbus. It has been a grueling few weeks for many of the players, who flew back from London last weekend to Montreal for an away AUDL game, then got back to Toronto at 5 AM with a home AUDL game awaiting them.
But the rookies for GOAT injected some energy and UK star Justin Foord added some offensive punch.
"Justin coming across the pond to play with us gave everybody a reason to push through and show up at this tournament and suck it up on some injuries," said Hastie.
What's especially impressive about Toronto's weekend was the both their O and D lines were the best at the tournament. Some of that is surely due to their high-level of fitness thanks to Worlds and AUDL preparation, but they looked as well put-together as any team in the country this year. The defense put heavy pressure on even the best offenses GOAT saw this weekend, including Johnny Bravo in the final and PoNY in the semis. The offense was classic GOAT: heavy isos and tough-to-stop pull plays.
"Holy height," said PoNY coach Bryan Jones about playing against the Toronto O-line. "You've really got to match up with them strong, because they find a mismatch and find a way to take advantage of it."
Now the question for GOAT is whether or not they can sustain their level of play for months to come. Hastie thinks a strong start will help, but remains wary of a potential letdown. Can GOAT be a top 5 team this season? They'll get their next test at Chesapeake.
Johnny Bravo Surprises Themselves With Run To Final
Massive turnover. No Mickle. A new offense.
The stars were not aligning for a big weekend from Denver's Johnny Bravo, but the team made a nice run to the final where they lost to a simply better GOAT team.
But that was nothing to hang their heads over, and captain Jesse Roehm emphasized that the team surpassed expectations.
Long-time coach Bob Krier is out this season and Bravo brings aboard former Colorado Mamabird coach Jim Schoettler, who has installed a new vertical stack offense (which is looking very much back en vogue this season).
Schoettler, though, has largely been absent (he just climbed Mount Denali), so the offense was a work in progress. All things considered, the O-line played well, yielding few breaks outside of the GOAT game.
Denver looks to be the favorite in a volatile South Central region that hosts rebuilding powerhouses in Bravo and Doublewide and capable upstarts in HIP and Inception.
"We could have a pretty strong region this year, which would be pretty sweet," said captain Ben Lohre, noting that it hasn't always been particularly competitive in past years.
It's tough to handicap Bravo's potential, especially because they played this weekend without Jimmy Mickle, perhaps the best all-around player in the game. But concerns about a massive dropoff seem overhyped, as the team continues to look capable in the hands of Owen Westbrook, Lohre, and a crop of athletic defenders.
PoNY Making Strides
New York PoNY may have lost some top talent, especially at the handler position, in this offseason, but early returns suggest an overall more talented team in 2016.
Bryan Jones is in his third year coaching the team and some big pickups — like Ryan Drost joining his brother Mike — have plugged some holes. "I feel really good about our depth," said Jones.
PoNY notched wins over High Five, Rhino, and Inception, and lost only to GOAT in a game they surely want back.
"Our offense didn't do a good enough job staying patient," said Jones. Key handlers Billy Katz and Josh Alorro, after looking great for most of the weekend, combined for eight turnovers in that game.
That shows where PoNY still needs work: their offense looks strong against mid-level defenses, but grinds to a halt against an elite one like GOAT's. They are still figuring out who takes the tough looks with the departure of Chris Mazur.
Fundamentally, though, PoNY looks solidly in a position to return to Nationals and hunt for a quarterfinals spot. Of course, they'll need GOAT to show up this season.
Inception Impresses On The Way To Semis
The Elite-Select Challenge is a key tournament during the regular season, despite it falling in early July. Bids to Nationals are won and lost in Columbus. Perhaps Inception did enough to shake up the South Central landscape.
The second team out of Denver, after a lackluster loss to Cash Crop in the last round of pool play, landed two important wins in a row — first, a dominant 13-6 one over Garden State in prequarters and, second, an 11-9 win over perennial Nationals team Minneapolis Sub Zero in the quarterfinals. While Sub is not the team they were a year ago, it is still a program-defining win for an upper-Regionals team like Inception. Could it be a bid-worthy one as well?
"We're in the conversation," said captain Will St. Charles. "We're not there. That's always a long-term program goal, thouhg, to bring a third bid to the [South Central] region."
Captain Gabe Stump talked at length about the team's commitment to a "growth mindset," a common theme this weekend in post-game conversations. Inception is, like most teams, quick to discuss their focus on process and improvement over results.
But there's no doubt that their results were solid. Joel Crandall had an absurd 15 goal, 18 assist weekend with just two turnovers.
If they can keep rising over the next two months, that elusive Nationals berth could finally be theirs.
Rhino, Sub Zero Working In New Players
Two mainstays at Nationals — Portland Rhino and Minneapolis Sub Zero — find themselves in similar spots to start the 2016 season. Each team has lost some top-tier talent and is looking to a new group of talented college players to step into bigger roles.
"There are 27 guys here," said Sub Zero veteran captain Ben Feldman. "We took 31 this year. We want to give a lot of people an opportunity. Everyone's been playing."
Rhino brought three reserve players this weekend and also spread out playing time, even in elimination games.
Rhino captain Dylan Freechild talked about the weekend as a chance to simply work on new systems and integrate new players. "We're trying to come up with questions so that we can fix them later rather than showing all of our cards," said Freechild.
Rhino finished fifth with five wins, but only one against a Nationals team from 2015 (High Five). They lost by one to Bravo and were handily beaten by Pony, 13-9.
Sub Zero struggled even more, winning four games against Regionals teams but losing to Inception and High Five. Sub's path back to Nationals is likely more arduous than Rhino's. Sub has to retool the entire offense after losing Simon Montague and Nick Stuart to Sockeye and Grant Lindsley to Revolver. Those three were the Sub offense in years past.
But the team has plenty of college stars, like Minnesota's Ben Jagt and UMass' Conor Kline, to fill in. It could just take some time.
High Five Taking A New Tack

High Five was the darling of the Elite-Select Challenge last year as they rolled through opponents to line up a drubbing of Chicago Machine in the tournament final.
This year? Not so much.
High Five got off to a tough start with a 13-10 loss to PoNY as they struggled to get going with their new side stack offense that looks to switch sides as play progresses up the field. After yielding a few too many breaks, they bailed out into a simpler vertical stack later in the second half.
"We really treated this tournament as a learning experience," said Mike Dagher-Margosian on Sunday afternoon.
High Five did get a win over Sub Zero, but lost to Bravo and Rhino. That's a fairly accurate reflection of where they stand right now: they are good, but not where they were at this time last year.
Perhaps that's a good thing for a team that had a good regular season, a great Regionals, and then a sorely disappointing Nationals. A slower build-up, led by coach Tyler Kinley (out with injury this season), could be just what they need.
Quick Hits
Smokestack and Garden State were the other two teams that flashed the ability to be a Nationals-caliber team. While both are solidly on the outside looking in right now, Garden State put up a strong game against PoNY and Smokestack played within two of Sub Zero and one of Rhino. Unfortunately for each, they also laid some eggs: Smokestack lost to Powderhogs and Garden State was very flat against Inception after nearly upsetting PoNY.
The card magician was back this year and he was crushing it.
The fields were a pokestop and Pokemon Go was the cultural force of the weekend.
Close behind was Sia's Cheap Thrills, which boomed from car stereos and sideline boomboxes alike.