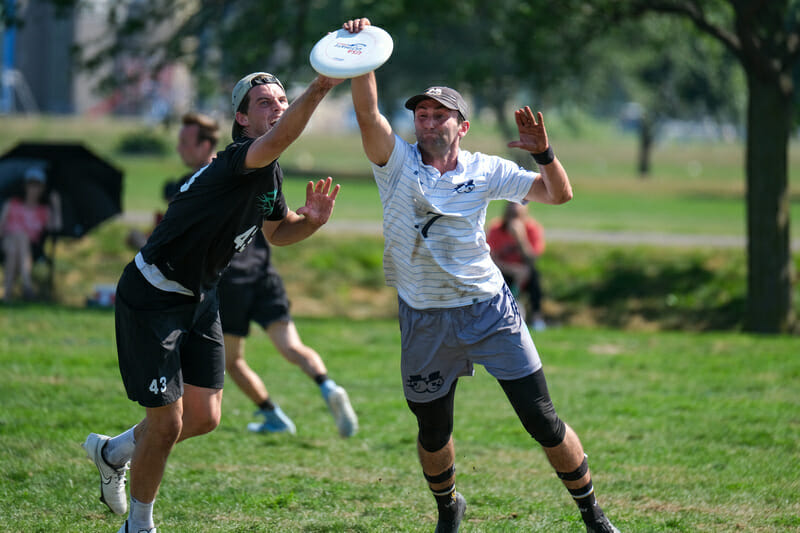 Reporting by Nikolaus Elsaesser.
Blaine, MN. – Grit and not as much grace were the name of the game on the first day of the US Open. Hot and windy conditions made for some messy and long points, even among the best teams, while everyone showcased their physical and mental toughness. The tournament format meant that every team made the bracket, which gave teams like Seattle Emerald City and #13 Utah Pando an opportunity to compete and advance to quarterfinals despite having finished last in their respective pools. Every squad was fighting to win, but in an early-to-mid season tournament, building chemistry and practicing systems were a focus for all groups. Missing top teams like #1 New York PoNY and #2 Raleigh Ring of Fire following WUCC proved to be no big deal as the field was still competitive and one team, #4 Chicago Machine, proved to be a tier above the rest on the first day.
A Tier Above the Rest
A final without #4 Chicago Machine would be a surprise. While they have new additions such as standout Jordan Kerr, Chicago appears the most polished and strong. They conceded just 13 total goals on Friday, with their offense looking sterling despite undergoing some personnel changes and in tricky conditions. #14 Atlanta Chain Lightning could give them a tough test in the quarterfinals, but the chemistry and depth of Chicago make them tournament favorites.
#7 Denver Johnny Bravo also showed themselves to be among the best in the field. Despite trying different lines throughout pool play, Denver proved that they're a team to beat. Their grind mentality will serve them well throughout the weekend with dicey weather expected to continue. Felix Pronove was a high-impact player on both sides of the ball and fun to watch, a worthy new name to follow.
Building Chemistry with New Faces
Having perhaps the closest to "normal" club season there has been since pre-COVID, almost all teams have seen a fair amount of roster turnover from last year. #9 Boston Dig is a very young squad with some new faces looking to work on their systems and getting lots of reps against the best competition possible. "We're throwing a lot of stuff at this team. A lot of new sets, on both the defensive and offensive side of things, and a challenge for us will be to learn on the fly," said Coach Samuel Lehman after a strong win against #8 San Francisco Revolver. Newcomer Charles Weinberg is a great addition for Dig and is a player to watch heading into the quarterfinals.
#12 Washington DC Truck Stop will be an interesting team to follow this weekend and beyond. They've got some of the best talent on paper, adding high-level talent like Andrew Roy and Ben Oort. But how they piece things together will be their biggest challenge, and they are missing some personnel, leaving an incomplete picture. A quarterfinal matchup with San Francisco Revolver will be fun to watch.
In a close prequarters matchup, #13 Utah Pando and #19 Minneapolis Sub Zero contrasted heavily in terms of roster continuity. Utah retained several players from last year's nationals contenders Killjoys while notably losing Jordan Kerr, but Minneapolis lost three huge roster pieces in Nick Vogt (injury), Cole Jurek, and Andrew Roy (both now playing for DC Truck Stop). Utah's D-line figured out their upwind and downwind offense at the right time, pulling together a string of breaks to take down the home favorites 15-11. 2021 D-I All American Joe Merrill was a standout on day one and will be a good player to keep an eye on.
For #16 Pittsburgh Temper, the US Open is their first tournament with new players and new systems. Coach Hensley Sejour said this weekend is all about learning. Pittsburgh has plenty to build off of after a tough first day with three losses and zero wins, but taking half 8-5 against a strong Johnny Bravo squad and close universe point loss to Atlanta Chain Lightning in prequarters give a glimpse into this group's potential.
Windy Conditions Rewarded Those Who Adapted
Strong winds played a role in every game; however, with all teams making the bracket, wind made its biggest impact in prequarters. The gusty conditions gave underdog teams like Seattle Emerald City a chance to advance against Nationals level competition. Beating a formidable opponent in #18 Amherst Sprout to earn entrance to quarters, Seattle took advantage of the wind and showcased their mental resilience. The wind added a good deal of randomness, and they harnessed that playing somewhat high risk offense, led by the daring play of Spencer Lofink. D-line efficiency was the key for this Seattle squad getting four breaks early in the game. They won on universe 13-12.
Despite their close loss in prequarters, Sprout had a lot to show today. Starting the day with a lopsided win against Temper, Sprout had the positive energy and focus that several teams lacked. Standout player Ben Ayres said growing as a team, getting great reps against quality competition, and having a good time were the goals for this exciting group. Giving Denver a run for their money, Sprout can be proud of what they're building this season and have plenty to look forward to. Cameron Wariner is another player to keep an eye on in addition to Ayres.
Denver Inception struggled throughout the day missing core players from their roster. The team has been trying to break into the next tier of competition, and player Lucas Beal noted that they can't do that without experiencing the competition first-hand. The team is grateful to play great competition and will learn a lot throughout the weekend.