A tight matchup between two teams peaking at the right time makes for a compelling second semifinal in Madison on Saturday night.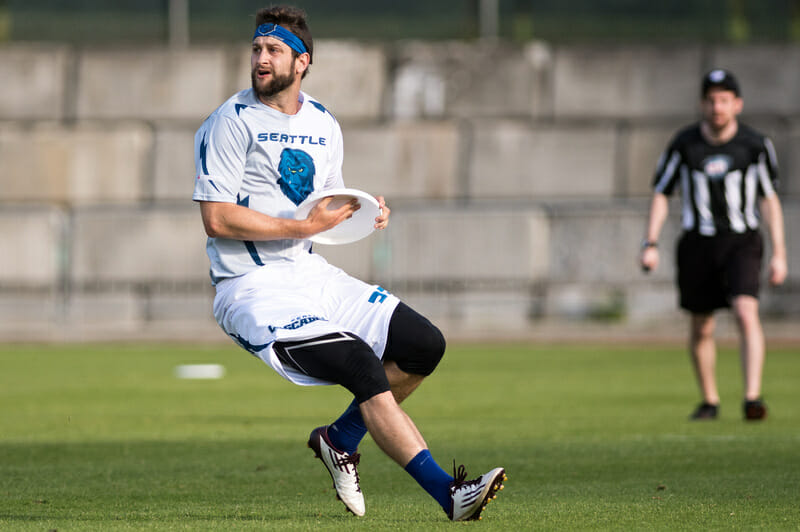 The Madison Radicals are appearing in their fourth consecutive Championship Weekend, but this one takes on a whole new level of importance. For the first time, Madison will be hosting the Final Four and the Radicals fans will have a chance to cheer the hometown team on to victory.
How much that home field advantage really matters is unclear. Yes, the Radicals have won 31 games in a row at home, but they've never played a team from another division in Madison. The home field winning streak is nice, but against this level of competition, those 31 games aren't a very good point of comparison.
That said, the Radicals are the one-seed playing at home. Madison didn't let up for any games this year, finishing undefeated during the regular season for the first time in franchise history. Their average margin of victory was 9.7. The Radicals are getting Kevin Brown and Scott Richgels back from injuries, two key players that have missed time this year. This is a team that is focused on peaking at the right time and is extremely motivated to win their first Championship.
On the other side, when it comes to peaking in early August and motivation to win an AUDL title, it's fair to question Seattle. This is not a team that values the AUDL season the same way that Madison does. That said, the Cascades are a team that tends to raise its level of play in high-stakes elimination games. Last year, the Cascades finished an uninspired 8-6 during the regular season. Then they went on the road in the playoffs and took down San Francisco and nearly upset the eventual champion San Jose while playing on the second day of a back-to-back. Seattle lost to the Spiders by two, the same margin by which the Radicals would lose to San Jose in the Championship game.
This year, Seattle once again underperformed expectations during the regular season, finishing 9-5. And once again, the Cascades stepped it up in the playoffs, easily taking care of the Aviators on the road in Los Angeles before winning a surprisingly easy game against San Francisco in the division final. All that despite only bringing 16 players on the road trip. Seattle will be somewhat shorthanded once again in Madison, with only 18 players active on Saturday. Given how well they played with two fewer in their first two playoff games, it may not matter.
Is This The Year For Madison? 
The Radicals have evolved over the past four years, perhaps most significantly since the end of last year. They're a team that defies the conventional scouting report. Madison does not rely on one particular type of offense, and is comfortable moving back and forth between different sets.
The Radicals are perhaps best known for their double-team zone, but hardly threw it at all in their most important games this year. When the other team thinks they're playing against a straight man defense, they'll often find themselves double-teamed on the sideline with the Radicals shutting down the conventional throwing lanes and challenges opponents to get out of that tough spot.
On offense, the Radicals have a reputation for being conservative, but the more accurate assessment is that they try to take what the defense is giving them. In the Midwest, that was often an open under-cut. In their last two games against Pittsburgh, the Radicals were pushed deep more often, and overall that strategy wasn't effective either. Madison hit the majority of their deep shots and got their offense off the field fairly quickly.
Andrew Brown remains an important reset for the Madison offense, but what will make or break this team against Seattle is how consistently open players like Brian Hart, Pat Shriwise, and Dave Wiseman can get against a tough Cascades defense. If those cutters — all with solid continuation throws — can get open consistently and then put it to deep receivers like Colin Camp, Madison will be in great shape. Another wrinkle that the Radicals may add is having Tom Annen cut, particularly out of a vertical stack. Annen is one of the strongest throwers on the team, and if Brown and Scullion are handling it would give the Radicals a better chance to open the field up a bit more.
The Radicals have consistently been a good offensive team that is best known for their defense — and that defense got even better this season. "Defense has been an emphasis for us from the first practice four years ago, and we continue to get better at it every game," said Radicals head coach Tim DeByl. Adding players like Abe Coffin and Jay Froude has helped, as has all 6 feet, 7 inches of Scott Richgels now that he's on the D-line. Richgels and Andrew Meshnick give this defense some height, which is needed going up against Seattle cutters like Matt Rehder and Nick Stuart.
In past years at Championship Weekend, you could count on seeing the Madison zone for about half of the Radicals D points. That's not the case anymore, with a more athletic Madison defense discovering that man defense is usually their best option against teams with elite offenses. Last year, Pittsburgh carved up the Madison zone, and it gave Ashlin Joye and San Jose almost no trouble in the championship game. It's not difficult to imagine Danny Karlinsky and Simon Montague doing the same thing. No doubt at some point Madison will break out its zone on Saturday night, but it will probably have a short leash.
Seattle On The Rise
Seattle is an ultimate community that is known for its small-ball mentality, but the truth is the Cascades have big receivers and they are not afraid to send the disc deep to them. In their two-game playoff road trip against LA and San Francisco, Nick Stuart and Zane Rankin combined for 16 goals. Mark Burton had ten goals of his own, along with six assists. This is a team that likes to play fast on offense and often plays with a very open field, since it's difficult to stray too far from any one player given how potent many of Seattle's throwers are.
Defensively, the Cascades may have been even more impressive in their first two playoff games. They held the Aviators to five goals in the first half of the opening round. The next day against San Francisco, the FlameThrowers scored just six goals in the first half. Seattle proved very adept at playing a man defense that was also able to guard space by switching matchups as needed. Players like Matt Russell and Donnie Clark did a good job cleaning up forced hucks and getting in the way of the cutter lanes. The Cascades looked more locked in than they had all season.
It's seldom clear what kind of Seattle team will show up on any given day. We know who will be playing for Seattle: most of the same players that took down LA and San Francisco. The Cascades will be missing Reid Koss, Phil Murray, and Kieran Kelly, but will also be adding Michael Caldwell, BJ Sefton, Ben Snell, and Husayn Carnegie. The talent isn't the question. The Cascades have had very strong rosters some weeks, only to fall surprisingly short against some admittedly tough competition out west.
Game Outlook
There's reason to be skeptical of both teams. Seattle isn't even bringing 20 players to this game. Can the Cascades win an AUDL Championship while it seems to be more a byproduct of a season for them rather than a goal? Has Madison even been tested playing in the Midwest this year? Can they stack up with the rest of these division winners?
These are easy narratives to fall into but, in reality, they're most likely off-base. Anyone that watched Seattle take care of business in their first two playoff games could see the level the Cascades are playing at. They are certainly capable of getting a win or two in Madison if they can replicate that while cleaning up their offensive efficiency. The Radicals may not have been truly tested in the Midwest this season, but that's more of a testament to how solid they are this year. In 2014 and 2015, nobody played the Spiders better in the playoffs than Madison did, and the Radicals are even better this year.
Unlike the Dallas-Toronto matchup in the other semifinal, this game looks like a toss up. The Cascades certainly have more well-known names that have played on the biggest stage at the club level, but not yet in the AUDL. Both teams seem to be peaking at the right time, but the Radicals have the home field advantage and Championship Weekend experience in their favor.
Going into the weekend, DeByl likes his chances: "There will be a lot of fans, and a nice bit of prize money on the line. I think we have learned how to prepare for games like these and we think it will make a difference this year."
The game will be livestreamed on ESPN3 (USA) and AUDL.tv (Int'l).