With strong performances from both their U16 and U19 squads, Seattle maintained their long-running stranglehold on the girls divisions in Blaine.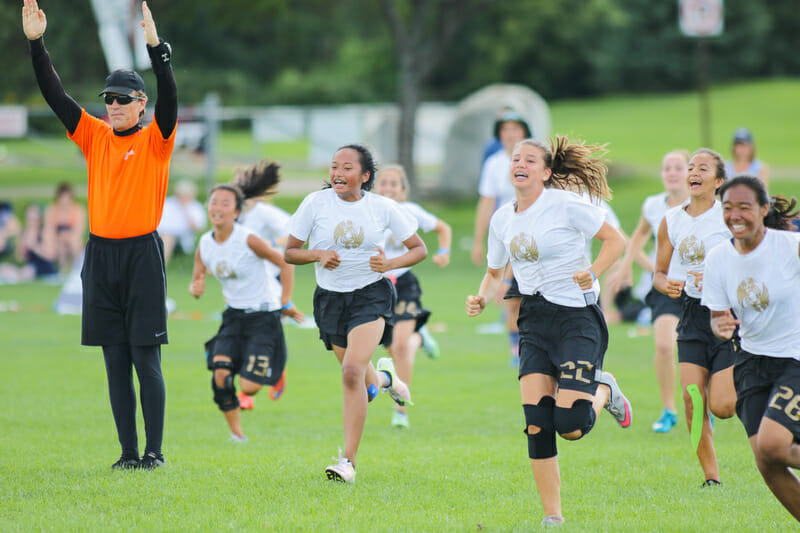 The article is presented by CUT Camps; all opinions are those of the author. Please support the brands that make Ultiworld possible and participate in CUT Camp!
On the final day of the 2016 Youth Club Championships, tears were shed, hugs were shared, and limits were pushed as the girls divisions came to an exciting conclusion on a gorgeous day in Blaine.
Seattle And Cincinnati Escape Semifinal Battles To Reach U19 Championship Game
After the perfect calm of the early morning round, the wind decided it was time to make an appearance just as the girls U19 semifinals kicked off on Sunday. Teams would have to make note of its presence, lest they fall victim to sloppy play. But the ladies competing in the semifinals were ready.
The morning sun beat down on the field where second-seed Boston BUDA faced off against top-ranked Seattle Nimbus in what was about to be one of the most intense, nail-biting games of the day. Seattle started the onslaught led by Claire Trop's wicked speed, defensive pressure, and top notch throws, securing a break on the first point of the game. BUDA refused to back down, returning fire with bombs of their own launched by Josephine Coppinger to get back on serve and go up 2-1.
Seattle and Boston traded offensive points for the remainder of the half. Nimbus was sticking mostly to a zone strategy on defense, allowing BUDA to highlight the talents of handlers Clara Stewart, Tess Johnson, and Coppinger to move the disc up the field and into the endzone. At times, BUDA struggled a bit with windy conditions leading to floaty throws torn down by Nimbus defenders, but Seattle in turn missed their chances in the red zone which were capitalized on by a gritty Boston O-line. More than once, Seattle's offense had to rely on Ally Constantino to get the disc back after a turn then catch the goal for the bookends. Not to be out done, Boston's Kendra Griesman caught a beautiful layout score to keep the run of holds going, as BUDA eventually went into half up 7-6 over Nimbus.
As the second half began Seattle felt the pressure of being down for the first time all weekend. Jitters and rushed throws led to back-to-back breaks by Boston, including an absolutely epic layout catch by BUDA's Renata Pepi who was able to make the grab despite extreme defensive pressure by Trop.
Down 9-6, Seattle's Constantino decided to take the game into her own hands, exploding for Nimbus with an incredible three scores in a row, another block to pad the stats, and bringing Nimbus all the way back to 9-9.
Boston finally stopped the bleeding to maintain a one-goal advantage, but Seattle responded with another break to take an 11-10 lead, their first since the game's opening point. Constantino continued her dominance with a massive end zone sky that brought Seattle to game point. Despite excellent offensive effort by the Boston girls, Nimbus forced the turn and capitalized to land themselves in the finals with a 13-10 victory. Protecting a 70-0 all-time record at YCC, the Seattle girls concluded an epic semifinal by scoring the final four points — and seven of the last eight — against a very solid Boston squad who pushed them to the limit.
***
Another electric semifinal game was taking place on the neighboring field, as the third-seed Triangle Area Warhawks took on fourth-seed Cincinnati Belle, who had knocked off BUDA Saturday in pool play to avoid the matchup with Nimbus.
Cincinnati quickly confirmed their talents with both the long game and red zone efficiency in the game's early-going, putting up a huge throw to the edge of the endzone followed by patience in the red zone to secure the game's first two points.
The Warhawks were not to be counted out however, showing considerable grit on defense leading to several incredibly long points and keeping the score close. Warhawk playmaker Kate Lanier paired with the consistency and active movement of Cami Hastings caused plenty of difficulty for Cincinnati.
In the end, Belle's incredible team chemistry and highlight play from Hayley and Maddie Samson allowed Cincinnati to gut out yet another upset victory, taking down Triangle 11-8 and earning Belle a shot at Seattle in the finals.
Nimbus Still Flying High
The sun was high in the sky as Nimbus and Belle took the field to battle it out for the title of U19 girls champion, a rematch of the 2012 YCC final. Belle was hoping to continue their impressive display of deep looks and tough defense to try to break Seattle's remarkable history of unbeaten success in Blaine. Looking to secure their own undefeated weekend, Cincinnati was in no mood to simply roll over for the heavy favorites.
The game began with Ally Constantino continuing her dominance from the end of the semifinal into the match, scoring back-to-back points for Seattle. Belle rallied with Hayley Samson finding her sister Maddie in the endzone for the long score, cutting Nimbus' early lead in half. Seattle responded by patiently working the disc up the field with a confidence evident in the decision-making and precision throws that continued to find their way into the endzone.
Despite struggles connecting in the short game, Belle was able to find teammates long in the endzone for another two points before Seattle brought back the heat, going on a run to take half with a commanding 7-3 lead.
Belle came into the second half looking a little frantic, now finding difficulty connecting on their deep shots due to effective close pressure defense from Nimbus, allowing Seattle to stretch their lead to 11-4. Meanwhile the wind had picked up, leading to some swilly throws from both teams that floated just a little longer than the receivers would have preferred. Belle's Abby Swenson took advantage, showing off her aerial capabilities and coming down with a Cincinnati score. Swenson stayed hot, finding teammate Hayley Samson in the endzone the next point, closing the gap to 11-6. Nimbus came right back, using a huck goal to bring them to game point.
Belle did what they could to prove they still had more to give. Cincinnati's Cara Sieber stepped on the gas, managing bookends against Nimbus and continuing her onslaught to the endzone, leading her team on a run that brought the score to 12-9. Finally Seattle shut the door, Ruby Cassidy and Kaia Roast working the disc to downfield teammates and finding Claire Trop in the endzone for the Nimbus victory, successfully securing Seattle's continued hold on the U19 girls throne.
When asked about their continued ability to maintain top performances year after year, coach Aimee Kawai stated, "It speaks really strongly to the youth program here. The girls come in knowing how to play so they can just play and are able to focus their energy on learning to play with each other."
This year's edition lived by the mantra, "Let's just play frisbee. Let's do it together. Let's do it for each other," said coach Shannon O'Malley. It was a mantra they were able to fully capitalize on in their dominance of the girls division in Blaine this weekend.
Hydra Success In U16 Division Secures Seattle Double
As good as the U19 team has been, Seattle's younger girls squad was even more dominant. Hydra once again routed the field on their way to another title, not allowing a single opponent to put up more than four goals against them. That total was achieved only by the Triangle's Kitty Hawks, who Hydra knocked off in a one-sided semifinal match-up.
Meanwhile, five-seed Maine Rip Tide continued their surprisingly impressive weekend, securing a second victory over Cincinnati Belle with a 13-8 win in the other semifinal to earn another shot at Seattle.
Strong efforts from Maine's Kennedy McCarthy and Emily Pozzy kept the final close to start the game, trading points to 3-2. But Hydra was not to be denied, as Grace Patterson and Lyra D'Souza led Seattle to reel off 10 of the next 11 points, capturing their third straight YCC title and moving to 22-0 all-time in the U16 division.