Fury and Scandal meet for another crucial game, while Ozone and Schwa eye survival.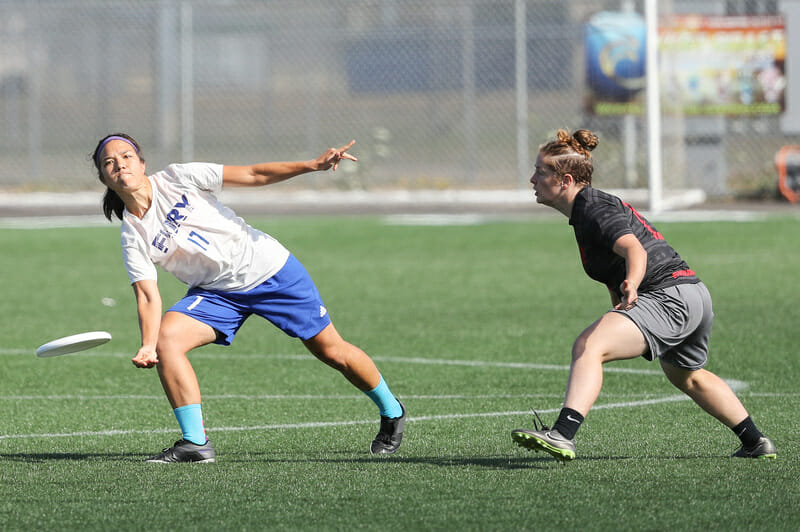 Ultiworld's coverage of the 2016 Club Championships is presented by Spin Ultimate; all opinions are those of the authors. Please support the brands that make Ultiworld possible and shop at Spin Ultimate!
Like death and taxes, a pool of death is inevitable at Nationals. The seeding snakes the right way, and usually Pool A or Pool D becomes a battle royale. This year, Pool D gets the title because of the top two seeds alone. Fury is the pool's 1-seed and the 4-seed overall, and Scandal is the pool's 2-seed and the 5-seed overall. If Scandal edges out Fury when it counts, it'll be their first victory over San Francisco since the 2014 Club Championship finals.
Atlanta Ozone and Portland Schwa round out Pool D as the respective 3- and 4-seeds. Ozone has low connectivity with the rest of the pool (they've only played Schwa), but expect this strong Atlanta team to get the job done, especially since pool play matters more under the new format.
Of all the teams in the division to meet in the pool of death, of course it would be Fury and Scandal. Saying these teams have a history is like saying the Yankees and Red Sox disagree sometimes.
In 2013, Scandal ended Fury's 7-year winning streak to earn DC's first title and in 2014, they repeated the trick. There's no bad blood, but there aren't many surprises, either. Their pool play game on Thursday will be a chess match, if chess included full-field hucks and highlight reel layouts.
San Francisco Fury [Pool #1, Overall #4]
Fury has every reason to feel confident walking onto the field on Thursday. Their only losses this season are to the three teams ahead of them, and they have two wins already against Scandal. They blew past Scandal 13-7 at the Pro-Elite Challenge, and at the Pro-Flight Finale they surged late to win a much closer game 13-11.
While Scandal will challenge this San Francisco team, they have a tall order ahead of them. Fury's roster reads like a marquee of legends. Some of the division's best players are working together in a system developed by one of the most lauded coaches in the sport.
On offense, Fury's cutters create space for each other with a remarkable composure and collective ultimate IQ. This field intelligence translates perfectly into their zone offense. Anna Nazarov makes herself indispensable to any point she's on, and Claire Desmond dominates Fury's midfield. Behind the disc, Alex Snyder and Carolyn Finney can dissect whatever defense they encounter. Chances are, they've seen it before.
Beyond the legends, Fury has incorporated their first-year players seamlessly into big roles: Magon Liu (Brute Squad) and Meeri Chang (Polar Bear Rawr) are lethal together in their D-line offense, while Marisa Mead (Polar Bear Rawr) and Katie Ryan (Green Means Go) have made their presences felt downfield.
Expect Fury to march through their first two games with professional efficiency, and then they'll ramp up for Scandal. Jenny Fey and Sandy Jorgensen are tough matchups for any team, but Fury has a deep bench of athletic, experienced defenders who can go toe-to-toe with Scandal's notorious duo.
Likely Ceiling: National Championship
Likely Floor: Semifinals
Washington DC Scandal [Pool #2, Overall #5]
For the second year in a row, Scandal walks into the Club Championships as the most dangerous 2-seed. Last year they lurked behind Riot, and this year they're hot on Fury's heels to earn a rest on Friday morning.
But Scandal is probably counting their blessings. They get to play Fury. And they know Fury.
Jenny Fey and Kathleen Ratcliff will command the offense, scoring efficiently so that their D-line can rack up breaks. If you haven't already, seriously: go watch Jenny Fey's throws. She rewards the speed of cutters like Molly Roy and Keila Strick with perfectly weighted hucks. After years playing together, she can produce hucks that seem designed to make Sandy Jorgensen look great.
Unfortunately, Scandal's offense will be missing one big piece: Sarah Itoh isn't healthy enough to compete after she fell at Pro Flight Finale. Itoh is one of Jenny Fey's favorite targets, and her experience will be missed on high-pressure points in pool play and throughout the weekend.
When Jesse Shofner plays mid and Jorgensen plays deep, their zone defense is more dangerous than their offense. Shofner is a heralded offensive force, and on Scandal's D-line she's already made her mark. Scandal has a few defensive sets, but their bread and butter is a traditional zone with three women around the disc, three in the midfield, and Sandy in the deep space. On a still day this zone is intimidating, and the gusty 15-25 mph winds predicted for Thursday will benefit Scandal's zone even more.
Scandal has a thick playbook of defensive tactics, and there's a big chapter dedicated to Fury. Count on Scandal coach Alex "Dutchy" Ghesquiere bringing a few new wrinkles to their afternoon matchup. What does he have in store for Fury? "You'll have to wait and see," he said.
Likely Ceiling: National Championship
Likely Floor: Semifinals
Atlanta Ozone [Pool #3, Overall #9]
Under last year's pool play format, the 3-seed had it good. If they wanted to they could rest starters, play looser, and even lose to the 4-seed. It was okay. They still had prequarters on Friday, no matter what.
But this year, Atlanta Ozone has to hold seed to make the championship bracket. They have to close out Schwa at the end of the day, or they're out.
Ozone hasn't played most of the top teams at Nationals (they've only played seven other teams attending this weekend), but they have seen Schwa; Ozone beat the Portland team 13-8 at the Pro-Elite Challenge.
Atlanta Ozone specializes in a style of longball that many teams struggle to contain. Ozone cutters break deep from every position in their ho stack, and handlers Katherine Wooten, Sophie Darch, and Leah Tsinajinnie all have pinpoint away shots against any force. Paige Carver, Emily Lloyd, and the lightning-fast Mira Walker all have a talent for shifting behind their defenders and then exploding deep to score with yards of separation. Teams are forced to back Ozone, freeing up the cutters' space under. What they will need is their supporting cast of handlers to step up when teams force them under – Sam Stovall, India Stubbs, and Cate Woodhurst – and help move the disc on longer possessions.
Ozone isn't particularly creative on defense, but perhaps you don't need to be when you have downfield defenders like Hannah Leathers and Mira Walker. Leathers takes every team's toughest matchup, and she plays intense shutdown defense. She reportedly measures her own performance in any game by how many times her player touches the disc.
Some wind on Thursday likely won't change Ozone's game plan. They may use their junky zone to interrupt opponents' early handler movement, and offensively Ozone's throwers are fearless enough to test away looks in 15 mph wind.
Likely Ceiling: Quarterfinals
Likely Floor: Prequarters
Portland Schwa [Pool #4, Overall #16]
Portland Schwa is bringing a lot of new faces to Nationals this year. They have they have 11 new names on their roster, and some of last year's biggest contributors – Beth Kaylor, Jesse Shofner, and Alex Ode – are cleating up for other teams in Rockford.
Heavy turnover comes with team adjustments. Schwa showed early promise when they reached the finals of Elite-Select Challenge, but after ESC, they would only win one more game before Northwest Regionals. Despite a rocky regular season, Schwa edged out Seattle Underground in a double game point game to get to Rockford.
In the new format, Schwa has elimination at stake on Thursday. Their best chance for reaching prequarters is to upset Ozone during the final round.
Portland's veteran players will set the pace for Schwa. Jenny Tibbals is an excellent in the air, and Schwa will need her for defensive points against Ozone and Scandal. Kimber Coles is fast, smart, and the queen of the under-cut-turn-and-huck for Schwa. Many of Schwa's points run through these two players, aided by big looks from Ella Hansen and first-year player Clea Poklemba. But Marget Wilson-Moses may be the team's most important player, acting as the offensive hub. When Schwa is at their best, the seven on the field create smart spaces for each other and push the pace of the game.
Likely Ceiling: Prequarters
Likely Floor: Done on Day One