Major roster shakeups will define the West Division this season.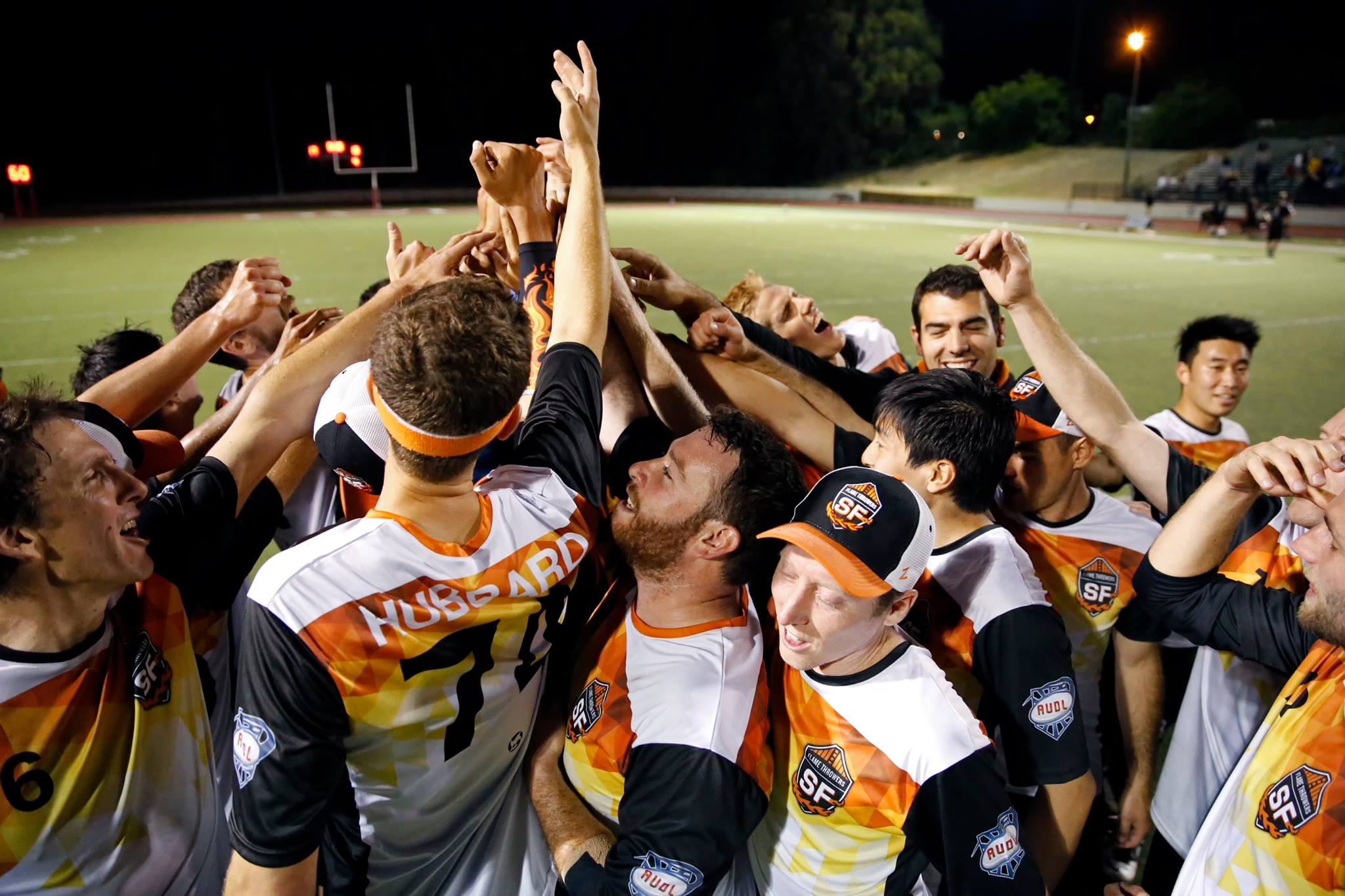 Last year in the AUDL West, the San Francisco FlameThrowers and Seattle Cascades were the heavyweights in the division, with the Los Angeles Aviators playing the role of the surprise contender. While the team at the top of the division will likely remain the same this year, how the rest of the division plays out is anyone's guess.
The Championship Contender: San Francisco
Last year the FlameThrowers didn't exactly roll through the regular season, but it did often seem like they were coasting through it. San Francisco went 11-3 during the regular season, not blowing many teams out but finishing comfortably ahead of the rest of the division. Come playoff time they matched up against Seattle. The FlameThrowers came out flat, fell behind early, and never got back in the game, losing 23-17.
This year the FlameThrowers are bringing on more new talent than any other team in the league. Not only are Beau Kittredge and Cassidy Rasmussen joining the team this year, but Justin Lim, Grant Lindsley, Mac Taylor, and many others are also suiting up for the FlameThrowers. Not everyone is coming back from last year — Eli Kerns, Robbie Cahill, Simon Higgins, and Russell Wynne aren't playing in the AUDL this season — but the new players should bring this team a renewed focus.
Last year the FlameThrowers relied on Cahill and Kerns for a lot, running their offense with them much the same way they would were Ashlin Joye in that role. Though Kerns and Cahill were both strong players, it often didn't seem like the best fit for the team. With even more downfield players with great throws like Rasmussen and Lindsley joining the team, it should be easier for the San Francisco offense to run a little more freely through the cutters.
The biggest issue for the FlameThrowers last year wasn't the offense, or even the defense, it was about players showing up to games. With seven players on the two different WUGC teams, San Francisco was often playing with a different looking roster each week, sometimes having only 14 or 15 players on the sideline at games.
Of course, with the talent San Francisco had last year and will have this year, sometimes 14 or 15 players is all it takes. Greg Cohen stood out in 2016 and was named to the All-AUDL 2nd Team; he was the only player in the league to record at least 25 goals, assists, and blocks. And though they may get most of the ink, there are players on this team that don't play for Revolver. One player to watch will be Antoine Davis, who played club for the DC Current and Ambiguous Grey last year. Davis had 12 blocks at Club Nationals last year, leading the team and the Division in that category.
New head coach Ryo Kawaoka is confident that San Francisco will put their best product out on the field.
"I was not part of the program last year, but I can say that this year we are hyper-focused on building a strong foundation for team identity that we plan to build on for years to come," he said.
The FlameThrowers might be the championship favorite and while it doesn't look like there will be a divisional team to truly challenge them, many different teams could end up facing them in the playoffs.
Playoff Contenders: Vancouver, Seattle, San Diego, Los Angeles
These four teams will compete for two playoff spots, which should make almost every game on the West Coast an interesting one. First up, there's the Seattle Cascades, who made it all the way to the final last year. Seattle has a new look this year, is no longer partnering with Sockeye, and won't have the kind of top end talent or depth it has in the last couple years.
But much of the Seattle Cascades core from the last couple years never really bought into the AUDL, though they performed well in it. There are still quite a few players returning from last year's squad, and joining them is a contingent of players that have pro experience from playing in the MLU with the Rainmakers. Khalif El-Salaam and Henry Phan are two players new to the AUDL that have MLU experience, and Brad Houser and Cam Bailey return to the league after some time in the MLU: all should make a big impact for the Cascades this year.
And despite all the people that aren't playing for Seattle this year (Danny Karlinsky, Matt Rehder, Simon Montague, and Nick Stuart, for example), there are still 14 players coming back from last year's team. Mark Burton and Donnie Clark highlight that group. Burton was named to the All-AUDL 1st Team and Donnie Clark had the block of the year for the AUDL in Seattle's remarkable comeback victory against the Radicals in the AUDL semifinals in Madison.
"This year we are embracing the GRIT and Grind of becoming one of the best underdog teams AUDL has seen," said Burton. "We are going to keep punching no matter what the score is and make each team we play work hard and to tire out."
It's tough to predict just how this Cascades team will play given the blend of talent and styles on the team, but Seattle definitely looks like a team that could take one of those playoff spots.
***
The team the Cascades eliminated in the first round last year is also facing some departures. The Los Angeles Aviators went 9-5 last year, though they finished their regular season on a six game win streak. But a few of their best players from 2016 are now gone. Hunter Corbett and Jeff Silverman combined for 40 blocks between them last year and won't return; neither will Dan Bellinger and Tyler Bacon.
There is one big arrival for Los Angeles this year, though, and that is Tom Doi.
Doi played with the DC Breeze last year and on the USA Mixed National team. He brings with him a penchant for the big play, and he should fit in well with the Aviators' offense. Los Angeles is returning their biggest playmakers on offense, with All AUDL 1st teamer Mark Elbogen coming back alongside Eric Lissner and Allen Lai.
Elbogen is the best known of that bunch, but last year Lissner and Lai played big roles for the Aviators too. Lissner threw 44 assists and Lai threw 561 passes with a 98% completion rate. The Aviators offense thrives on big plays — that will remain the case this year with those three on board.
Los Angeles isn't going to surprise teams this year. Their defense is a big question mark after some notable departures. But even if it looks like they're down it would be foolish to count them out. Their run to end the season last year is evidence of that.
***
The team that was victimized by that run was Vancouver. On June 11, Vancouver had just defeated Seattle to improve their record to 5-4 while Los Angeles was 1.5 games behind at 3-5. But after that, the Riptide dropped three games to the Aviators and finished 6-8. Most of that Riptide team is back for Vancouver this year. But they see that kind of collapse as much less likely this time around.
Their swoon coincided with WUGC in London, which drew many of Vancouver's top players away. It seems like every year is a Worlds year, though, and once again Vancouver has players representing Canada at the World Games. Anatoly Vasilyev, Gagan Chatha, Brendan Wong, Darren Wu, Tim Tsang, and Morgan Hibbert are Riptide players on the preliminary 20-person roster for Team Canada and will have to miss some games this year. But the timing isn't nearly as bad this time around, and the list of players committed isn't quite so long.
Chatha draws a lot of attention on offense and Hibbert does the same on defense, but Tim Tsang and Will Vu might be the unheralded heroes of this Riptide team. Vu was the only player in the league last year with 40 or more assists and 20 or more blocks, and Tsang finished in the top five on the team for goals, assists, completions, and blocks. Even with Kevin Underhill reportedly not returning to the team this year, Vancouver looks like it's in good hands.
The Riptide have traditionally not run strict offensive and defensive lines, eschewing the kind of specialization that many other teams rely upon. The Riptide look like a team that's a step above the rest of the second tier in the west. But they looked that way in 2015 and 2016, too, and those seasons they ended up outside of the playoff picture. The reason for that was their defense.
Vancouver closed last season with a 28-26 loss to Los Angeles and a 31-27 defeat in Seattle. That was after their players returned from London, and those games exemplify the difficulties this team has so often faced the last few years. The hope is that some new blood changes that in 2017.
Though the Riptide are losing Underhill, Andre Gailits, and Ben Burelle, they're picking up some new talent. Nine players that played with the Nighthawks in 2015 or 2016 are playing with the Riptide this year, which could prove to be an important infusion of young talent. Their new players aren't going to be the all stars for this team, but they could prove to be valuable role players, so that's something. And the Riptide need something to flip the script this year, otherwise it could end up being a familiar story.
***
Nowhere out West does the script need to be flipped more than in San Diego. The Growlers went 2-12 last year. Though they lost some close games, when a team starts to hang its hat on close losses, it's clearly in trouble. This is not a team that sat on its hands during the offseason. What's the best way to make your team better? By signing some of the best players away from your competition, of course. It's like two moves for the price of one!
San Diego signed players away from both Los Angeles and San Jose, and not just any players. Hunter Corbett and Jeff Silverman are joining a San Diego defense that already has Steven Milardovich; the additions should make that unit formidable. Dan Bellinger and Tyler Bacon figure to spend time on offense, as do the additions from San Jose: Sean Ham and Kevin Smith, two pieces left from the Spiders championship team in 2015. Smith should help bring some creativity and flair to the San Diego offense, after finishing with 42 assists for the Spiders last year. And while Mischa Freystaetter was the undisputed goal scoring king in 2016 with 95, nobody in the league, even Freystaetter, scored goals at the same rate that Sean Ham did. Ham ended up catching the goal on 25% of the points he played with San Jose last season, finishing with 57 overall.
"Depth was certainly a weakness last year, with injuries and just a lack of a deep bench we saw ourselves start to lose our footing on games late," said Growlers owner Will Griffin. "This is the deepest team I've been a part of and adding a few more heavy hitters from San Diego and Arizona has helped bolster that line."
Going from 2-12 to the playoffs is no easy task. But the landscape has changed out West, and San Diego helped change it. The Aviators don't look quite as strong as last year, the Spiders took another step back, and the Cascades lost more talent than most teams had to begin with. The door is definitely open for San Diego to get in.
On the Outside Looking In: San Jose
The Bay Area may have just consolidated down to two pro ultimate teams, but it's tough to look at San Jose's offseason moves and say that the Spiders improved. Losing one of their top handlers in Kevin Smith hurts, but not anywhere near as much as losing their leading goal scorer in Sean Ham. They're also losing Vincenzo Vitiello and Lior Givol to San Francisco; Vitiello was quietly one of their best players last season.
Last year, this team still had an elite offense, even after their 2014 & 2015 championship core left. Players like Smith, Ham, Vitiello, Kelly Van Arsdale, Steven Chang, Chuck Cao, and Justin Norden helped San Jose score a lot of quick goals.
The strength of this team last year was their handlers, and that figures to remain the case this year. Norden and Cao are back, and a couple players from the MLU's San Francisco Dogfish in James Yeager and Shane Earley could help out as well. Evan Boucher could be an impact cutter for the Spiders after playing with various club and pro teams in the Bay Area the last few years. The question for this team is its defense, which struggled mightily last year. The Spiders gave up 25 or more goals 10 times in 2016, and 30+ three times.
If the defense doesn't improve, the Spiders will rely on players like Van Arsdale and Jackson Stearns to take another leap to keep the offense as dangerous as it was in 2016. The Spiders have proved resilient before and the top of the division isn't so strong that they can be counted out entirely, but asking such an unproven team to make the playoffs is a tall order.
Outlook
Nowhere is the class of the division clearer than the west. The FlameThrowers' talent simply dwarfs that of the division's other teams. With Kittredge and Rasmussen back in the Bay along with players like Taylor, Lim, and Lindsley joining the team, an exit before championship weekend just doesn't seem fathomable. No team in the history of the west has ever gone undefeated. While it's too soon to start thinking about that for San Francisco, this year it is a possibility.
After the FlameThrowers, though, the outcome is far from certain. Any of the rest of the teams could beat each other on any given night. That's why you play the games.