The best teams to watch in the AUDL, ranked.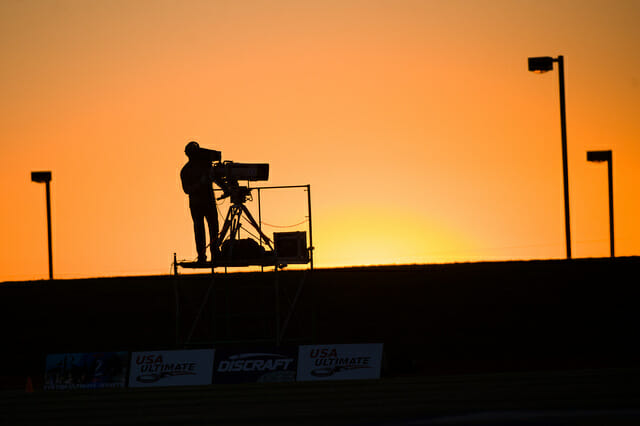 A lot of people have a lot of opinions about the AUDL, but one thing that cannot be disputed is that it is great at bringing live high level ultimate to its fans. This year the AUDL is partnering with Fulcrum Pro Media to broadcast 13 live games (including four cross divisional games) and Ultiworld for another eight games. And that doesn't even factor in the live streams that the teams provide, with five games set to air opening weekend alone.
That's a lot of ultimate. It might help to figure out what teams you want to watch the most outside of your hometown squad. And there's no sense in only following the top teams. You don't want to be a frontrunner. At the same time, you're a busy person and don't want to waste your time watching a game with two fairly unexciting teams.
With that in mind, the AUDL Streamability Rankings were created. While AUDL 'League Pass' doesn't exist (yet) and you can't flip from one game to another depending on the score, this is the closest we've come yet. Taking Zach Lowe's annual NBA column and applying it to the AUDL makes too much sense. Tune in when there's one, or better yet, two high streamability scoring teams playing and you are sure to have a good time. The rankings are somewhat (extraordinarily) subjective, based on these categories:
PLAYOFFS (20 points): Is the team headed to the playoffs? Do they matter?
STYLE (20 points): Is the team aesthetically pleasing to watch? Good disc movement? Utilizes lots of break throws? Hucks to space rather than to the tall guy with position?
COOL FACTOR (20 points): What's the public perception of the team? You don't want to be the person that isn't from Dallas and only cheers for the Roughnecks. They've already won their title. Ideally, you'd cheer for an up and coming team that might be a little under the radar.
STAR POWER (10 points): There's nothing wrong with tuning in just to watch a few players that you know are going to light it up.
INDIVIDUAL HIGHLIGHT PRODUCTION (10 points): We're looking for players who make the AUDL top ten on a regular basis and teams that have a flair for the dramatic play.
CLOSE GAMES (10 points): Ultimate games are a lot more fun to watch when there isn't a team winning by ten or more. If possible, we want the game to go down to the wire.
STREAMING MINUTIA (10 points): Does the team play at a nice looking stadium? Do they provide their own stream, and if so, is it any good? Is their twitter account funny, and not just naming the seven players on the line every other minute? What about a parody twitter account? Do they have a good team based (or not team based) podcast? If I go watch them live, am I going to have a good time visiting their city?
In the event of a tie, the team with the better playoffs plus close games total finishes higher. And with that, we're off.
***
24. Chicago Wildfire – 21 pts

The Wildfire are not the worst team in the league, but they finish at the bottom here. No AJ Nelson, their biggest star and highlight producer, this season. When they're on, you can expect a few close games in which Chicago methodically works the disc up the field and doesn't push the pace. Yawn.
23. San Jose Spiders – 25 pts

Losing Kevin Smith's arsenal of unpredictable throws and the speedy Sean Ham hurts the style score for the Spiders, though they retain a savvy and sound handler set that does nice work. Other than that they're playing in a nice place that has often had exciting atmospheres in the past. Plus, their jerseys still look nice, even if they have different players wearing them.
22. Detroit Mechanix – 34 pts

The Mechanix were surprisingly resilient last year, even taking a game over Chicago. They're adding a few more players this year, including the always exciting Johnny Bansfield who can provide some highlight throws and layouts. What's more, they're still here and have been since 2012 and who could have predicted that? It's not a lot, but it's something.
21. Ottawa Outlaws – 36 pts

The Outlaws have finished a ho-hum 7-7 the last few years, never out of the playoff race but never really in it. Derek Alexander is fun to watch, though, and we're all a bit envious of Canada these days so they get a decent cool score.
20. Philadelphia Phoenix – 37 pts

The Phoenix are poised to make a 2016 Detroit Mechanix-esque leap, which doesn't sound that exciting but it makes them interesting. Marques Brownlee and Matt Esser play a highlight friendly game. The Phoenix are a long way from being compelling, but they're no longer NOT compelling.
19. Nashville Nightwatch – 42 pts

Listen, the Nightwatch are going to have a rough go of it. They're in a stacked division and, while they've scored some upsets in the past, they'll be the underdog in every game they play. But they get major points for adding Jesse Shofner to the team, an exciting player to watch no matter the division or circumstance. Plus, have you ever been to Nashville? Not a bad place to spend some time.
18. Jacksonville Cannons – 43 pts

The Cannons are the favorite to earn that third playoff spot in the South, have some big stars in players like Brodie Smith and Mischa Freystaetter, send out highlight-friendly players like Andrew Roney and Jakeem Polk, and seem to like close games. So what gives with the low ranking? Well, they play a very physical brand of ultimate that doesn't make for fun games, and even when they're doing well, their offense relies on hucks to tall players with position, which, while effective, are not a whole lot of fun to watch.
17. San Diego Growlers – 53 pts

The San Diego Growlers weren't much to watch last year. They played some close games but only won two games in a deep West Division. This year, though, they're adding Kevin Smith and Sean Ham and have some playoff potential. There's nothing cooler from a sports hipster perspective than going from a cellar dweller to the playoffs, so they pick up some cool points there, and everybody in their right mind wants to spend more time in San Diego, so they score decently on minutia as well.
16. Indianapolis AlleyCats – 54 pts

The AlleyCats are one of the two surviving teams from 2012, and if you haven't watched them play ultimate, you should. Their offense flows smoothly without any one player dominating the disc. Their livestream provides a good angle of the game and has a fairly professional production with announcers that do a good job and aren't too homerrific. If the AlleyCats are better than I think they are, they could move up higher on this list, but this is not a team with a lot of star power and it doesn't look like they're headed to the playoffs.
15. Atlanta Hustle – 55 pts

Atlanta is fun to watch, especially in the South when the teams they're matching up against play a much different style than they do. The Hustle are not a particularly tall team, with two of their most dangerous cutters in Matt Smith and Austin Taylor relying on speed instead. Watching Dylan Tunnell air out hucks that have to be just right to those players makes for exciting moments.
14. Austin Sol – 56 pts

The Sol are the mini-Roughnecks in a lot of ways, except they haven't hit it big yet and will probably never quite make it to the big time. What could be more Austin than that? This team fields Michael Matthis, one of the most underrated defenders in the game, and Jeff Loskorn, who was quietly selected to the 2nd All-AUDL team last year. Plus, they have an unofficial fan podcast, Sol'd Out, which isn't really even about ultimate so far as I can tell. The only thing that could ruin the good thing the Sol have going here is if they finished any higher on this list.
13. San Francisco FlameThrowers – 59 pts

Want to see great handlers make simple throws to wide open cutters? Then you'll love watching the FlameThrowers! San Francisco is a title contender stacked with talent, but it's tough to see them getting involved in many classic games this year, and even if they do, it'll probably happen after they've already sewn up the one seed out West. There's something to be said for sound, fundamental ultimate, but it's not always the best viewing experience. Stick around to watch Marcelo Sanchez and Greg Cohen play defense though.
12. Vancouver Riptide – 60 pts

The Riptide are tantalizingly deceptive. They score points in my book for having an offense that's a lot of fun to watch and having a couple big playmakers on defense, but they also have holes on the field wherever those playmakers aren't. It makes for a lot of scoring — for both teams. Vancouver also manages to play a lot of close games no matter who the competition is. Hopefully for their sake they win more of those close games this year.
11. Dallas Roughnecks – 61 pts

Yes, Dallas plays an entertaining but efficient brand of ultimate that produces tons of highlight plays from your favorite players and is bound for the playoffs. But other than that? I'm waiting to be impressed. Rooting for the defending champions that have still never lost a game does not earn you many cool points. So many of their games end up in blowouts. And their dark jerseys are hideous. Am I going to tune in at the start of every single one of their games that I can? Yeah, probably. But it's unlikely I'll still be watching as the fourth quarter draws to a close.
10. Los Angeles Aviators – 61 pts

The Aviators closed last season with a remarkable run, with their offense stepping up and reaching a new level. What made it so thrilling was that so many of their games were so close. In a wide open (after San Francisco) West Division in 2017, they figure to play a lot of close games again. Plus, they have Tom Doi this year, and you can never quite predict what is going to happen next when Doi is on the field. Bonus points for the Drunk Aviators twitter account.
9. Montreal Royal – 62 pts

Get on the Royal bandwagon while there's still room and before the trip ends. This ride is probably stopping at the end of the regular season but it'll be a good time before it gets there. Come for Kevin Quinlan's hucks but stay for Christian Foster's pulls. Take some time to appreciate the crowd, which might provide the best atmosphere in the AUDL. It would be beyond shocking if the Royal got to play in front of their home crowd for Championship Weekend, but if you aren't pulling for them to make it there, you should check your pulse to make sure you have a heart.
8. Pittsburgh Thunderbirds – 62 pts

The Thunderbirds are another team that excels at offense and has a couple defensive playmakers but gaps elsewhere on their defensive lines. One thing that separates them, though, is a pretty great podcast that runs before every home game and some nice jerseys. Plus, any team with Tyler DeGirolamo on it is going to produce some highlights. Whether or not they can threaten Madison is another story, but at least they'll look good and have a fun time trying.
7. Seattle Cascades – 63 pts

The Cascades have lost a lot of talent and won't be heading back to the championship game. But sometimes when everyone else is getting off the train, that's the perfect time to hop on. Seattle is hosting the Cascades Cup this year, which will no doubt be a big event, and the Cascades still have plenty of players that will show up on the highlight reel with Khalif El-Salaam and Cam Bailey on board. Plus, the backdrop to their stadium is gorgeous. There will, of course, be plenty of opportunities to watch the Cascades, since they have four game of the week appearances.
6. Toronto Rush – 64 pts

Toronto is another team with an easy offense that often scores in just a few throws. But watching them play defense is always a delight, whether it's someone like Remi Ojo making a big play or Andrew Carroll shutting down his man. This is pretty much the same show it's been the last few years, but that could change if any of their young players make a surprising leap or Mark Lloyd returns to form.
5. Madison Radicals – 65 pts

The Radicals are in danger of becoming the 1990's Utah Jazz. The Jim Kelly Buffalo Bills. The '70s Los Angeles Dodgers. The Atlanta Dream. Whatever the equivalent is in the NHL. There's some cachet in being that team, for sure; it's fun to cheer for a team that's always in it but has never won it. You get to be invested in the big games while still getting the fun of rooting for an underdog. But that ride only lasts so long.
4. Minnesota Wind Chill – 66 pts

The Wind Chill finally have assembled most of the elite men's talent in the state and have a promising on-field product in 2017. They're a team that's on the rise, but won't be ready on day one. That's the kind of team you want to start rooting for now. As they start to play better as the season progresses and more fans start cheering them on, you can remind everyone you were cheering them from the start, that you're a true fan. Those kind of passive-aggressive reminders perfectly fit the Minnesota brand. The Wind Chill score bonus points for being the only team named after a state instead of a city and for being located in my personal favorite metro area.
3. DC Breeze – 69 pts

The DC Breeze have a little bit of everything you'd want in a team to watch. They're most likely headed to the playoffs but will probably need to tough out some close games on their way there. Watching Alan Kolick move the offense is always a treat, as is watching Markham Shofner make some big throws. They're adding Delrico Johnson this year, a player that has been making highlight plays for the now defunct DC Current for years. And then there's the pun heavy DC Breeze podcast, "Hot Air." What's not to like?
2. Raleigh Flyers – 78 pts

If it weren't for the #1 team on this list, the Raleigh Flyers would be the "it" team this year. The best team to root for is a new-to-the-scene championship contender. Raleigh made the playoffs last year, but it wouldn't have been right to call them a true contender. This year, that has changed. The Flyers have always played an exciting brand of ultimate; bringing on Brett Matzuka's wizardry and a lot more depth only helps the cause. The Flyers are playing in a deep South Division, too, so they should still play quite a few close games.
1. New York Empire – 82 pts

The Empire have it all. They're a brand new heavyweight contender, still with a heavy dose of "nobody believes in us." They've got a group of young exciting players like Ben Jagt, Conor Kline, Tyler Haskell, and Harper Garvey joining a group of AUDL veterans known for their defense. Oh, and they also have Jeff Babbitt. Ultimate as a sport is roughly twice as more fun to watch when Babbitt is on the field. Add to all that a healthy playoff chase with Toronto and DC still pushing them and some spiffy New York white jerseys, and the on-field product has never looked more promising in New York.