Some great stories from the enormous high school tournament.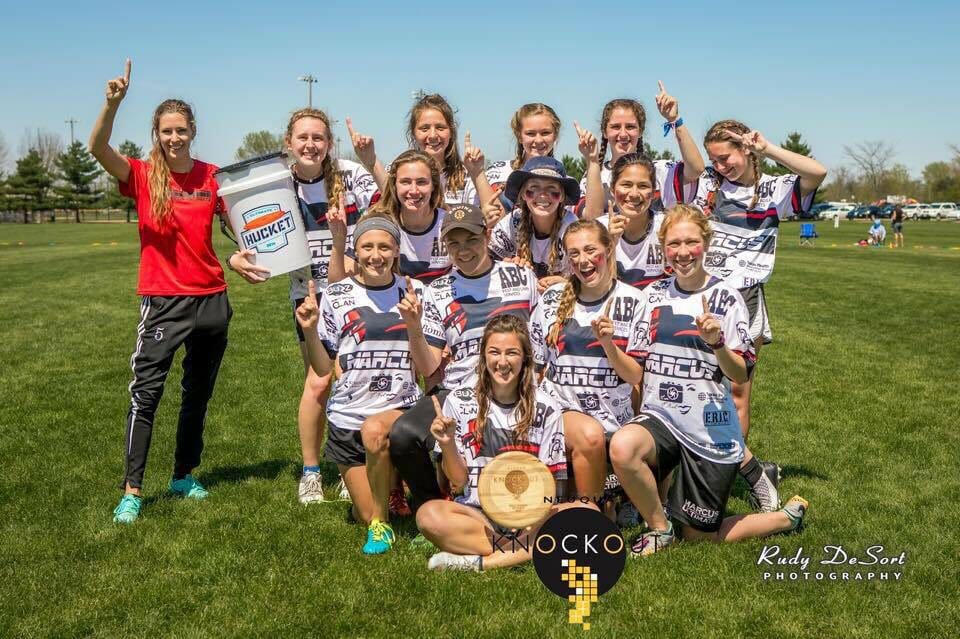 The article is presented by CUT Camps; all opinions are those of the author. Please support the brands that make Ultiworld possible and participate in CUT Camp! Disclosure: Ultiworld is co-organizing this summer's High School National Invite with GLUE's Nick Lindeke and Competitive Ultimate Training's Arnoush "Java" Javaherian.
The 88 team Neuqua Knockout, held just outside of Chicago, delivered on its promise of offering elite high school ultimate on pristine fields. With returning powerhouses facing off against some brand new contenders, the tournament was competitive from start to finish. Here's a look at the biggest stories from the weekend.
In High School Tournament Debut, Marcus Girls Flash Excellence
If you can believe it, there are no high school girls' teams in the entire state of Texas. That didn't stop the Marcus (TX) girls from bringing home a trophy after an undefeated weekend at the Neuqua Knockout, their first-ever high school tournament, and debuting at #3 in the Ultiworld High School Power Rankings.
"I was nervous going in because we never had high school competition, so we don't know how it is and how we ranked," said senior captain and standout handler Tanika Graham. "So it was just really cool to see where we are and where we stand."
Marcus allowed just seven goals through their first four games of the tournament, setting up a semifinal against then-#9 ranked Holy Family Catholic (OH), a powerhouse program. Using their fabulous zone defense, Marcus delivered a gritty performance to eke out a 9-8 win on double game point. "If I could pick one word [about that game], it would be epic," said Graham.
The final was a comparative cakewalk, as they blew away Rush, a New England combo team, with their zone to win 11-3 in the cap.
The Marcus zone — honed over the last three years playing at college tournaments — is described by head coach Rob Doyle as a clam with three flat marks, three mids, and a deep. With the disc in the middle, the mark is flat and the two other players up front sag the lanes. When the disc swings to a sideline, the mark is more of a trap and the off-side handler cover works to prevent the reset.
The zone suffocated teams all weekend, even in calm conditions on Sunday.
"It's not easy to figure out [how to play it], but when you do, it's shutdown," said Graham. "That's our go-to. It's worked against college teams. It's how we won the tournament up in Oklahoma and it's how we won this one too."
The Marcus girls typically played Mixed competition during the high school season due to the lack of nearby girls' programs. It's astonishing just how good they are, despite never having before played high school competition. Credit their coaching staff for keeping them motivated (the girls were coached this weekend by Marcus assistant coach Jenna Bigbie while Doyle coached the boys.)
"We try to put some really good scrimmages, games, and tournaments on the schedule," said Doyle.
The college tournament experience has clearly paid off. Marcus' top players were comfortable playing many points and dominating possession. Graham had 33 assists on the weekend (on 70 total team goals), including six in their 9-8 win over HFC. Sophomore Skye Fernandez added 21 assists to round out a dominant backfield that, in the summer, plays with Dallas Maeve, the area's top women's club team.
Senior Haley Oskowski was impressive patrolling the back of the zone and senior Kendra Hess was the team's leading goal scorer (11).
Although more mixed competition is still to come, this was the final tournament as a girls' team for Marcus' seniors. What a way to go out.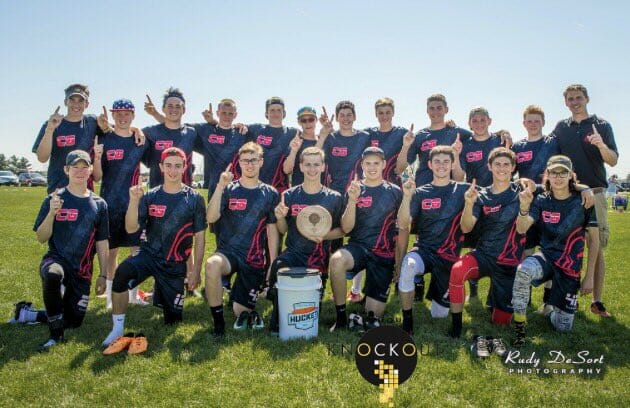 Center Grove Continues Undefeated Season In All-Indiana Boys' Final
The new #1 ranked team in the country, Center Grove (IN) continued their undefeated run through the 2017 season with a commanding performance at the Neuqua Knockout. Center Grove topped fellow Indiana team Fishers 13-5 in a final that never felt competitive.
Earning and accepting a bid to the High School National Invite with another tournament victory, Center Grove showed off an unparalleled depth of talent and strong defense to claim the Knockout crown.
"It's like a dream come true," said senior captain Conner Henderson, also a member of the AUDL's Indianapolis Alleycats. "My coach [Jake Phillips] and I — we've talked about it before — I've been been preparing this along with the other juniors and seniors, we've been preparing for this for four years. The game didn't start an hour and a half ago; it started four years ago. To see all of this come to fruition, it's unbelievable."
Center Grove looked sharp all weekend, comfortably taking down two top 25 teams in Marcus (TX) and Pine Richland (PA) in power pool play. Their biggest test didn't come on Sunday, though. It came during the prequarters on Saturday afternoon against a talented Mason (OH) team. Mason's athleticism kept them right in the game with Center Grove, who snuck out with a 9-8 win.
"The nerves of — what happens if we lose? — we haven't had that mental test yet," said Henderson, discussing the prequarter matchup. "We all got nervous; we didn't do our normal stuff that we practice."
But the reflections they had after the game set them up for a dominant Sunday, when they beat St. John's-Ravenscourt (CAN) 13-4 in quarters, Holy Family Catholic 11-5 in semis, and Fishers 13-5 in the final.
"Our coach said, 'The battle isn't always necessarily physical; sometimes it's mental. And to become a great team — the team that we went to be — we have to fight the mental game,'" said Henderson.
While Connor Henderson was the team's best all-around athlete, Alex, his younger brother, was their most impressive handler, confidently breaking the mark and marshaling the offense. Junior Dustin Baird was also a strong handler.
On the other side of the field, Fishers carved their own impressive path to the final, topping a talented Pine Richland team 10-9 in prequarters before comfortably beating Columbia and Neuqua Valley to reach the final. Possibly the most fearsome deep cutter in the tournament was Fishers' Lucas Lawyer — a well-rested Neuqua Valley had no answer for him. Unfortunately, Lawyer got hurt early in the final and didn't play after that.
For two Indiana teams to reach the final of a prestigious high school tournament was a sign of the development of the state's ultimate scene over the last decade.
"Indiana is starting to move from the team that can almost get there to the team that is there," said Henderson. "And we are here to compete."
Notes From The Girls' Tournament
Madison West finished in 7th place but had one of the most impressive individual players at the tournament in Margaret Walker. She was instantly recognizable as the team's best player and combined layout Ds with pinpoint hucks. Walker plays for the elite women's club team Madison Heist during the summer.
Like Marcus, the St. Johns-Ravenscourt girls from Winnipeg, Canada, generally play mixed during the high school season. This year, St. John's again traveled many hours to the Neuqua Knockout, splitting their squad by gender and competing at a high level in both Divisions. St. John's went 4-0 on Saturday and came up just short of a finals berth, losing to Rush 9-8 in semis.
Rush had to grind out two close games on Sunday morning to reach the final. They were playing with just eight girls! One player went down with an injury on Saturday afternoon. Their lack of competitiveness in the final against Marcus said a lot more about Marcus' zone defense and talent than it did about Rush. They were impressive.
The true "final" of the tournament came in semis between Marcus and Holy Family Catholic. Marcus was undefeated and HFC lost only to Marcus; both teams were totally dominant in all of their wins.
Notes From The Boys' Tournament
Both Columbia and Neuqua Valley have a talented player named Ethan Smith…and they are both #47!
Pine Richland's Aiden Landis made some huge plays for the strong Pittsburgh team.
Marcus and Holy Family Catholic played the game of the tournament in the quarterfinals — watch for video up on Ultiworld's YouTube channel. HFC ended up taking the game with an upwind offensive hold on double game point. "That was one of the best games I've seen," said Marcus coach Rob Doyle. "Both teams played really clean offense, a whole lot of skill on the field. Defense…it was just a struggle to create any sort of turns."
Marcus parents traveled in force to the Chicago area. There must have been 20 there, at least. I loved one of the Dads, who tried to show cell phone video to help resolve a disputed in-out call. "Dad, you can't do that," said a Marcus player.
Holy Family Catholic has some insanely talented sophomores — they're in a relative rebuilding year right now but will be back in a big way over the next couple of seasons.
Neuqua Valley's two wins over HFC really bolster their season resume. It's hard to square that with their loss to Fishers. What's the story? NV is very disciplined and system-based, featuring strong fundamentals up and down the roster. They match up well with the methodical Holy Family team. Fishers? They want to air it out. Neuqua is not incredibly athletic this year and could never corral the deep space.
Marcus is sending a huge crop of talent, including goal scoring monster Johnathan Costello, to Oklahoma State next year. Keep an eye on that program in the South Central in coming seasons.
On The Iowa City Disqualification
A lot of the chatter online following the Neuqua Knockout has focused on Iowa City getting kicked out of the Championship bracket to the benefit of Neuqua Valley, their opponent in quarterfinals, who is coached by Arnoush "Java" Javaherian, the primary organizer of the Knockout.
Like many, my first reaction when I heard that Iowa City had been disqualified was to raise my eyebrows: Neuqua Valley got a bye into semis as a result.
But after speaking with the tournament directors, headed up by GLUE's Nick Lindeke, it was clear that this was an unfortunate coincidence.
Iowa City was not initially invited to the Knockout due to poor spirit scores at past tournaments. Ultimately, they were offered a bid contingent on a good spirit showing at the Indy Invite earlier in April. They delivered on that but were admitted to the Knockout on probation.
When spirit scores came back Saturday night and Iowa City had received a 3/20 and a 6/20, the TDs faced a quandary. Initially, they decided to allow Iowa City to continue to play but planned to have tournament organizers watching their Sunday games closely. Further details revealed early Sunday morning that an Iowa City player had made disparaging comments about another team's female coach. At that point, the TDs were prepared to completely disqualify the team from the tournament.
After conversations with Iowa City, the TDs decided to allow Iowa City to continue playing in the fifth place bracket so long as they did not allow the offending player to play another point. The team agreed to those sanctions, and Iowa City, after winning their pool (with a loss) and their prequarter on Saturday, closed out the tournament with back to back wins over Columbia and Marcus. They got perfect spirit scores on Sunday.
Because so much happened early Sunday morning, it was not possible for Black Ice (Iowa City's prequarters opponent) to replace them in the bracket, giving Neuqua Valley a quarterfinal game.1. Moving Black Ice would also have meant depriving Monarch (CO), who had traveled from Denver for the tournament, one of their Sunday games.
Javaherian told Ultiworld that he knew the situation wouldn't look good without context, but he and the TDs were completely comfortable with their decision.
Certainly, Iowa City showed that they are a talented, competitive team, and were understandably disappointed by not being able to compete for the tournament title. But the disqualification was not random or delivered for Neuqua Valley's benefit; it was clearly in line with the pre-tournament communications and the team's low spirit scores on Saturday.
---
Consolation play began in the first round on Sunday; championship play did not begin until the second round ↩