CHAOS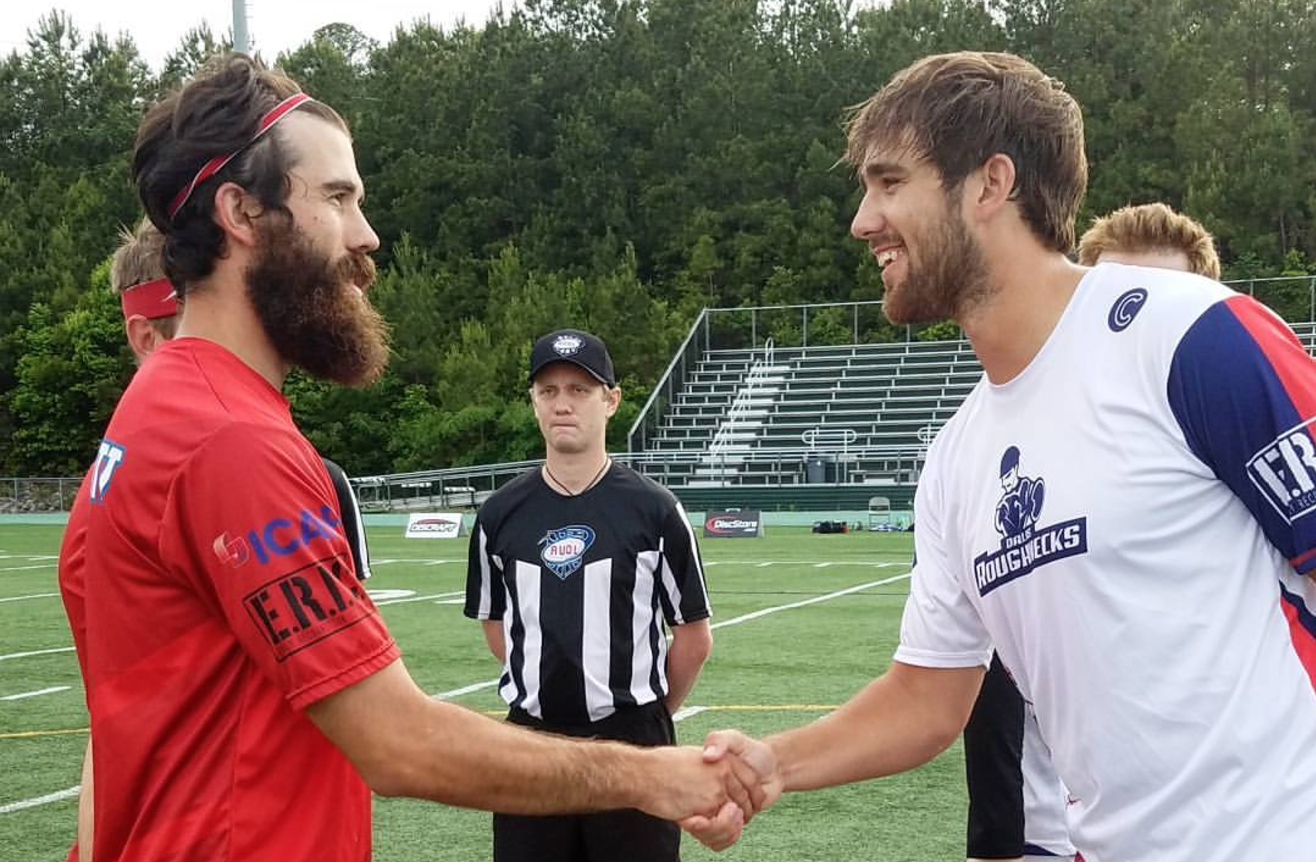 Throughout this AUDL season, Ultiworld will be publishing a weekly Throwaround, a chance for you to catch up on the amazing, funny, and interesting moments that you might have missed from the weekend's games.
Jacksonville Cannons: Bad Boy Pistons Or Victims Of Circumstance?
Before it gets lost in the shuffle, it warrants mentioning that the Dallas Roughnecks, winners of 23 straight games up until this weekend, are now on a two game losing skid. The Jacksonville Cannons look like a team that could maybe win the South.
Now that the boring stuff is out of the way, let's get to what really matters, AUDL players arguing on Twitter!
https://twitter.com/bigmuffnuts/status/863225803911430144
Dallas' Brandon "Muffin" Malecek was none too pleased with the way Jacksonville played in their win over the Roughnecks. Jacksonville has frequently been called out as an AUDL team that plays the game the wrong way. There was Beau Kittredge's reaction to his game against them last year and a bad bid against Atlanta and maybe even a worse attempted justification.
The rest of the teams in the South see Jacksonville as a team that plays the game the wrong way, frequently disregarding player safety and playing outside the rules. The Cannons don't view themselves as demonstrably different than other teams in the league, pointing out that they're not the only team in ultimate that makes bad bids, and that some Jacksonville players are stand up guys. After all, Jeremy Langdon invoked the integrity rule multiple times in one game earlier this year. There are other players on the Cannons that have their opponents' respect. So Muffin's tweet drew some responses.
https://twitter.com/TyKSay/status/863253554693369857
This is the classic Cannons response! Results over process. Not emblematic of everyone in the Cannons organization but certainly in line with how they are perceived. And wait, there's more!
https://twitter.com/Mattbhip/status/863759378318536708
Dallas' Matt Bennett weighs in by pointing out the contrast between playing Jacksonville and Raleigh, reinforcing what we already know: everybody hates playing Jacksonville. The response from most Cannons players seems to be centered around the fact that they shouldn't all be painted with the same brush, and that other teams have bad bids sometimes too.
https://twitter.com/fairleymichael5/status/863762382471954432
https://twitter.com/LaRocque18/status/863773692291149824
The problem with how Jacksonville players respond when they get defensive is that they say intent doesn't matter (results over process again), so it shouldn't matter what their intent is. It shouldn't matter that they're not trying to fix it, because they see it happening elsewhere. Other teams may be trying to stop their team from attempting bad bids but if they're not totally successful, why should the Cannons change?
It's remarkable that instead of just admitting that they have a lot of work to do, and other teams do too, the team doubles down on its approach. It'd be hard to say that the Cannons are anything but unapologetic. What's even more amazing is that players like Bradley Seuntjens (usually referred to as #4), Cole Sullivan, and Mischa Freystaetter get slammed pretty regularly by other players on social media for how they play the game. Other than saying that other players do bad things sometimes too, no defense is ever made for those guys.
If you were to only look at all the back and forth and nothing else, a reasonable conclusion would be that there are some players on Jacksonville that play the game the wrong way that end up making the rest of the team (which permits their behavior to some degree by remaining silent) get characterized unfairly as cheaters. Could I be reading too much into these tweets? Of course. Is that the right conclusion? Depends on who you ask, it's Twitter. Not a lot of room for nuance. But Dylan Freechild makes an admirable attempt.
@fairleymichael5 @Mattbhip @raleigh_flyers @JaxCannons I agree you guys get unfairly lumped together and scrutinized to a degree other teams don't. But please understand that that is what (1/)

— Dylan Freechild (@theSPIKEZILLA) May 15, 2017
Click into that tweetstorm: he makes a lot of good points. And while any conversation on Twitter is going to be no more than one tenth as productive as a conversation in person, at least this one happened without a whole bunch of people retweeting with horror a fake Jacksonville Twitter account that's not actually associated with the organization. Now that is progress.
–Nathan Jesson
Back Alley Mugging Part II (feat. MSN Fame, Lloyd's Return, & The Other Norden)
The Toronto Rush and the D.C. Breeze met for the second time this season to decide who would take over first place in the East Division. But when D.C. still hadn't taken the field half an hour before the opening pull, it put the home team as easy favorites early on. Are road trips just too strenuous for ultimate athletes? The last time these two met was in Washington, and the Breeze wiped the floor with Toronto.
Trading points for most of the first quarter, D.C. did their best to scramble the Rush's manual of pull plays. But moving into the second, Toronto built a sizable lead and the Breeze never seemed to find the wind in their sails. Final score? 26-20 for Toronto.
It was Mark Lloyd's first game of 2017 with the Rush, but it hardly looked like it. Lloyd had no problem stepping into an authoritative role, firing deep and getting blocks. Already with a handful of goals and assists in his first game back, Lloyd will add some finesse and star power to Toronto's defensive line whenever he takes the field.
Speaking of their defensive line, Toronto's Jeremy Norden is quietly becoming one of the most important cogs on their roster. We haven't been talking about him as much as his brother Justin (San Jose Spiders), but the rookie is making some big moves in his first AUDL season. Clocking in on most defensive points, Norden will add to the Rush's long list of capable receivers as he settles in with his new team.
Although Toronto seemed to be in control for the whole game, they never really were able to set up an effective way to stop the Breeze's deep looks. Even though Matt Kerrigan went out with a shoulder injury, Delrico Johnson, Jeff Wodatch, and Alan Kolick all found themselves in the endzone at the hands of gunslingers Tyler Monroe and Jonathan Neeley.
And in a weird twist of fate–not to mention a weird body twist–Alan Kolick is MSN famous! Which is probably a lot cooler now than circa 2006 on Messenger.
The Toronto Rush have had fingers wagging at them all season, and it's easy to say they've got a big target on their back. The question is…is Lloyd what it takes to keep them at the top of the East? They'll have to find a way to put all the pieces together and rest up before their next big road trip.
–Naomi Redmond
New Look Seattle, Still A Contender
Last year, the Seattle Cascades were dominant when they played their A game. While their seven point second half comeback against the Radicals in the AUDL semis is easy to remember as the Radicals giving the game away, the Cascades made a bunch of awesome plays to make it happen. They were a great team.
But that was last year. Seattle lost a whole bunch of talent, more than any other team in the league. Matt Rehder, Danny Karlinsky, Nick Stuart, Simon Montague, and Reid Koss are just a few of the players who chose not to suit up for the Cascades this season. Sure, Seattle was bringing some talent back and adding other players, but their days as a team that could win the west were over. Right?
The Cascades seem to have missed that memo. While good teams are capable of winning games against the best teams at home, winning on the road, even as a favorite, is tough. As an obvious underdog, Seattle just went on the road to San Francisco and beat the FlameThrowers. How?
Their main handlers in Adam Simon and Mario O'Brien are old; they can't be that good. Well, those two completed 80 passes with only three turnovers on Saturday. Yes, Mark Burton put up crazy stats last year, but that was when he was surrounded by some of the best players in the world. His numbers were surely headed downward this year. Turns out that's not true either. Burton has been on fire.
Here, Burton makes a great grab on a huck that floated for too long. That in itself is a pretty nice highlight. My next favorite part of this clip is that Khalif El-Salaam is open for the dump, as if Burton was ever going to look anywhere other than the end zone after that grab. Burton follows up the sky with a pinpoint hammer to the end zone that doesn't give Greg Cohen a chance at making a play. Mark Burton is not one of the top five offensive players in the league, but he is one of the top five most exciting players on offense.
Khalif would have his moment later in the game. Closing games on the road is often the most difficult thing to do in the AUDL. Khalif almost closed this one on his own, getting bookends on the tiebreaking — and what turned out to be final — score late in the fourth quarter.
The Cascades are 4-1 and, after consecutive victories over Pittsburgh and San Francisco, it's past time to stop thinking of their fast start as a novelty. The Cascades are here to stay.
–Nathan Jesson
The Best Social Media Post Of The Week That Evan Lepler Won't Show You
https://twitter.com/TwoKlainz/status/863758569543532545
That's not a beer you want to shotgun. And if you're not following Josh "Two Klainz" Klane on Twitter, you're doing it wrong.
Raleigh Wins, But Is Dallas Still #1?
The madness of Friday night — with Jacksonville upsetting the Roughnecks — certainly set the tone for the weekend in the AUDL South. Coming into their game against the Roughnecks, there was certainly a great deal of confidence for the Flyers. With Peterson out and Dallas fielding a slim roster, the real question of the night would be if Raleigh could take advantage and hold the still potent Roughnecks offense at bay.
This game couldn't have looked more different than their first meeting. Unlike the blustery blowout Raleigh suffered in Dallas in April, the conditions at Cardinal Gibbons High School were calm and created the ideal situation for Jonathan Nethercutt to put his throws on display. And boy did he do so:
https://www.youtube.com/watch?v=asUHI7MuLOQ
Nethercutt's beard has become a ferocious James Harden-esque nightmare and it was hard to not chuckle at the comparison as Nethercutt shot his way to a new single game assist record for the Flyers with 13. Nethercutt's amazing performance may have overshadowed the athleticism on display from Jacob Fairfax, who pulled down several contested throws from Nethercutt to lead the Flyers in goals (6).
More critically for Raleigh, their defense effectively contained and pressured the Roughnecks into several ill-advised turnovers that prevented Dallas from gaining the upper hand after they broke to take the lead early in the first quarter. The matchup between Nathan Goff and Jimmy Mickle was entertaining to watch.
I've already talked about how Stanley Peterson is the Russell Westbrook of the AUDL. If Nethercutt is Harden (minus the attitude), then fate would seem to demand a playoff match between these two teams in July.
My money's still on Dallas at full strength, especially with a healthy Kurt Gibson and company. There was a sense that despite missing some personnel (Noah Saul, Jack Williams), we got a complete four quarter performance from the Flyers this weekend. Dallas, on the other hand, clearly did not have the personnel to put up a win on Saturday night, despite keeping the game within two until the 3rd quarter. Dallas owner Jim Gerencser expressed confidence that Dallas at full strength is still the best team in the Division.
Until proven otherwise, it's hard to argue against that, but the Roughnecks will need to work diligently to claw back home field advantage for the playoffs. The shake up this weekend certainly warrants a 'wait and see' attitude for how the playoff picture will look as we move deeper into the season.
–Hugo Sowder
Nethercutt Greatest Lands At #5 On SportsCenter
The Flyers getting on SportsCenter with another greatest certainly creates the impression that the greatest may very well be the best PR grab for the sport you can possibly have.
Philadelphia Snaps Their Losing Streak
The Philadelphia Phoenix trailed the Montreal Royal 21-18 with 11 minutes left in their game on Sunday. With the fourth quarter just underway, it looked like the Phoenix would record their 20th straight loss in the AUDL. But in just a few minutes, Greg Martin would make the play that stole momentum from the Royal and jumpstart the Phoenix to their first win of the year, snapping a 19-game losing streak.
After a good Phoenix pull, Martin was already in position after the first throw. A rare miscommunication from the Royal backfield gave Martin the golden opportunity, and with his head on a swivel, he reeled in a layout Callahan that tied the game at 21.
The normally rowdy Montreal crowd fell silent, and the Phoenix had all the momentum. A Marques Brownlee goal on the next point finished a 4-0 run and gave the Phoenix their first lead of the game. Strong defense late kept Montreal from getting a last second shot into the end zone, and the game went into overtime. Philly's offense stayed steady in OT, just as it did all second half, and Montreal's Kevin Quinlan came up just short on a desperation deep huck, sealing the Phoenix win.
With considerable upgrades to their roster this season, it was only a matter of time before the Phoenix got their first win. With the load off their shoulders, they can look ahead to win #2.
–Preston Thompson
P A R I T Y
No more is the AUDL the "All Underdogs Dead" League.
Early season predictions of easy paths to the final four for San Francisco, Madison, and Dallas have evaporated in a hurry, as new teams have climbed to the top of the standings as we approach the midway point of the season.
Think about this: there's only one undefeated team left in the league (Minnesota at 5-0). The overwhelming favorites to make the Championship game this season — Dallas and San Francisco — each have two losses and sit in third place in their respective divisions. Every team in the East has at least two losses.
Sure, the top teams are still very likely to make the playoffs and may well be favorites in the Divisional rounds. But winning on the road is tough, and right now the preseason favorite in every division is looking at going on the road for the Divisional Finals.
Philadelphia's got a win. Detroit's got a win.
It's total chaos and I love it.
— Charlie Eisenhood