The semifinals are set!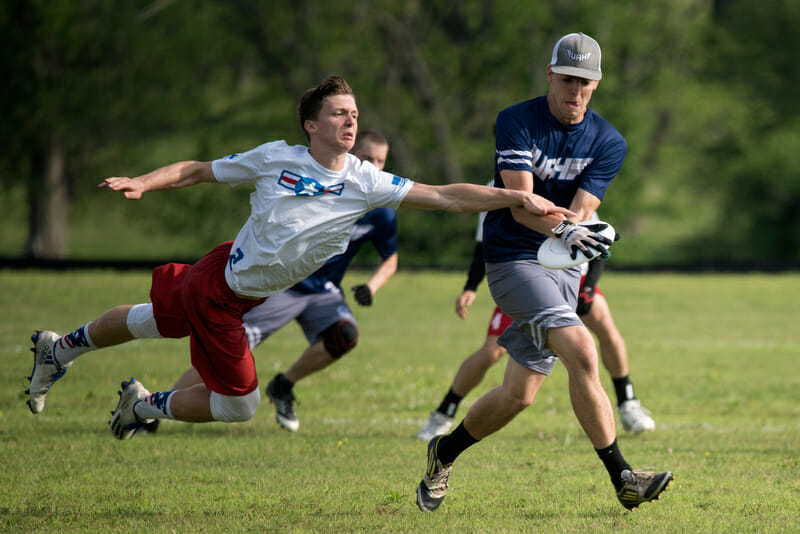 Ultiworld's reporting on the Men's division of the 2017 D-III College Championships is presented by Spin Ultimate; all opinions are those of the author. Please support the brands that make Ultiworld possible and shop at Spin Ultimate!
LEXINGTON — After schedule changes designed to minimize the impact of a stormy Sunday were put in place on Saturday afternoon, the quarterfinals closed out the first day of competition at the Division III College Championships. We break down all four games from the Women's Division below.
Back-And-Forth Battle Falls Bryant's Way
Basketball is often described as a "game of runs." In the spirit of the ongoing NBA playoffs, the runs that occurred throughout the quarterfinal game between Bryant Craze and Franciscan Fatal defined the contest. In the end, Bryant landed the final blow and beat Franciscan 12-10.
Franciscan struck first, jumping out to a 3-0 lead. Fatal held on their first point, making quick work of Craze's standard four-person cup zone. Fatal followed that score up with two straight breaks, capitalizing on early mistakes from Bryant. Franciscan's 2017 Donovan Award finalist Dom Schuster made his presence felt early on; Bryant would make a point to try and change that.
After finally landing a hold to make it 3-1 and get their defense on the field, Bryant rolled out a brand new defense. Craze pulled one defender from their cup and had him shadow Schuster all over the field in a box-and-one set. Jacob Garfinkel and Devyn Oakes took turns as the person marking Schuster, and their effort and physicality took Fatal's deadliest weapon out of the game.
Franciscan's other throwers struggled against the height on the rest of Bryant's D-line, and their cup started racking up blocks. First, Cameron Jack got a block, then Garfinkel got two, then Oakes added another. "We get in our own heads sometimes," Garfinkel said after the game. "But once we got that [first] D, the tide changed."
"We've played against zones like that before," said Franciscan's Stephen Babcock. "We just looked off the easy around throws and forced the tough looks."
Behind the chaos of this new zone look and ruthless efficiency after a turn, Bryant rattled off an 8-1 run to take half. At this point, it looked like the game was over. Craze had all of the energy, feeding off a sideline of rowdy and supportive family and friends. Franciscan was clearly frustrated and lacked answers.
Enter Stephen Babcock.
Coming out on defense in the second half, Franciscan played with the intensity that saw them take an early lead, and Babcock was leading the charge. A block from sophomore Matt Mirabello led to a hammer from Babcock to Schuster for a goal. A throwaway from Craze on the next point was punished by another hammer from Babcock, this time to Jay Ratajczak. A floaty swing pass from Bryant was yanked out of the skies by Babcock, and a few throws later, he hit Schuster again with a hammer for a third straight break.
When asked what changed for Fatal during halftime, Babcock said it was just a matter of understanding their situation. "We knew our season was on the line," he said. "We would have one half left if we didn't put it all out there."
Unfortunately for Franciscan, that would prove to be their final break of the game. Jacob Garfinkel answered the challenge that Babcock laid down, assisting on three of Bryant's last four goals. There were multiple turnovers on five of the seven holds, but neither team could muster a break. Garfinkel connected on a 50-yard laser huck to Alex Kenworthy for the game winner; Bryant survived the game of runs and emerged victorious.
Heading into the semifinals against Richmond, Bryant and Garfinkel are feeling confident. Conditions are supposed to be less than ideal, which will only make Craze feel like they're at home. "We're think we'll thrive in the weather tomorrow," Garfinkel said. "We're from New England. We're used to cold, wet, and windy."
Bryant showed the ability to weather a storm against Franciscan; they've earned the right to weather the forecasted storms on Sunday.
Richmond Locked In
There's one word to describe the Richmond Spidermonkeys right now: focused. Richmond has been a team on a mission to win a national championship since coming up short last season, and while history has not been kind to them at Nationals, their dominant 15-8 performance over Dartmouth Pain Train in the quarterfinals showed just how deep and talented they have become this season.
Dartmouth opened the game with a break, but their excitement was short-lived; it would be one of only two goals they'd score the entire first half. Richmond locked Dartmouth up with their person defense and used the momentum of their first few breaks to set the tone of the game. "Last year at Nationals, we came out flat because we were lacking the energy and emotion we needed to succeed at a tournament like this," said Richmond's Henry Babcock.
The crushing momentum of Richmond's D-line was matched with impressive efficiency converting turns into breaks. Four of their six break opportunities were turnover free in the first half, and Dartmouth could not find the energy and execution necessary to turn the momentum of the game back into their favor.
The second half was more of the same story. Dartmouth simply could not rally against Richmond's suffocating energy and could not turn the game around. "It was a big stinger," said Dartmouth head coach Colby Clarkson after the game. "We needed one more point against Air Force to be in first place [in the pool]." Despite the frustrations Dartmouth experienced in quarters, there was certainly a sense that they belonged in the quarters of Nationals. Captain Nick Golini stood out in particular as an elite player in the division and did everything in his power to keep Dartmouth in the game, but it just wasn't enough.
"Being able to focus on developing the program this year and still earn a bid for New England was really special," Golini said after the game. "It took a lot from everyone on our team to make that happen."
It felt like a game Richmond was destined to win, which wasn't necessarily the case coming into quarterfinals. It's worth keeping in mind that Dartmouth beat Richmond earlier this season, 12-10 at Oak Creek Invite. Pain Train had a solid run in pool play, going 2-1 after beating Alabama-Huntsville and an upstart Occidental squad. The game was decided by Richmond's ability to take control of the energy early and never let their foot off the gas.
Henry Babcock owned the role of a D-line handler, tallying one goal and 4 assists. The fact that he was almost exclusively playing defense for Richmond represents the other key impact he has had on Richmond as a program. Richmond could not have put on such a dominant performance without having a team buying into the identity Babcock has been instilling into the program over the past few seasons. "He's been a rock this series," said head coach Matt Graves after the game about Babcock. "He's been a big proponent this year for working hard and putting in extra time to get better outside of practice, outside of tournaments, outside of games."
The payoff of that hard work shined throughout Richmond's Saturday at Nationals. Their reward is Richmond's first ever berth in the semifinals, against the number one overall seed at the tournament Bryant Craze.
UAH Defying The Odds
This quarterfinal match-up had all of the narrative to be the most exciting game of the round. John Brown Ironfist was in the final eight for the first time in five trips to Nationals, and the Alabama-Huntsville Nightmares were making a splash in their first trip to the D-III Championships. But the Nightmares didn't let any drama unfold en route to a 14-11 victory; UAH was simply the better team.
Armed with a core of tall, athletic players and one of the most impressive handlers in the division in Donovan nominee Danny Yates, UAH played confidently and aggressively against John Brown. Their deep game came out clicking, even as John Brown did everything they could to contest. However, UAH's athletes consistently came down with contested catches which combined with some very well-thrown hucks to create a dangerous and effective offense.
John Brown was able to keep up with UAH offensively in many ways, as their own deep game was powered by Spencer Patterson and Ethan Bolthouse. However, John Brown at times would find their resets bothered by the pressure of UAH. While JBU was able to move the disc very effectively at times, UAH caused enough havoc on resets to get a few turns in the backfield. This allowed them to take an 8-5 halftime lead, which would just turn into trading out to a 14-11 victory.
UAH is well-coached and in excellent shape, and they have a center handler in Danny Yates who seems like one of the most complete packages in D-III ultimate. He's certainly not alone, as the whole team contributes with confident athleticism and capable disc skills.  Wesley Seat contributed with one goal and four assists, and eleven different goal scorers were led by Chandler Belt with three goals.  
Last year, we saw the Southeast champions Georgia College grind through multiple double game point victories on their way to the title.  This year's SE champions have been much more dominant so far. The Nightmares have proven to be serious contenders for the D-III crown.
Davidson Surges Past Wheaton With Stellar Offensive Game
In a day of attrition, eight seed Davidson qualified for the quarterfinals, rolling through eleventh seed Wheaton for a 15-7 victory.
Davidson was the better team and showed it early, never opening the door for Wheaton to get back into the game. After Wheaton scored the opening goal, Davidson went on a 5-0 run to take control. With that four goal lead in hand, Davidson never looked back. "We really worked hard on defense against them," said coach Ken Porter. "We changed our looks pretty regularly. We wanted to keep them off-balance and didn't give them the same thing multiple times in a row."
Once the Davidson run ended, Wheaton was mentally and emotionally taken out of the game. The sidelines went silent, and the team struggled to make much happen. For a majority of the game, Wheaton struggled to advance the disc past midfield. "We had too many turnovers, and they took advantage of that. We just really struggled offensively," said Wheaton junior Laramie Aspegren.
As a team, Davidson didn't have many big plays throughout the game. Rather, they worked the disc through the handlers, eating up small chunks of yardage at a time."Our handlers were hot, and that's what was working," said Porter, adding, "That's just kind of our style as a team; we ride the hot hand. We are just very team oriented, and there's no certain guy we are always going to look to go to."
To many of the Wheaton players, trying to defend the Davidson offense was frustrating. Multiple times throughout points, Wheaton would force Davidson deep into the stall count, only to have last second resets get off successfully. "We just couldn't get a stop," said Aspegren. Wheaton got just three blocks throughout the game, and the Davidson O-line went the entire game with just two turnovers, showing complete control of the disc and asserting dominance over the Wheaton defense.
Despite the big loss, this was the first quarterfinal appearance in team history for the Mastodons, and Wheaton secured their highest finish of all time. "It was a tough loss, and it's tough to have the season come to an end," Aspegren said. "But Davidson is a great team for sure, so we aren't too disappointed."
Davidson advanced to the semifinals, where they will face off with Alabama-Huntsville. "We are confident going into tomorrow," said Porter." We aren't really concerned with the weather or anything, because it's the same for both teams, and it's not something we can control."