Players battled altitude, wind, fatigue for chance to represent country in Perth, Australia, in January 2018.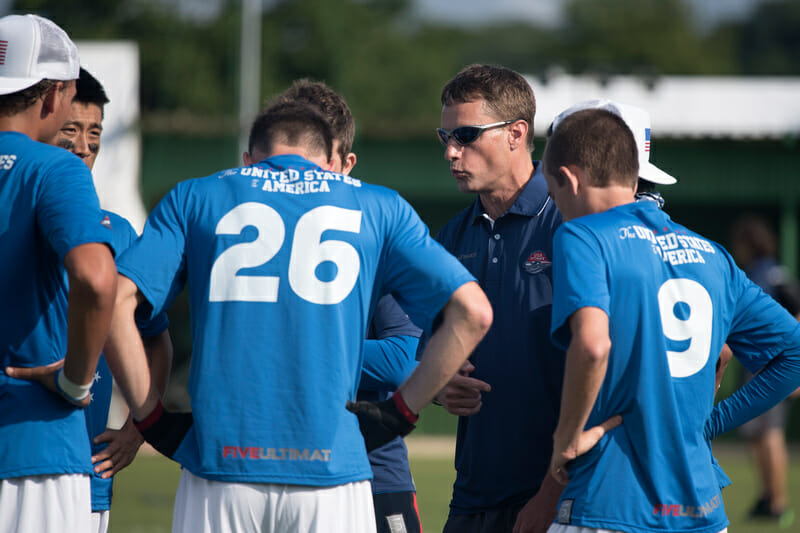 AURORA, Col. — When young men and women around the country submitted their applications for USA Ultimate's Under-24 national teams months ago, they knew what they were in for: a grueling process that would test their skill, endurance, and resolve under pressure. 12+ hours of high-level drill reps and scrimmage points in a 32-hour span put serious physical and mental strain on tryouts this past weekend. In fact, the Under-24 West Coast tryout outside Denver challenged some of the nation's top young talent in ways that no tournament or practice weekend could.
Divisional Differences
The coaching staff of each team utilized distinct warm up progressions to prepare athletes in their groups for subsequent drills and scrimmages.
While all teams completed some version of a dynamic or plyometric warm up each morning and afternoon, the women's coaching staff frequently progressed to short-to-medium-range throwing as an extension of the warm up process. Men's head coach Bob Krier sent his athletes through extensive speed ladder patterns to warm up their legs and minds before anyone touched a disc. And the mixed coaching staff sent its tryout groups through active break-mark and cut-to progressions before formal drills or scrimmaging began.
On Saturday, the mixed coaches never hosted seven-on-seven scrimmages, opting instead for a series of exhausting three-on-three (or "mini") scrimmages to maximize touches, player isolation, and cross-gender connections. The men's coaches also experimented with field size and player depth, directing four-on-four and five-on-five scrimmages on full-sized and modified fields—and sometimes implementing a "shot clock" that required players "shoot" to the end zone by the fifth pass of a possession. Women's coaches and evaluators also limited the number of possessions after turnovers during scrimmages, and, with the exception of endzone offense sets, their tryouts always ran horizontal stack.
On Sunday, in addition to some light drilling, all coaching staffs devoted significant time to regulation scrimmages.
Conditions
Colorado summers are known for their intense heat and sudden, powerful storms. But neither of those elements surfaced throughout the weekend. Instead, it was the mountain air and inconsistent wind that gave players the greatest difficulty.
For readers who haven't competed in Colorado before: hucks tend to travel further and "hold their edge" at elevation – that is, longer throws that might flatten out at lower elevations (closer to sea level) travel at sharper angles for longer distances.
A significant number of tryouts struggled to calibrate their throws to account for these environmental differences, with many hucks sailing beyond their receivers – even on Sunday afternoon. The intermittent wind was a challenge for male throwers in "shot clock" scrimmages, as well, as many deep shots hung in the air above the front corner of the (partially) upwind endzone.
Of course, the thinner air, with lower oxygen concentration than at lower elevations where many players normally live and train, also tested players' cardiovascular and muscular endurance. Ultiworld noted more than one player complaining under their breath about the thin air's impact on their lungs. Fatigue reared its head in the afternoon of both sessions in the form of unforced throwing and catching errors that seemed out of place for a tryout of this level. At the same time, tryouts like MK Andersen (Notre Dame), Chance Cochran (Tulane), Cameron Wariner (Cal Poly SLO), and Kristen Pojunis (UCLA) seized the opportunity to showcase their endurance and outrun other competitors later in both days.
Not surprisingly, all coaches openly relished these opportunities to observe and evaluate players' responses to challenging controllable and uncontrollable conditions.
Competitive Observations
Despite the environmental challenges, there were still sequences of fantastic ultimate on display throughout the weekend.
Angela Zhu (Dartmouth) gels with and elevates most teammates, but she and Brett Gramann (UMass) exhibited visibly strong chemistry in the mixed setting, and she had little difficulty adjusting her throws in the thin air (especially in the women's scrimmages)
There was no greater demonstration of agility and quickness than the Nathan Kwon (UNC) v. Xander Cuizon-Tice (Oregon) match up, as the two frequently guarded each other in mini and full field scrimmages
Rising star Joe White (Carleton) faced off against AUDL veteran Kai Marshall (Oklahoma) in the battle of the big men: Ultiworld tracked at least one Marshall underneath block on White and both got the best of each other more than once in the air
Claire Trop – a Lakeside School graduate bound for national champion Dartmouth Princess Layout – showed poise and on-field communication skills beyond her years
Connor Matthews (Oregon) was one of—if not the most—vocal presences in the men's scrimmages, and he was not afraid to throw his body around in chase of defensive blocks
Portland Community College's Clea Poklembk handled with precision and pace that stood out from the competition during the women's scrimmages
Dylan Salzman—a Denver native and Middlebury student—excelled at altitude on both sides of the disc. In one mixed scrimmage point on Sunday afternoon, he laid out for a full extension block to knock the disc away from Jacob Rovner (Case Western) in his defensive endzone, walked the disc up to the goal line and immediately completed a near-full field huck.
Alexandra Hasan's (Cal) size and downfield motor helped her earn notable separation on both sides of the disc in mixed and women's scrimmages throughout the weekend
Sawyer Thompson (Brown)—who tallied an impressive come-from-behind layout block on an otherwise open upline cut in a Sunday mixed scrimmage—is a lock to make the team, but that should come as no surprise to anyone who saw him compete with Guerrilla last year or earn a spot on this year's deep Revolver roster
Chance Cochran (Tulane) was particularly effective on Sunday: his endurance and defensive positioning made coaches take note on more than one occasion
Many well-known college stars performed at or above their expected level, including Wariner, Pojunis, Jaclyn Verzuh (Dartmouth), Claire Revere (Whitman), Nora Landri (Washington), Alex Olsen (Carleton), Wyatt Mekler (Minnesota), Tony Poletto (Minnesota), Tristan Van de Moortele (Minnesota), Adam Rees (Oregon), Laura Gerencser (Texas), Elliott Chartock (Stanford), and Alissa and Linnea Soo (Whitman)
Noteworthy players that sat out at least one day due to injuries sustained before or during tryouts included Ari Lozano (Whitman) – concussion, Julia Schmaltz (Texas) – knee, and Joel Clutton (Texas) – knee [DNP Sunday].
Interviews
U24 Men's head coach Bob Krier
U24 Women's assistant coach Nancy Sun