The club season kicks off in earnest this weekend in Aurora!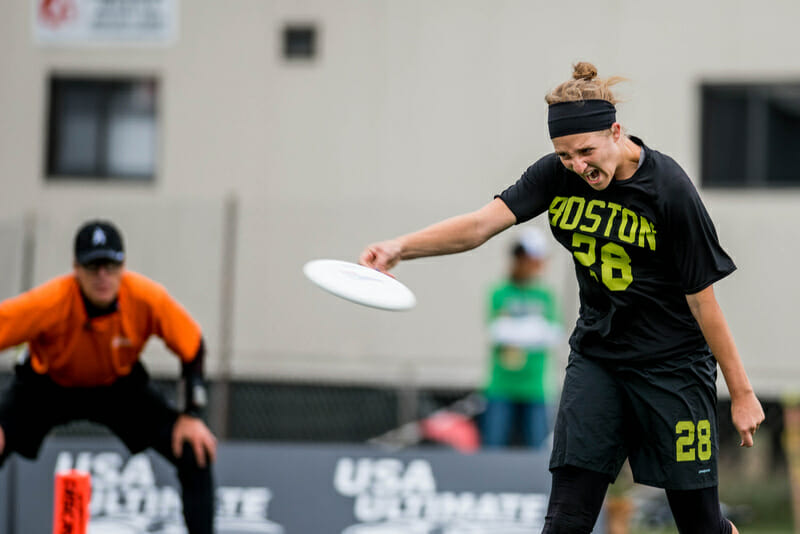 Ultiworld's reporting on the Women's division of the 2017 Pro-Elite Challenge is presented by VC Ultimate as part of their year-long support of our women's coverage. All opinions are those of the author. Please support the brands that make Ultiworld possible and shop at VC Ultimate!
The club ultimate season is under way and the first major event of the 2017 Triple Crown Tour kicks off on Saturday in Aurora, Colo. With a newly rearranged order for regular season TCT tournaments, the Pro-Elite Challenge takes the place of the US Open as the first marquee club event of the summer.
In the women's division, 16 of the nation's top teams — including 12 of last season's Club Championships qualifiers — will get their first official look at one another. Beyond the opportunity to stake an early claim for a strength bid or jockey for position at the top of the pile, this will be an important team-building and learning weekend for all teams.
Tournament Profile
Date: July 8-9
Location: Aurora, CO
Weather: Highs between 88-93, low chance of rain, 7-9 mph winds
Top 25 Teams: 16
Score Reporter
Filming Schedule
Ultiworld will be filming three Women's games this weekend, to be released after the tournament. Access to the games will be available to Full and Plus subscribers. Here are the games:
Seattle Riot v. Atlanta Ozone (Pool Play)
Quarterfinal (TBD)
Final (TBD)
Brute Squad Eager To Launch Three-peat Bid
Two-time defending national champion Boston Brute Squad had originally planned to kick off their 2017 season at the New York Warm Up in early June. But when the tournament was cancelled due to inclement weather, the champs' anticipated debut was pushed back by more than a month. With the Pro-Elite Challenge on deck for this weekend, Boston will finally get a chance to check out their competition and embark on a journey it hopes will end in a third consecutive title.
"We had tryouts in April and we feel like we've been playing for months, so we're just excited to get out there and see how we match up with the best teams in the division," Brute Squad captain Claudia Tajima said. "It should be a great opportunity to test ourselves and get some in-game experience that we've been really looking forward to."
The tournament's top overall seed, Brute Squad saw more offseason roster turnover than any other of last year's national semifinalists. The loss of Leila Tunnell — the 2015 Ultiworld Club Player of the Year — as well as veterans Laura Bitterman and Dory Ziperstein, leaves a void to be filled for the Boston offense.
Brute Squad will, however, return its defensive anchor in 2016 Player of the Year Kami Groom. Veteran handler Emily Baecher returns to the team after serving in a coaching role last season (though she won't be playing in Aurora) and the club also bolsters their roster with the addition of talented young players Joanna "JoJo" Emerson, Tulsa Douglas, Rachel Kramer, and Caitlyn Lee — all of whom were standouts in the college division this spring.
"We have a ton of new, young, athletic talent, which is really exciting," Tajima said. "We're pumped to have those young, spry players out there. We have some big players to replace but we're excited about it and it's our first tournament so we're really focusing on ourselves."
The defending champs will open this year's regular season with a trio of pool play games against Nightlock (who finished runner-up to Riot at Eugene Solstice), Schwa, and a BENT squad that is eager to prove it can compete with the big names in the division after a 2016 season that saw them fail to qualify for the Club Championships.
Despite entering 2017 with plenty of question marks and a number of new faces in the mix, Brute Squad's players and leadership still think they have what it takes to three-peat. This weekend could be the first indication of whether or not they're right.
Seattle Riot Seeking Harmony
Seattle Riot won last year's Pro-Elite Challenge with a 13-10 win over Brute Squad. But after finishing as runners-up to Boston at each of the past two Nationals, you'd expect the players from Riot are anxious for another shot at the defending champions. Yet they're putting payback on hold, at least for now, and maintain that they will be focusing their attention internally this weekend in Aurora.
Saturday's pool play pits Riot against a Wildfire squad they saw recently at Solstice as well as cross-town rival Underground. They are also looking forward to a contest against Atlanta's Ozone, a team they last faced at the Pro Flight Finale in 2015.
"It'll be a good mix of teams we see a lot and teams we haven't played in a while," Riot's Cassie Swafford said. "When I played for Phoenix, we played Ozone it seemed like every tournament and it sounds like they have some good pickups this year. We're really focusing internally right now but every team playing this weekend is good and facing them will definitely help get us going in the right direction towards where we'd like to be."
Even with sisters Rohre and Qxhna Titcomb recovering from ACL surgeries and Hana Kawai moving to a strictly practice player role, Swafford added that the team expects to draw strength from a solid baseline of returning talent. Riot added Stephanie Lim from Fury and Lucy Williams from Mixtape, both of whom have high-level experience, as well as former Underground players Aimie Kawai and Madeline Gilbert.
Chemistry was a critical piece of Seattle Riot's run to WUCC gold in 2014, and nurturing that chemistry will be the team's primary emphasis at the PEC this weekend.
Molly Brown To Test Altered Approach On Home Turf
After reaching the semifinals at Nationals last October for the second consecutive year, Denver's Molly Brown once again enters the new season as one of the few teams capable of legitimately challenging for a national title.
In one of many moves designed to lock the team into that position for the duration of the season, Molly Brown is switching to a designated O-line and D-line rotation after utilizing a different personnel-grouping structure throughout the 2016 campaign. This weekend, that new subbing system will be put to the test against some of the best competition around.
"We have quite a few new people on the team so it's going to be a good opportunity for us to test out our new systems and see how we match up," Molly Brown's Dena Slattery said. "It will be great for us to play against players of that caliber. We're also used to practicing at this altitude and in this heat, so playing here could be an advantage for us."
Colorado's mile-high altitude may indeed give Molly Brown an edge. But they be missing new recruit and 2016 Ultiworld College Women's Player of the Year Jesse Shofner, who will be absent from the tournament while she plays for the AUDL's Nashville Nightwatch. Instead, Molly Brown will be looking to a number of other new players including Liza Minor — fresh off a gold medal performance with the US National beach team — and a pair of local talents from Denver's Small Batch in Victoria Elmore and Carolyn Vlach. More than anything, captain Claire Chastain and the club's leadership are excited to see the bulk of the Molly Brown roster in one place for the first time in a while.
"We were pretty disjointed for the month of June with Beach Worlds, weddings, injuries and things like that," said Chastain, who spent the past weekend at a US National team training camp in Seattle and will serve as an alternate for the upcoming World Games in Wroclaw, Poland. "We had some turnover and we're starting from behind a little bit, so just being together as a team will be important for us. We're younger and we'll be leaning on a lot more players this year, so I think we have some work to do."
Chastain believes that facing sixth-seeded Heist in pool play will be good for Molly Brown's growth, as the two teams didn't play one another last season. Since its formation in 2010, Molly Brown has never beaten Seattle Riot, so a potential semifinal matchup would create an intriguing opportunity for the Denver-based club.
Coaching Clash On Deck In Pool D Showdown
Nine-time national title winner San Francisco Fury last won it all in 2012. After nearly a decade of dominance over the division, their reign finally came to a close when Washington DC Scandal broke out to win back-to-back titles in 2013 and 2014 — thanks in no small part to the contributions of Opi Payne. This season, Payne lines up for San Francisco, adding extra intrigue to what could be Saturday's premier women's showcase, the teams' pool play matchup in the day's final round.
In addition to a host of former national champion players on both sides, the game also features a pair of seasoned coaches who will match wits against one another before joining forces to guide Team USA at the World Games in two weeks. US National Team head coach Alex Ghesquiere is now in his fifth year at the helm of Scandal while assistant coach Matty Tsang returns to the sidelines for Fury after a couple years away from the team.
Both programs have added a number of exciting pieces to their rosters, so Saturday's game will undoubtedly be one to watch.
New Teams Up For The Challenge This Year
While top programs have the luxury of focusing inward at the Pro-Elite Challenge, teams a little further down the pecking order often have different priorities at this tournament.
After making their Nationals debut last season, San Diego Wildfire is looking to make a splash in its first appearance at the Pro-Elite Challenge. As the 11th overall seed in a pool with second seed Riot, seventh-seeded Atlanta Ozone, and No. 14 Seattle Underground, Wildfire will have plenty of opportunities to do so.
"We are looking to use this tournament to secure a few high-level wins to earn a bid [to Nationals] again this season," Wildfire captain Kristen Pojunis said.
No. 10 seed Columbus Rival is back at the Pro-Elite Challenge after finishing 14th at Nationals last season and will similarly be looking to put themselves in a position to secure a bid as the season progresses.
For Select Flight squads also looking to break into the national spotlight, getting into the Pro-Elite Challenge event is a rare and crucial opportunity to square off against the division's elite. Seattle Underground is eagerly bracing itself for its most competitive tournament of the regular season and a pool play matchup with fellow Seattle club Riot. Boston Siege is coming off a big win at the Boston Invitational in late June, going 7-0 and defeating Pittsburgh's Hot Metal in the final; as the bottom seed in Pool C, they will be looking to knock off one of the Nationals qualifiers above them.1 Minneapolis Pop captain Rebekah Swanson said her club is eager to see how it stacks up against the likes of Fury, Scandal, and Showdown in Pool D.
How Will PEC Field Be Affected By Impending World Games?
Nearly all 14 of the players selected to compete for Team USA at the upcoming World Games in Wroclaw, Poland this summer are at least on a roster for the Pro-Elite Challenge, and are obviously critical assets their respective club teams rely on for on-field success. Coming off a training camp in Seattle last weekend and with the World Games opening ceremonies just two weeks away, it will be interesting to see how these players approach this weekend's club tournament.
"I think it's 12 out of 14 that will be there," Fury captain Anna Nazarov said. "Dutchy (Alex Ghesquiere) has left it up to us how we approach this weekend, but did note that Potlatch was already a long, hot tournament and PEC is a relatively unimportant tournament when compared with the World Games, which is the pinnacle of that particular journey."
---
Though she won't be at the tournament this weekend, veteran coach Tiina Booth has joined the coaching ranks for Boston's second squad this season. ↩