Very few surprises this year.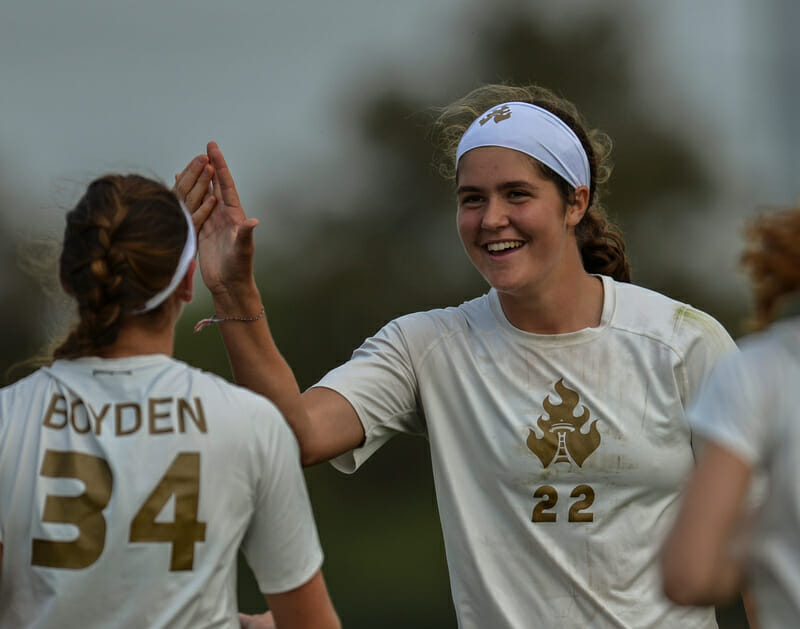 Here is the list of teams that have qualified for the 2017 USA Ultimate National Championships in Sarasota, FL. This list will be frequently updated with new information.
Below are lists of the teams that have qualified (region-by-region breakdowns and scores below).
MEN'S QUALIFIERS
Ironside
Dig
GOAT
PoNY
Truck Stop
Patrol
Machine
High Five
Ring of Fire
Florida United
Sub Zero
Johnny Bravo
Doublewide
Revolver
Condors
Sockeye
MIXED QUALIFIERS
Slow White
Metro North
Wild Card
Toro
Amp
Drag'N Thrust
NOISE
No Touching
Steamboat
Public Enemy
Shame
Love Tractor
Blackbird
Mischief
Mixtape
BFG
WOMEN'S QUALIFIERS
Brute Squad
6ixers
Scandal
Ozone
Rival
Nemesis
Heist
Pop
Showdown
Molly Brown
Fury
Nightlock
Riot
Traffic
Schwa
Underground
***
Nationals qualifiers in bold. Italics denote Top Select.
GREAT LAKES
Men's
1. Chicago Machine (15-11 over High Five)
2. Michigan High Five (15-8 over Indianapolis Brickyard)
Mixed
1. Cincinnati Steamboat (13-12 over Chicago UPA)
Women's
1. Columbus Rival (15-11 over Nemesis)
2. Chicago Nemesis (15-4 over Indianapolis Rogue)
MID-ATLANTIC
Men's
1. Washington DC Truck Stop (15-13 over Pittsburgh Temper)
2. Philadelphia Patrol (15-11 over Temper)
Mixed
1. Philadelphia AMP (14-10 over Pittsburgh Alloy)
Women's
1. Washington DC Scandal (15-5 over Washington DC Grit)
NORTH CENTRAL
Men's
1. Minneapolis Sub Zero (15-14 over Madison Club)
Mixed
1. Minneapolis Drag'n Thrust (13-8 over NOISE)
2. Madison NOISE (13-8 over CLX)
3. Minneapolis No Touching! (13-8 over Ames CLX)
Women's
1. Madison Heist (15-9 over Pop)
2. Minneapolis Pop (15-6 over Winnipeg Fusion)
NORTHEAST
Men's
1. Boston Ironside (15-10 over Dig)
2. Boston Dig (15-11 over GOAT)
3. Toronto GOAT (15-10 over PoNY)
4. New York PoNY (15-9 over Montreal Mockingbird)
Mixed
1. Boston Slow White (15-13 over Toronto Union to qualify; 15-7 over Metro North to take 1st)
2. Connecticut Metro North (15-14 over New York XIST)
3. Boston Wild Card (def. Boston League of Shadows)
Women's
1. Boston Brute Squad (15-8 over 6ixers)
2. Toronto 6ixers (15-6 over New York Bent)
NORTHWEST
Men's
1. Seattle Sockeye (def. Portland Rhino)
Mixed
1. Seattle Mixtape (15-12 over BFG)
2. Seattle BFG (15-10 over Boise BoyShe)
Women's
1. Seattle Riot (15-13 over Traffic)
2. Vancouver Traffic (14-12 over Schwa)
3. Portland Schwa (15-9 over Sneaky House Hippos)
4. Seattle Underground (15-12 over Vancouver Sneaky House Hippos)
SOUTH CENTRAL
Men's
1. Denver Johnny Bravo (15-11 over Doublewide)
2. Austin Doublewide (15-10 over Denver Inception)
Mixed
1. Dallas Public Enemy (15-13 over shame.)
2. Fort Collins shame. (15-12 over Austin Cosa Nostra)
3. Boulder Love Tractor (15-5 over Denver Mesteño)
Women's
1. Austin Showdown (15-13 over Molly Brown)
2. Denver Molly Brown (15-3 over Dallas Maeve)
SOUTHEAST
Men's
1. Raleigh Ring of Fire (12-10 over Florida United)
2. Florida United (15-10 over Atlanta Chain Lightning)
Mixed
1. Durham Toro (15-6 over Atlanta Bucket)
Women's
1. Atlanta Ozone (13-5 over Raleigh Phoenix)
SOUTHWEST
Men's
1. San Francisco Revolver (15-12 over Condors)
2. SoCal Condors (15-11 over Oakland Guerrilla)
Mixed
1. San Francisco Blackbird (12-11 over Mischief)
2. San Francisco Mischief (12-9 over San Francisco Polar Bears)
Women's
1. San Francisco Fury (15-8 over Nightlock)
2. San Francisco Nightlock (14-9 over San Diego Wildfire)