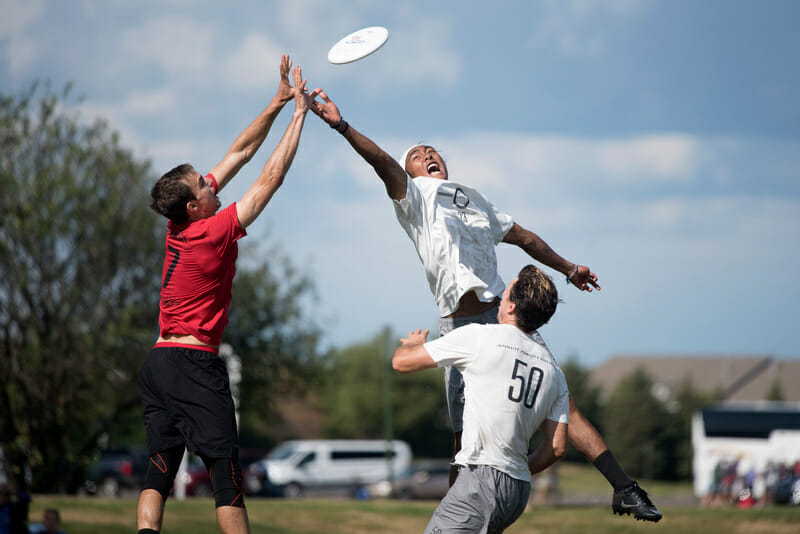 Here are Ultiworld's seeding predictions (and associated pools) for the Men's Division at the 2017 USA Ultimate National Championships:
| POOL A | POOL B | POOL C | POOL D |
| --- | --- | --- | --- |
| Revolver (1) | Sockeye (2) | Ring of Fire (3) | Truck Stop (4) |
| High Five (8) | Machine (7) | Johnny Bravo (6) | Ironside (5) |
| Doublewide (12) | Florida United (11) | GOAT (10) | Dig (9) |
| Sub Zero (13) | PoNY (14) | Patrol (15) | Condors (16) |
Here is the basic reasoning for the seedings presented above, based heavily on the latest USA Ultimate rankings that include postseason performance so far:
1. San Francisco Revolver – #1 ranked team. Won Pro-Elite and Pro Championships. Only knock is 1-2 record vs. Sockeye, but rankings and historical performance will outweigh that.
2. Seattle Sockeye – Obvious #2 seed. Nearly 100 points clear of #3 ranked team, Ring of Fire. US Open champion.
3. Raleigh Ring of Fire – #3 ranked team. H2H over Truck Stop. Also 1-0 vs. Sockeye, but rankings differential should make that a moot point.
4. Washington DC Truck Stop – #4 ranked team. 3-1 vs. Ironside. 1-1 v Bravo.
5. Boston Ironside – #5 ranked team. Over 50 points ahead of #6 Johnny Bravo, although they are 0-1 against them.
6. Denver Johnny Bravo – Bravo has a case to be the #5 seed with the H2H advantage over Ironside. But the large rating gap and USAU's heavy emphasis on the rankings leads me to believe they'll stay at #6.
7. Chicago Machine – A superb end of the season buoys Machine to the seven seed. A lock for this spot.
8. Michigan High Five – A Regionals loss to Machine (and the #8 ranking) assures that High Five will be the last two seed.
9. Boston Dig – Obvious #9 seed. #9 ranked, beat #10 GOAT at Regionals. H2H loss to High Five.
10. Toronto GOAT – Clear #10.
11. Florida United – Florida United has just a single loss on their resume: 12-10 to Ring of Fire in the Southeast final. They have played no other Nationals-qualifying teams. They will almost certainly take the #11 seed given their matching ranking.
12. Austin Doublewide – Ranked #12. 1-1 v. PoNY.
13. Minneapolis Sub Zero – The first seeding that doesn't match the rankings. Sub is ranked #14. H2H over #13 PoNY, plus their ranking differential is less than a single point.
14. New York PoNY – 1-1 v. Patrol. Ranked 15 points higher. Tricky seeding, though.
15. Philadelphia Patrol – Patrol could theoretically go as high as #13, since they have a H2H win over Sub Zero and have beaten PoNY recently. But USAU very rarely moves a team up two spots.
16. SoCal Condors – Ranked #16. They do have H2H wins over GOAT and Sub Zero. Those won't come into play for seeding, though.
***
Discussion
Seeding was fairly straightforward this year. With the advent of using post-Regionals rankings, many seeding decisions are now quite obvious, as USA Ultimate relies so much on the rankings.
A tough decision is going to be Ironside or Bravo at #5. Ironside's ranking is much stronger, but they have a loss to Bravo.
The trickiest set of all is Sub, Pony, Patrol for the 13-15 spots. Sub and PoNY's rankings are tied and Patrol is 15 points behind. Patrol is 1-1 v. PoNY and 1-0 v. Sub. Theoretically, you could see them bumping up to #13, but I doubt that will happen. USAU does not usually move a team more than one slot away from their ranking.
Notably, these rankings conform to Regionals results, but not by design. Remember that Regionals results no longer bind Nationals seeding.