Talk about a pool of death!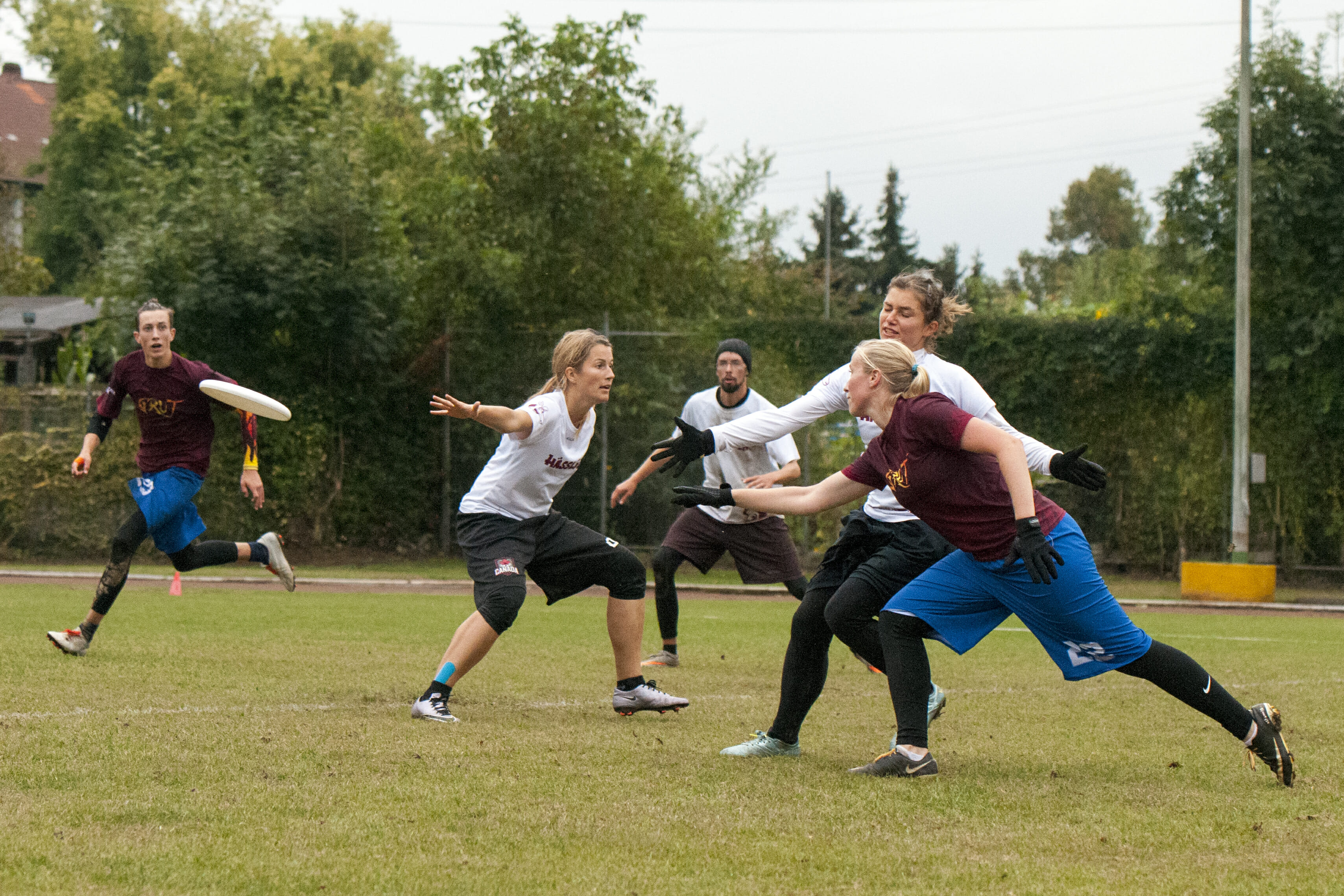 Ultiworld's reporting on the European Ultimate Club Finals is presented by Universe Point cleats. All opinions are those of the authors. Please support the brands that make Ultiworld possible and shop at Universe Point!
The Mixed Division at the EUCF may be the most difficult one to predict this year. As a WUCC qualification year, many elite players have moved to mixed. This year's tournament looks to be a lot more compelling than last year's edition, which boasted a clear top three of Reading, GRUT, and Erdferkel. Just as with the Women's Division, there are two pools of six teams. Only two teams from each pool advance to the semifinal bracket. Here is what to look for in each of the pools.
Pool M: Black Eagles, GRUT, ViF, Os Zla, Left Overs, Reading
Wow. This pool is absolutely insane. It's easier to start with the teams that will likely have a rough time competing here and those are Os Zla from Bratislava, Slovakia, and Left Overs from Brno, Czech Republic. These are very strong teams from the East division, but Os Zla's 16th place Windmill finish does not inspire great confidence in their ability to take down these powerhouses and Left Overs finished behind them at the EUCF. While these teams will have some firepower and could steal a win or two in a six-team pool format, there is little chance that they will end up in one of the top two spots.
So what about below them? Reading are the reigning EUCF mixed champions. What are they doing as a six-seed? Well, they did underperform at the EUCR-West, also known as UK Nationals. They could not hang with the likes of SMOG and Black Eagles (more on these teams shortly). Add to this a finish of 20th at Windmill and we are left wondering what has happened to the champions. They did lose a bit of talent this year and do not have a habit of bringing a full squad to Windmill. However, sources say that they were very disappointed in their performance and have more in the tank. Things may click in Caorle, but they will have to get things sorted quickly given the level of talent from the top three in this pool.
Many are predicting that the pool play game between Black Eagles and GRUT may be a preview of the mixed final this year. There is good reason for that. These two teams are stacked with talent and have a slew of impressive results behind them. Black Eagles from Edinburgh, Scotland, have had a very impressive season getting both first and second place at one of the UK Mixed Tours with split squads. They brought 31 players to Windmill and didn't seem to have a weak spot at that tournament. Now they have whittled their squad down to a more manageable 22.
All 22 of these players can make highlight plays but look out for key contributions from Mike Noblett and Calum Easton on the men's side. On the female side, Lucy Barnes and Lulu Boyd always make great contributions on offense. Also look out for Atlanta Bucket's Michelle Yang, who is joining the team to make great plays on defense as well. Black Eagles won UK Nationals fairly easily and were able to get a bronze medal at Windmill. However, that third place came after a semifinal and Swiss Draw loss to GRUT (13-15 in semis and 13-14 in Swiss Draw).
GRUT are the youth national stars from the Netherlands that started to make their mark on the European scene last year with their silver medal finish at the EUCF. They look even stronger this year with a Windmill gold medal that came after the closest possible set of games against the Polish World Games team. Not impressive enough? They also boast the core of the Dutch U20 women's team that won gold fairly easily at the EYUC earlier this year. So what are they doing as a two seed in this pool? At EUCR-Central, they had a three-way tie with German Colorado and Hassliche Erdferkel and came second out of that. Losing a game at the EUCR-Central may set off red flags, but those two German teams are certainly finals contenders for the EUCF, and they were playing without their O-line handler they call "Grandpa" Tjeerd Ates. Ates, at 26, is quite above the 19.6 year average age of the team and is a stabilizing force for the trigger happy young team.
Look to 15 year old (yes I said 15) Anne Minnaard to help Ates to anchor the O-line and utilize her U20 teammates Floor Keulartz, Lola Dam, and Janne Jansen. Jansen's brother Walt and Ben Oort will be throwing bladey hucks to each other as if the opposition doesn't even exist. After a few completions, opponents have been known to exclaim "It's alright team! They aren't going to get lucky every time" to only be shocked a few points later to see GRUT with 15 points on the board and realize that these throws aren't lucky.
So this leaves ViF. While many are expecting that GRUT and Black Eagles are the most likely finalists at this tournament, you have to give a bit of pause looking at ViF's roster. There are players on this team that were crucial in the Swedish mixed beach team's victory over the USA in pool play at WCBU earlier this year. Most notable is EuroStars player Sarah Eklund. Add to this the powerful veteran Tomas Eriksson and the French Pierre Lemerle who, by the way, plays in the AUDL for the Ottawa Outlaws, and you have a recipe for a talented team who could hang with anyone. This team has the best shot at taking out the top two.
Ravi's Picks: 1. GRUT, 2. Black Eagles, 3. ViF, 4. Reading, 5. Os Zla, 6. Left Overs
Lorcan's Picks: 1. Black Eagles, 2. GRUT, 3. ViF, 4. Reading, 5. Os Zla, 6. Left Overs
Pool N: Colorado, Hassliche Erdferkel, SMOG, Terrible Monkeys, SeE6, Sesquidistus
While arguably Pool M is the stronger of the two here, Pool N boasts quite a bit of talent and will have a very compelling setup.
The top two German teams Colorado and Hassliche Erdferkel are the favorites for many here and for good reason. Erdferkel got 3rd at the EUCF last year and, though they lost a few leaders this year, it does not seem to have slowed them down. They were able to get a win against GRUT at the EUCR-Central, though they did end up at the bottom of the three way tie. Colorado came at the top of that tie and have formed this year in order to prepare for the WUCC. However, they almost lost out on that dream by losing the Erderkel in the German mixed final. Luckily for them, Germany was recently granted two bids in the mixed division. Both of these teams are strong and have a very good shot at making it to semis.
SMOG is new to the European scene. They come from the north of England. While very strong throughout the roster, it will be really interesting to see if anyone can stop Alex Mazzon as a deep threat in the mixed division. Mazzon played for Clapham last year and some of this year and was seemingly unstoppable at UK Nationals whenever discs were thrown to him.
The Terrible Monkeys from Prague are the only Czech team that will be attending the WUCC next year. They are a strong team boasting a lot of talent. While they were really strong at the EUCR-East they were only able to manage an 11th place finish at Windmill after narrowly missing a spot in the top eight. They, along with the Swedish SeE6, may have the toughest time claiming a spot in the top 2 this tournament. Even though SeE6 were able to get a 4th place finish at the EUCF last year, the field is much stronger this year and it is unclear if the power of Annika and Sandra Lindqvist joined by captain Jonathan Sjögren will be enough to propel them through this stacked pool.
That leaves us with the French champions Sesquidistus. Captain Gaël Ancelin, who has previously played with Tchac, has helped to shape this team into a competitive monster. They won the French mixed national championships and both their men's and women's sides took bronze in the single gender divisions. This is a team that also boasts talent from the French National Mixed team, who found themselves in the semifinals of WUGC last year in London. Benoît Lebert will join Ancelin to play a big role on this team. They won the EUCR-South quite comfortably, but it is not the strongest region in Europe. Much like Mantis in the women's division, they have had a lot of late season success, but it will be interesting to see what happens when they face the tough opposition that the EUCF has in store for them.
Ravi's Picks: 1. Colorado, 2. Sesquidistus, 3. SMOG, 4. Hassliche Erdferkel, 5. Terrible Monkeys, 6. SeE6
Lorcan's Picks: 1. Colorado, 2. Hassliche Erdferkel, 3. Terrible Monkeys, 4. SMOG, 5. Sesquidistus, 6. SeE6