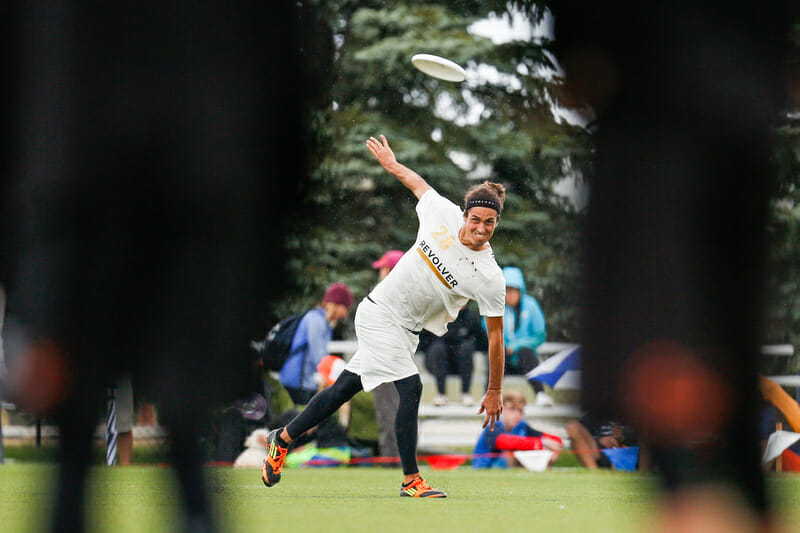 Mail call! Got a bunch of great questions on Twitter today, so we're sticking with those for this week's Mailbag.
ASK ME QUESTIONS/SEND ME COMMENTS: Email ([email protected]) or Twitter.
Q: With the shakiness of Revolver this year, do you take them or the field? 
– Cameron G.
A: I've been dwelling on this question. I don't think there's any question that Revolver has been a little bit more susceptible to an off game than we have seen in years past. Their offense, even in their good wins, has been sketchy.
But when we get down to brass tacks, talent wins championships in ultimate, and Revolver is the most talented team in the country. Despite the perception of their limitations, they're still the #1 seed at Nationals. They still won Pro-Elite and Pro Championships. They've still only lost three games all season.
Their head coach, Mike Payne, was on Deep Look last week and projected a lot of confidence, noting that their losses to Sockeye at US Open were in large part due to their general lack of practice against zone and junk looks at that point in the season. It's hard to argue with that.
That doesn't mean a Revolver championship is an inevitability. Ring of Fire is really good this year. Ironside is going to be a vicious competitor again, particularly if it's windy in Sarasota (Kurt Gibson and Josh "Cricket" Markette are phenomenal throwers in all conditions).
But Revolver's talent is insane. Don't forget about that fact. It's easy to scrutinize every issue they had during the regular season, but they were still the best team. By the time Nationals rolls around, it's hard to see them losing.
Q: Most likely 4 seed to make the bracket?
– Preston T.
A: Here are my picks for each Division:
Men's: Minneapolis Sub Zero
Don't forget that Sub Zero almost beat High Five back at the Elite-Select Challenge. Doublewide is also a susceptible three seed. I think that the tournament's last seed, SoCal Condors, is probably the best of the four seeds, but they have a brutal pool (Truck, Bravo, Dig).
Mixed: Connecticut Metro North
I also think that Dallas Public Enemy has a good chance out of Pool A. But, remember, Metro North was in the National final last year. Sure, they aren't as good this year, but they are clearly underseeded at #14 and will be competitive against both of the top seeds (AMP, Blackbird) and should be considered the favorite against Toro.
Rival's got a shot to finish second in this pool. They are really athletic and well-coached: they have the ability to play tight with Ozone and Pop without a doubt.
Q: Do you have a player to watch for each division at Nationals that's going to breakout/have a huge impact?
– Devin F.
A: I'm gonna throw out a few names here, in no particular order, from outside of the typical 'top player' conversation.
Pawel Janas (Chicago Machine) – Janas has already had a super season for Machine, launching bombs from the backfield to take Machine from a weak year to an exciting team to watch at Nationals. I expect Janas' star to continue to rise at Nationals.
Anouchka Beaudry (Toronto 6ixers) – Beaudry was straight ballin' at Canadian Nationals this summer and is poised to continue to show off her skills at Nationals.
Jack Williams (Raleigh Ring of Fire) – Yea, yea, Jack Williams is pretty well known already. But I'm sensing another Nationals takeover from the Ring cutter after his insane performance at College Nationals in May.
Anna Thompson (Philadelphia AMP) – Everyone talks about Raha Mozaffari when they talk about AMP (and for good reason). But Anna Thompson has been a beast this year and she's gonna be a key part of any Nationals success they find.
Q: Sockeye hasn't won in a decade(!) Do they have a shot this year with Matt Rehder injured?
– Woke S.
A: You cannot count them out. However, I am skeptical of their ability to beat Revolver without Rehder out there. Of course, the counterpoint is that Rehder wasn't playing against them in the US Open final, where Sockeye wiped the floor with Revolver to the tune of a 15-10 beatdown.
But things are different at Nationals. Teams are tuned up. Defense is more intense. O-lines are tighter. I think the lack of Rehder makes it that much more difficult for Sockeye to score against the suffocating Revolver defense. Not only do they lose a tremendously talented deep (and key release valve), but they also allow the SF defense to slide every defender down a spot.
It seems possible that Sockeye will get Dig in quarters (yikes!) and Ring or Ironside in semis (also yikes!). Those are tough matchups for Seattle, and that's before they would get (probably) Revolver in the final. I don't know if I see them making it through that gauntlet.
[Compare to Revolver's likely path: Machine in quarters, Truck or Bravo in semis. Those are very favorable matchups for SF.]
Q: Do you think only having 3 bids to Worlds will have any impact, or is US nats too important for teams to think much about it?
– David G.
A: I'm not gonna lie: I think the fact that Worlds is in Cincinnati next summer dampens the importance of the tournament for a lot of US teams. Part of the appeal of World Clubs is to get a sweet vacation with your teammates. Cincinnati does not exactly thrill.
But of course when it comes down to that third place game that could be decisive (last Worlds, the game didn't end up mattering because four US teams in each division earned bids after other countries turned down theirs), I absolutely expect teams to go all out to qualify. Does it really make much of a difference in how you approach the rest of the tournament, though? No. You gotta get to semis to get a shot at going to Worlds, and obviously every team will be gunning for a semis berth.