In their first ever CUC appearance, 6ixers down the four-time champions and tournament favorites, Vancouver Traffic.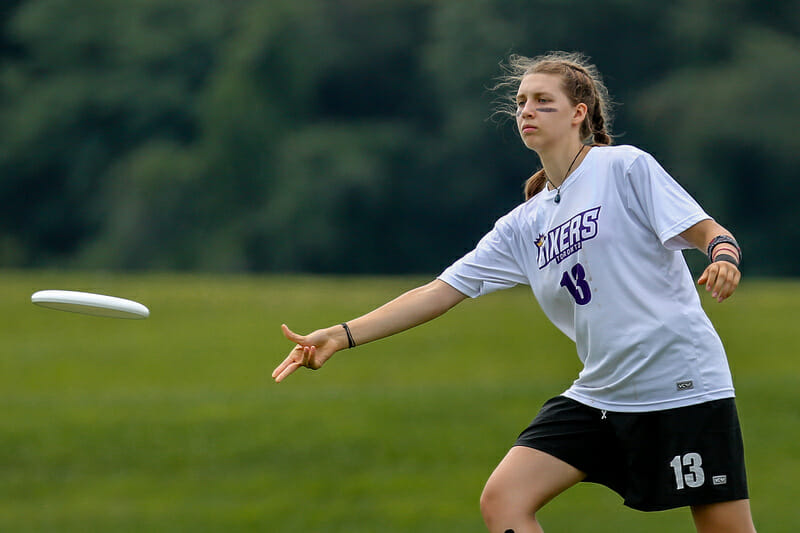 Last week, the top Canadian men's and women's clubs squared off at the Canadian Ultimate Championships in Ottawa. The women's tournament culminated in a faceoff between the top two seeds, Vancouver Traffic and Toronto 6ixers, and the final did not disappoint.
Traffic entered the game as the favorites due to their superior pedigree and their demolition of every team they'd faced to that point in the tournament. 6ixers were undefeated on the week as well, but had to survive a double game point scare against Ottawa Stella in power pool play. Traffic was seeking a historic fifth Canadian Championship, while 6ixers were playing in Canada's premier club tournament for the first time.
As contrasting as the two teams' storylines were prior to the opening pull, they were just as well matched on the field after it.
An inauspicious start from 6ixers, in which they allowed two sub-30-second holds from Traffic and turned the disc three times on their first offensive point, gave way to a righteous first half performance from both teams. Both defenses struggled to cope with virtuosic individual performances from 6ixers' youthful duo Anouchka Beaudry and Laura Kinoshita and Traffic's more veteran threesome of Catherine Hui, Laura Mason, and Rachel Moens.
Beaudry and Hui, especially, dominated. Beaudry's composure and effortless flicks were chief among 6ixers most impressive displays in the first half — she assisted on all but one of Toronto's first half goals. Hui was more of a two-sided threat, as she used her big hucks and adroit smaller throws with equal impact, while also flashing her athleticism deep to tally three goals and three assists in the first period of play.
With the game tied at 4-4, Toronto earned their lone break of the half, off of an unforced turn from Vanouver's Michelle Ning and then a great grab in traffic from Christine Jurychuk. The teams proceeded to trade through halftime. The only point in which Toronto looked in danger of losing their break advantage was in the final point of the half, when a tremendous off-balance block from Karen Cham Lin broke up a Hui huck to Julia Zhang in the endzone. A layout in the opposite endzone from Sarah Innes to save Kinoshita's pass gave Toronto at 8-7 lead and set the stage for a thrilling second half.
The Beaudry show continued out of the break, as she assisted for the Toronto hold to begin the second half and registered hockey assists on the next two 6ixers goals as well. For Vancouver, Moens was the early second half star. She registered two assists and a goal to help her team keep pace in the second period's early stages.
At the 11-10 mark, trailing and not having generated a break all game, Vancouver mixed up their defensive look by throwing a junky 2-3-2 zone. 6ixers backfield swung the disc between themselves until Chan Lim's swing to Sarah Bobak hung just a bit high and gave Vancouver's Terri Whitehead the opportunity to charge in front and leap high for the interception and Callahan break.
Buoyed by their first true defensive success of the game, Vancouver threw the look again and just as Toronto appeared to break through, Jessica Rockliff stuffed Kinoshita on the goal line for another redzone turnover. Moens racked up her third assist of the half with a dish to Zhang and Traffic took their first lead since going up 4-3.
With the more experienced side now having all the momentum, it seemed like this was the moment where 6ixers would crumble. But the young, tenaciously athletic bunch did not waver, and veteran Lauren Kimura stepped up to lead the final surge.
After the two Vancouver breaks, Kimura moved over to the O-line to help break Traffic's new defense. This time, 6ixers were able to quickly move through the early junk look and get to midfield in just a few throws, forcing Vancouver to transition into their more vulnerable person defense. Kimura finished off the move with an assist to Beaudry. Confidence restored, from there it was virtually all Toronto.
Execution errors plagued Traffic's ensuing points and 6ixers were ruthless with their chances. After a Ning pass popped up in the air and a great, leaping interception from Kinoshita, another Kimura assist, this time to Miriam Tingle, earned the lead back for Toronto. Then, after a trio of throwaways from Vancouver, a Kimura goal from Beaudry made it 14-12. Having so immediately swung the game back in the favor, 6ixers' first national championship was in sight.
Toronto had a couple of break chances to win, as Vancouver's long ball effectiveness fully evaporated, but wound up having to wait to hold for the win at 15-13, Kimura to Beaudry one last time.
The second half added the twists and turns that the first half lacked, while maintaining the athletic excitement, with layouts and skies from both teams. With so many young players making huge plays down the stretch1 and some legends of the modern game alongside them, the CUC women's final provided plenty of fun juxtaposition on the field. But it was the overall athletic ability on display that made this game an instant classic.
And with player of the game Beaudry (8 assists, 2 goals), Kinoshita (1 assist, 5 goals), and the rest of Toronto's hugely impressive young players, their exciting display in their first ever Canadian national championship could be the start of a rather exciting future as well.
---
Toronto had eight members of Canada's 2018 U24 team on its roster, while Vancouver had four. ↩