Pop returns to Nationals for the first time since 2010.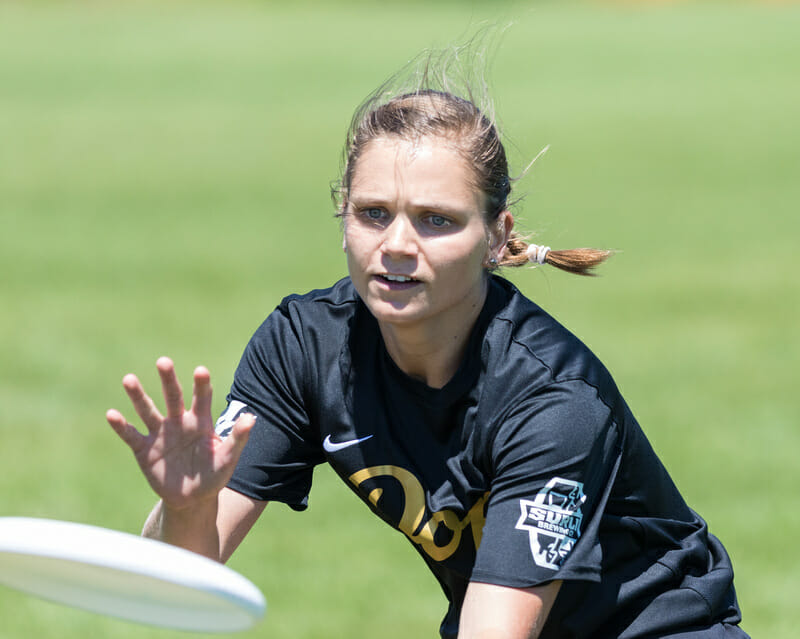 Many teams will welcome the return to Sarasota this week with open arms. Veteran players will regale younger players with war stories of old, memories blurred by nostalgia and age. They'll remember simpler Nationals, when the term "player" was still part of the acronym, and the "tough conversations" were about where to sit at the Daiquiri Deck.
For one team, this return will feel particularly sweet. Pop Ultimate, the elite Minneapolis women's team, is attending Nationals for the first time since 2010. Pop made a little history along the way, too: for the first time, the North Central will send two women's teams to the Club Championships.
Pop checked all the expected boxes on their underdog journey to Nationals. They came together as a team, they built chemistry, and they won tough games. Yet Pop's sports movie would look more like Moneyball than Rudy. To earn their second bid, Pop played the system. They stopped focusing on winning the North Central Regional final, and they learned to love the algorithm instead.
The Triple Crown Tour Trap 
Before that sweet taste of long-awaited victory, Pop spent a lot of seasons losing in the Regional final to Heist. Six seasons, in fact. Reading the finals scores year after year – 15-8, 14-9, 15-10, 13-10 – makes you either question or admire Pop's sanity.
2013 wasn't the beginning of Pop's losing streak to Heist, but it marked the beginning of a new, additional challenge: the Triple Crown Tour.
The Triple Crown Tour is designed for and well suited to Club Division fans and to elite teams who get to play more competitive games in the regular season. USAU has worked hard to adjust the format to maximize drama, game quality, and professionalism. For Pop, the TCT was a death knell.
The TCT flight system creates several self-perpetuating systems. The best teams continue to qualify for Pro or Elite Flight, where they play the rest of the country's best. Bubble teams in Classic or Select flight are similarly limited, however, to playing predominantly teams at their own level. Even when teams win tournaments and play well, their ranking could still drop and crush hopes for a strength bid.
Pop was already stuck behind Heist in the North Central, keeping them firmly in the Select Flight. Every season they played hard at Select Flight Invite and at Elite Select Challenge, but it didn't matter come the post-season. A player recalled that they even won Select Flight Invite in 2015, yet their ranking still dropped that year.
"It's been so frustrating since the TCT [began]," said Anna Reed, who has played on Pop since 2012 and has played in every Regional final against Heist. "We just can't get invited to these tournaments, and then we can't play the teams we need to play."
Pop was the poster child of teams the TCT left behind. Even in strong years, their regular season performance didn't seem to matter. They would still lose to Heist in the Regional final. Year after year, Pop remained on the lower rungs of the Triple Crown tour, gazing up.
Gaming The System
Conversations about a second bid began to circulate through the team after their loss at Regionals last year, and a new strategy took form. Pop would game the system from the inside out. They would focus more effort on point differential and the rankings than before in order to earn a second bid for the North Central.
"[A second bid] was definitely a big goal going into this season. Instead of 'We need to beat Heist at Regionals!' the goal was to get a second bid so we didn't have to rely on winning one game," said captain Rebecca Enders.
During the off-season, Pop picked up two new coaches, Dave Klink (Drag'n Thrust) and Jon Gaynor (Sub-Zero). Klink had the algorithmic knowledge and the experience to match Pop's new strategy.
"When we told him we wanted him to be our head coach," recalls Cook, "the next day he sent us this spreadsheet analyzing all of Pop's games from the past two seasons and how each game and each tournament affected our ranking."
Klink brought a new and complex layer of strategy into Pop's approach to the season. Game by game, Pop leadership knew the point differential they needed to achieve for their ranking, and they could plan – and play – accordingly.
It's not sexy for teams to admit to playing this strategy. No captain or coach, moments after winning the big game or a title, credits the victory to "all those hours tinkering with the algorithm." But Pop didn't need more sports cliches about teamwork or work ethic. They needed to craft a cheat code to get out of the Select Flight.
Going into 2017, Pop planned to attend Select Flight Invite and Elite Select Challenge per usual, and they submitted a bid to Old Line Classic in Maryland to get some reps in early July.
Then the call came. Two weeks before the tournament, USA Ultimate reached out to say that a spot had opened at Pro Elite Challenge, and Pop was invited.
The Right Team For The Job
This stroke of serendipity happened to the right Pop roster in the right year. Beyond the challenge of playing in a one bid region, Pop spent years fighting another obstacle: recruiting and retaining talent.
Unlike some Midwestern cities, Pop doesn't have to worry about a limited talent pool. Minneapolis benefits from several strong local programs such as Carleton College, University of Minnesota, and University of Wisconsin. The outdoorsy and, let's face it, left-leaning city is also developing into a popular locale for ultimate community transplants.
Minneapolis is also, however, home to Drag'n Thrust, an elite Mixed team and a Nationals regular. Elite women have to choose a division and many choose Mixed. Every year, Pop faces the uphill battle of convincing women to play without the promise or real hope of getting to Nationals.
"We have a really good mixed team here that tends to draw a lot of talented women," said Enders. "So our goal the past two seasons has been, 'How do we make Pop seem like a team people want to play for, and help draw some of that talent over?'"
Headed into the 2016 season, Pop players recruited more actively. They went to pickup and community events, networking in the ultimate scene. More Pop players coached at the high school and college level, where they could build friendships and connections with younger players.
Their efforts made a difference. When asked why this season feels different, Pop leadership and players point to the 2016 season. The Pop rookie class included a whopping 13 new players.  The rookies brought new energy to Pop. Players hung out more often outside practice and workouts. They had more fun together, on and off the field.
Six of these women returned for a sophomore year on Pop, and they've stepped into bigger, more effective roles for the team. Makella Daley, for example, is a talented multi-tool player on Pop's O-line who is shining in her second year with the team, while Rose Gruenhagen generates turns for Pop's D-line.
Another large, young rookie class this year poised Pop for a successful run in 2017. Household names like Courtney Kiesow (Brute Squad, Callahan winner 2008) and Chip Chang (Drag'n Thrust) joined Pop, and they recruited a fresh crop of young talent like Claire Thallon (Carleton) and Kayla Blanek (University of Minnesota).
Playing The Game & The Phone Call
An invitation to Pro Elite Challenge was the opportunity Pop needed. They would have to drop out of Old Line Classic, and many women had already booked flights. The choice would be expensive, particularly for younger players. Still, this was their chance. Pop could play some of the division's best, an opportunity they hadn't had in years. This was their shot at a second bid.
"We had a team discussion [that weekend] and a team vote," said Cook. "We talked about how Pro Elite could be such a great opportunity, and something we've been wanting for years, and such a good opportunity for a Top Select team to pick up a lot of ranking points, to get into that top 16."
"I made this very over the top speech about how Pop has been waiting for this for like five years," Reed said, laughing. "And I know that a lot of people are students and can't afford it, but basically, this is the whole point. This is what we've been waiting for."
The vote turned into a landslide. Pop was headed to Pro-Elite Challenge.
Pop played well enough at Pro Elite Challenge. They went 2-5, but their pair of wins over Wildfire (13-6) and Rival (12-11) were enough to push them to no. 12 in the USAU rankings. They also cut their teeth against elite teams like Fury and Scandal that the team hadn't played in years.
Looking back, Pop players talk about the chance to play Pro Elite Challenge as a "pivotal" moment in the season. It was the chance of a lifetime for Pop, and women who had been on the team for a long time cherished the opportunity. But despite the team meeting, the passionate speeches, the switched flights and even the games played, Pro Elite Challenge would not be the tournament to earn Pop the bid.
In a beautiful twist of irony, Pop earned their second bid at Elite Select Challenge by defeating Heist. The two North Central teams were competing for 5th place in the last game of the weekend. The weekend had been a windy one, and Heist was missing several of their core playmakers (including Georgia Bosscher). Pop fought for several upwind points early, and they took an early lead that they would keep until the final point to win 10-5.
Most ultimate players wave away results for the last game of the tournament in consolation. Everyone knows both teams are tired, and the array of mitigating circumstances during Pop and Heist's match cause even Pop players to downplay the win. But the win still stands. That win – the first time Pop ever beat Heist – earned Pop their second bid. The win got them to Nationals.
Beyond The Math
The algorithm didn't get Pop to Nationals. They got to Nationals because talented athletes worked hard to win games.
Yet Pop's struggle in Select Flight isn't an aberration. At every Nationals since the advent of the Triple Crown Tour, a smattering of teams will qualify out of the Select or Classic Flights. But these teams don't typically return again the following year, and, if they do, they don't move up in seeding.
Becoming a perennial qualifier isn't always about the point differentials. It's about building a culture of success and focusing on the long-term sustainability of the program. Pop now has the chance to do just that.