Ultimate-specific cleats are back on the market and they're gaining steam.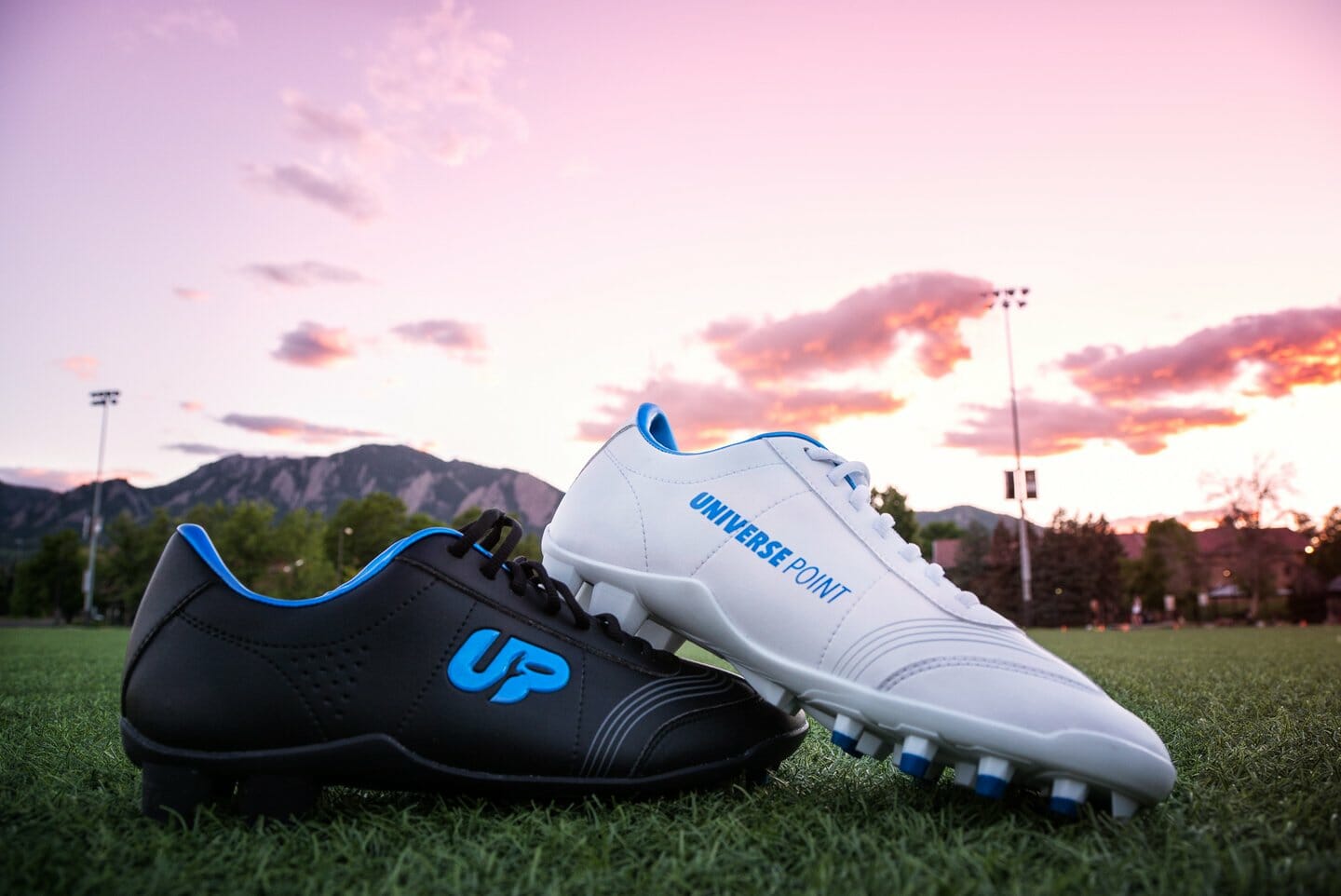 Disclosure: Ultiworld was compensated for writing this product review. All opinions are the reviewers' own and are not subject to approval from the sponsor. Please support the brands that make Ultiworld possible and shop at Universe Point.
The future is now! After a many year hiatus, ultimate-specific cleats are back on the market and they're gaining steam.
Players around the world at all levels of play have been giving Universe Point a try, and many of the the reviews so far have been positive. Universe Point strives to produce a product that caters specifically to the needs of ultimate athletes, taking the physical demands and movement patterns of our sport into consideration. This new company, born from within the ultimate community, is hoping to propel us beyond the shortcomings of footwear that isn't designed for us.
I've had long, sordid love-hate relationships with many cleat models in the past, so I jumped at the chance to try something new. Here's my impression of the newest ultimate cleat on the market.
Overall: 8.5/10. Give them a try!
The tl;dr version: UP has designed a fantastic ultimate-specific cleat pattern that's well worth the $85 price point. As with any new shoe brand, you may need to experiment a little to find the right size for you and they currently only make low-top cleats, but their lightweight, durable design and flexible fit make them a great addition to the growing market for ultimate-specific gear.
Cleat Pattern: 10/10
UP really knocks it out of the park with their cleat pattern design. This is where they've focused their efforts to design a truly ultimate-specific cleat, and their work has paid off. The longer studs provide excellent traction, the mid-foot cleats add stability to lateral movement, and the toe cleat has me feeling more explosive than ever. The folks over at UP have set themselves apart with this intentional and practical design.
Durability: 9/10
It's tough to say how well they perform long-term, but they're holding up well so far over a couple months of intensive in-season use. They show very few signs of wear at this point and broke in well without losing their form. I'll have to keep an eye on them over time.
Sizing: 7/10
In my experience, Universe Point sizing runs a bit big. The cleat width is average but the length is longer than I expected — I usually wear either an 8 or 8.5 and I had to go down to a 7.5, which is pretty unheard of for me. I'd definitely recommend taking your foot measurements and comparing them to their size chart before ordering.
Fit: 8/10
Compared to many cleats I've tried over the years, UP cleats break in relatively easily. The flexible top of the shoe molded to my feet from day one, and I didn't experience any of the deep aches and pains I got from my last pair of Nike lacrosse cleats.
The laces are a bit difficult to adjust, which is a small but occasionally obnoxious detail — it can be hard to get the fit exactly right when the laces don't want to cooperate.
My biggest complaint is that these cleats don't come in a high top version. I've been using high-top lacrosse cleats over the last couple seasons for the slight increase in ankle support, and going back to low tops has brought back some persistent ankle pains I had nearly done away with. As a new company, they can only do so much — fingers crossed that UP considers a high-top version in the future.
Aesthetic: 7/10
If you're looking for neon zebra-print Nikes, these understated black or white cleats with royal blue accents might not grab your attention. The design is as classic and non-confrontational as it gets. Buy the cleats for their function, give them a chance, and see what other designs they come up with as they grow.
Weight: 10/10
UP cleats are as light as they come. There's nothing bulky or obtrusive about them, and they feel near weightless while retaining their function and structure. Their lightweight design is definitely a plus feature of UP cleats.
Price: 9/10
For $85 a pair, the price point on UP cleats might be a little steep if you're used to relying on sales at Dick's. But compare this cost to mid- or high-end football or soccer cleats and you're looking at a sport-specific product on par with the quality you're used to. The price isn't outrageous and is definitely worth the ultimate-specific cleat pattern. Support this new company created from within the ultimate community and see where they go from here!
—
Understandably, my entirely subjective categorical breakdown might not mean much to you. If that's the case, here's how I'd say Universe Point cleats compare to other sports-specific cleats commonly worn by ultimate players:
Soccer Cleats: The fit and weight of UP cleats is very similar to soccer cleats. The main difference is the cleat pattern, which accounts for lateral movement and explosive bids in a way that soccer cleats don't. UP cleats also don't have to be designed for touch and ball control like soccer cleats are, so the top layer of the shoe is more comfortable and flexible than some soccer cleat models.
Lacrosse Cleats: UP cleats don't offer the ankle support that high-top lacrosse cleats do, but they are certainly lighter and better suited to quick lateral movement. I've also had issues with a couple different brands of lacrosse cleats breaking down quickly, so UP cleats might prove to be more durable than your average lacrosse cleat.
Football Cleats: UP's cleat pattern shares some similarities with football cleats, including longer heel studs and the toe cleat, so the level of traction and stability is similar. Football cleats tend to offer much more ankle support, but are often a struggle to break in and are some of the heaviest cleats on the market. It's also worth noting that football cleats don't come in women's sizes, so trying to nail down the right men's or boy's size can be really difficult given the variability from brand to brand.
—
For more information about Universe Point, check out their website. Shoot them an email with your questions — the staff are friendly and responsive, and you can tell they really care about their product.
Keep an eye out for them at upcoming tournaments. If you'll be attending the Club Championships in Sarasota next week, stop by the Universe Point tent! Chat with the staff, check out their sizing, and consider making the jump to a new and promising product.