Is Drag'N poised for a run to their fourth Championship?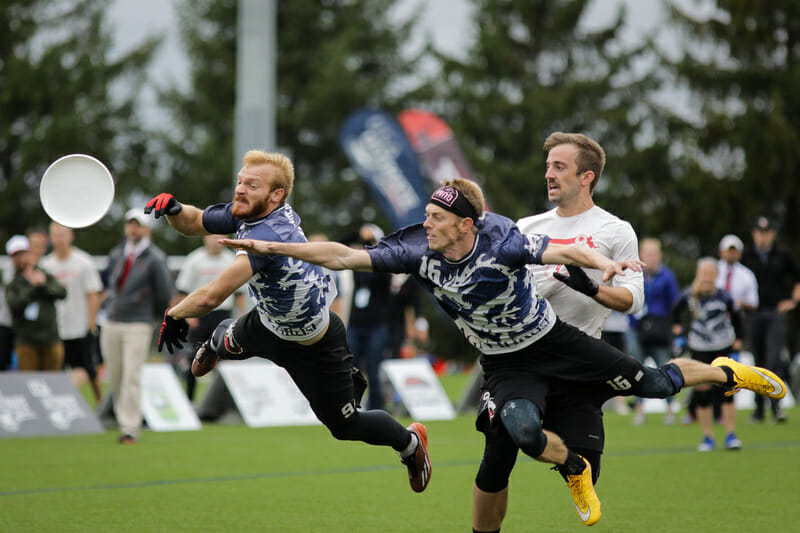 Ultiworld's coverage of the 2017 Club Championships is presented by Tokay Ultimate; all opinions are those of the authors. Please support the brands that make Ultiworld possible and shop at Tokay Ultimate!
Pool C has the potential for surprises throughout day one. While Minneapolis Drag'n Thrust stands out at the top, a resurgent Boston Wild Card team can certainly push Minneapolis for the top spot. With regional rivals Fort Collins shame. and Denver Love Tractor as the third and fourth seeds in the pool, do not be shocked to see some re-shuffling.
Minneapolis Drag'n Thrust [Pool #1, Overall #3]
Another year, another strong season out of Minneapolis Drag'n Thrust. The three-time mixed champions turned in another solid regular season performance with appearances in the U.S Open final and a third place finish at the TCT Pro Championships. Despite a few surprising results, including two losses to perennial rivals Seattle Mixtape, Drag'n Thrust put everything together at North Central Regionals in a dominant performance, taking the top spot in the region following a 13-8 win over Madison NOISE in the final. Minneapolis comes into Nationals primed for a run at a fourth national championship. The team seemed out of sync at times throughout the year, but the defensive speed and intensity never left. If the offense is clicking, Drag'n Thrust will be tough to stop.
Sarah Meckstroth once again had an excellent all-around year, rotating between offensive and defensive lines whenever the team needed a boost. On a team full of standout performers, she remains one of the best players in the mixed division. Brian Schoenrock is back from an injury sustained at the U.S. Open, and his aerial skill was sorely missed at the Pro Championships. With him back in the fold, the Drag'n Thrust deep game is far more dangerous. Austin Lien is still one of the quickest handlers in mixed, and the team relied on his steadying presence throughout the season. Minneapolis brought in several high impact rookies this year, notably Kat Ritzmann and Brian Vohnoutka. Ritzmann has been a defensive stopper all season, typically asked to contain the top female cutters from Drag'n Thrust's opponents, and her speed and quickness can turn games around. Vohnoutka had a breakout year on the Minneapolis O-line, with a knack for finding open spaces and stretching defenses.
While Nationals last year was a bit of a disappointment for Drag'n Thrust, the team has rebounded this season and look as dangerous as ever. Well on the road to a fourth championship, Drag'N looks to have returned to form. Expect to see Minneapolis deep in the bracket, though they will likely get a tough challenge in the quarterfinals.
Likely Ceiling: National Championship
Likely Floor: Quarterfinals
Boston Wild Card [Pool #2, Overall #6]
After a down year in 2016, which saw them miss Nationals for the first time in their time as a team, Boston Wild Card returned in 2017 with a strong regular season performance, winning the Boston Invitational and the Select Flight Invite and posting a fifth place finish at the Elite-Select Challenge. At Northeast Regionals, a surprising quarterfinals loss to New York Xist knocked Wild Card into the third place bracket, where they fought off a tough challenge from Toronto Union before running away with the final bid to Nationals over Boston League of Shadows, 15-6. The core of this team has played together for several years, and their offensive system has stayed consistent, providing a comfort level that few teams can match in the division.
Led by an excellent core of women, Wild Card looks to use this strength at every opportunity, often playing with four women on offense. Eva Petzinger, Hailey Alm, and Lauren Nelson are at the heart of Boston's disc movement on every point, initiating the offense and pushing the pace downfield. All three are poised with the disc in their hands, too, creating matchup problems for any defender. Combined with the steadying handler presences of Ian Engler and Robin Meyers, the Boston offense is as reliable as any in the division. On defense, Matt Heath takes on some of the toughest matchups for the team, bringing size and athleticism to shut down opposing players, and is always a threat on the turn.
WIld Card is looking to parlay their regular season success into a deep run at Nationals, and they have the offense to do it. Expect to see them push Minneapolis Drag'n Thrust for the top spot in the pool, and their consistency and systems should see them past Fort Collins shame. and Denver Love Tractor.
Likely Ceiling: Semifinals
Likely Floor: Prequarters
Fort Collins shame. [Pool #3, Overall #10]
Fort Collins shame.1 follows up a successful inaugural year in 2016 with a second trip to Nationals, taking the second bid out of the South Central region. After an up-and-down performance at the Pro-Elite Challenge, shame. followed that up with an appearance in the Elite-Select Challenge final, falling to Seattle BFG after racing out to a 6-1 lead. A team that prioritizes fun over all else, they still have some of the most athletic players in the mixed division. Shame lives by the deep game, and they have the throwers and cutters to make that strategy work, and they rode that through South Central Regional, eventually falling to Dallas Public Enemy in the final.
Jake Juszak is one of the best deep threats in mixed, showcasing aerial skills that few players can defend. Combined with his huge throws, Juszak is the central figure for the team's offensive strategy. Nick Snuszka and Bailey Russel can both push the disc deep to Juszak and Jade McLaughlin for quick points. New veteran pickups Steven Rouisse and Ashley Daly Morgan provide an element of stability the team was missing last year, and this year's iteration looks to build on the success of 2016. The battle against local rivals Denver Love Tractor in the final round on Thursday should determine who advances to prequarters, but shame. can push both Minneapolis Drag'n Thrust and Boston Wild Card with their deep game.
Likely Ceiling: Quarterfinals
Likely Floor: Done on Day One
Denver Love Tractor [Pool #4, Overall #15]
Denver Love Tractor makes their third consecutive appearance at Nationals, coming off a third place finish in South Central Regionals to take the third and final bid. Posting an 11th place finish at the Pro-Elite Challenge and following that up with a sixth place finish at the Elite-Select Challenge, Love Tractor has been steadily building throughout the year and look to continue that in Sarasota. Despite a 1-4 record throughout the season against fellow Pool C teams Boston Wild Card and Fort Collins shame., Denver will aim to surprise the teams ahead of them and push into the bracket.
Boasting one of the most dynamic players in the division in Jack McShane, Love Tractor can take control of a game through McShane's throwing ability and skill downfield. They're not a one-man show by any means, though: look for big contributions from cutters Heather Kraft and Colorado Kali standout Meg Henderson throughout pool play as they look to push into the bracket. Combined with the throwing skill of Chloe Greene, the Love Tractor offense can keep the team close in any game, and it will need to in order for Denver to move on to prequarters. As a team that seems to rely heavily on a few players, Love Tractor will need to pick its spots to spring an upset, but expect the team to be well-prepared for Sarasota, and keep an eye on their matchups with Wild Card and shame.
Likely Ceiling: Prequarters
Likely Floor: Done on Day One
---
Yes, their team name includes the period. ↩