Mixed's Pool C was decided by the smallest of margins.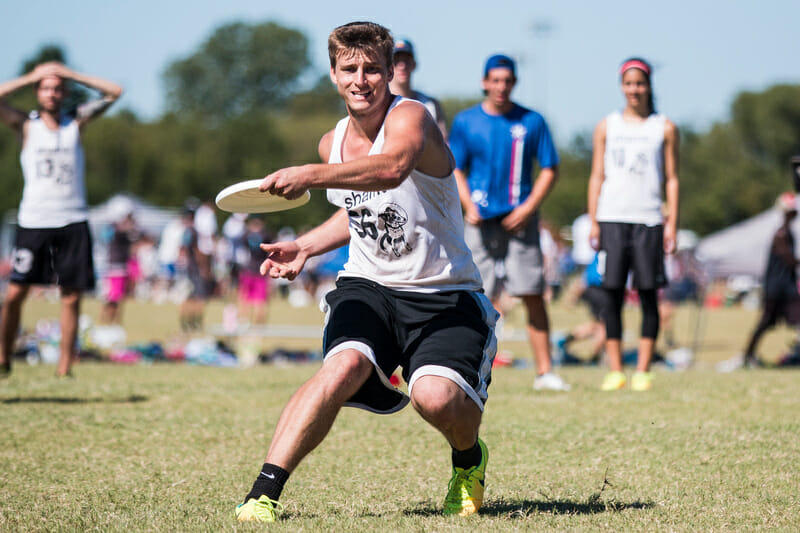 Ultiworld's coverage of the Mixed Division at the 2017 Club Championships is presented by Tokay Ultimate; all opinions are those of the authors. Please support the brands that make Ultiworld possible and shop at Tokay Ultimate!
The six games in the Mixed Division Pool C were decided by nine points.
Total.
Let that sink in. Four (!) games went to double game point and two games were decided by two and three, respectively. This means that, on average, each game was decided by 1.5 points.
For some perspective, the other pools this year were decided by 2.8-4.5 points. Last year's pools were decided by 3.5 to 5.2 points. The men's pools this year were decided by 2.3-4.8 and the women's pools were 5-6.7. It is almost unheard of for a pool at Nationals to be decided by so few points.
Inches are what made the difference for the four teams in pool C on Thursday. A whole season of practices, training, and traveling came down to a handful of points. Any player could've holstered a throw, bid a second sooner, or attacked a disc at a slightly different angle, and the day's results could've been flipped upside down. The rarity of parity exhibited by these teams was something that will likely not receive much attention once the dust has settled in Sarasota, but it was one of the bigger stories in the Mixed Division on Thursday.
Let's start with the team that drew the short straw: Denver Love Tractor. They had three DGP losses, each of which would have secured them a spot in the championship bracket. Jack McShane had a phenomenal day, putting up three goals and four assists against Drag'n Thrust alone. Chloe Green and Matty Zemel were moving the disc effortlessly in the wind. Fern Beetle-Moorcroft, a mid-season former AMP acquisition, provided some clutch defensive plays. There was no aspect of Love Tractor's game that was singularly problematic. And, yet, putting together a complete game to avoid elimination eluded them. 2017 marks their third appearance at Nationals, after securing the third and final bid from the South Central Region, and they've never finished better than fourth in their pool.  Is this just their lot in life, to qualify for Nationals each year as a "happy to be there" team? By their head-to-head results, you could argue that they are on par with the division's elites, but that doesn't change the fact that they'll be on the outside looking in on Friday.
Then we have Boston Wild Card, a team that made a semi-finals appearance in their first season, 2013, and repeated that feat in 2014. They finished in the bottom half of Nationals in 2015 and missed Nationals altogether last year. After earning a bid this year, they nearly missed Nationals after a DGP loss to Xist in the quarterfinals of Northeast Regionals, clawing their way through the third place bracket to secure a spot in Sarasota. Wild Card retains several key performers from their last semi-finals in Ian Engler and Eva Petzinger, but they've added new talent as well in Robin Meyers, Matthew Heath, and Kyle Johnson. Picking up Alex Kapinos provides some veteran leadership that this team might need to make a deep bracket run. But how confident can they feel after squeaking by two teams from the South Central, a historically weak region, and losing their third game by a decent margin? Wild Card faces off with Blackbird in prequarters, in what will be an interesting matchup of divergent styles.
The real story of this pool might be Minneapolis Drag'n Thrust. This is a program that competed for several years in Sarasota but never made it past semis, swept all three championships in Dallas, and flamed out hard in semifinals against eventual champion Boston Slow White last year in Rockford. Gone is former All-Club First Team Sarah Anciaux, but perennial contributors Sarah Meckstroth, Erica Baken, Jay Drescher, and the Lien family (Martha, Austin, Jacob) remain. This year's rookie class brought some intriguing new young talent in Charlie Schuweiler, Kat Ritzmann, and Kristian Johnson, and scooping Neal Hanke from long-time regional rival Ames Chad Larson Experience should not go overlooked.
Drag'n took their time adjusting to Thursday's conditions, as they were unable to score upwind in their first half against Fort Collins shame; in the second half, their O line went a perfect 3/3 on upwind opportunities, but their D line couldn't convert a single upwind break.  They struggled similarly against Love Tractor, facing deficits of 2-4 and 5-7 before ultimately winning on double game point.  They went down 2-4 again against Wild Card as well, ultimately relying on a late first half push to build their lead.  Is this Minneapolis squad capable of another deep bracket run?  They will have to get past another fiery squad in Durham Toro in prequarters before dealing with reigning champions Boston Slow White.
What can be said about Fort Collins shame.?  They arguably have the most distinct play style across all three divisions of USAU Club Nationals. They fire deep indiscriminately regardless of mark or matchup. Their defense pressures cutters everywhere, forcing high stall bailout throws that their athletes are sure to get a hand on. Jake Juszak provides a unique problem for opponents, capable of dominating in the air or with his arm. Nick Snuszka catches virtually everything sent his way and Doug Stenclik is among division leaders in assists at Nationals for the second straight year. Jade McLaughlin and Marilyn Reich play quieter roles but show up frequently on the stat sheets.
shame. pulled off one of the biggest upsets in pool play for the Mixed Division with their 15-13 win over Drag'n Thrust in the first round, and although they dropped their second game to Wild Card on DGP, they were still able to squeak out first place in the pool with a win over Love Tractor in the final round.  Their bye to quarters earns them the right to play the winner of BFG and Mischief.
At the end of the day, the four teams in pool C of the Mixed Division found themselves more evenly matched than any pool in recent history.  Despite their different backgrounds and vastly differing styles of play, no team really emerged as clearly worse or better than the others.  Love Tractor will quietly slip into the Pro Flight Bracket and shame. won the pool, but spectators should feel privileged to have witnessed six games among such close competitors.