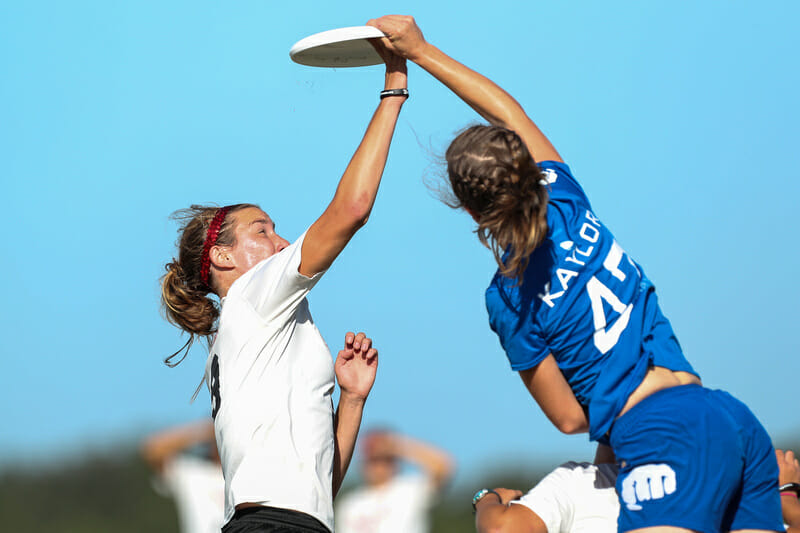 Ultiworld's reporting on the Women's division of the 2017 National Championships is presented by VC Ultimate as part of their year-long support of our women's coverage. All opinions are those of the authors. Please support the brands that make Ultiworld possible and shop at VC Ultimate!
Day one in the women's division of the National Championships told us a lot about what to expect for the rest of the tournament. Some upsets shifted the shape of the bracket, but the title contenders made their status clear cut. The rest of the division exchanged blows in an effort to establish some order but only revealed that there's plenty of well-dispersed talent.
Top Challengers Fail To Make A Dent
There has continued to be a clear top four — Seattle Riot, Boston Brute Squad, Denver Molly Brown, and San Francisco Fury — leading the division. Realistically only those four had a shot of a national championship entering this weekend. But we also thought that there was a solid second tier below them, teams 5-7, that were clearly superior to the rest of the division below them. But pool play indicated that those teams might be further back from the top four — and much closer to the teams seeded below them — than we thought.
Washington DC Scandal probably had the worst day of this group. They looked out of sorts and anything but elite in their second game against San Francisco Nightlock. Fresh off of surrendering a 10-0 start, Nightlock lost handily to Fury, so it's not as if Scandal was running into a team on a hot streak and full of confidence. But Scandal was completely incapable of putting Nightlock away. They let them hang around for the entire game and then had to survive a genuine scare after turning the disc over on double game point. Scandal survived, but they looked much more like part of the pack than a team possibly capable of challenging the top four for a semis spot.
That proved true in their next round. Against Fury, a matchup that had promised to be the marquee game of pool play, Scandal was completely outclassed: they got run out of the stadium by Fury. Scandal's stars did not rise to the challenge, and their depth was overmatched. Scandal was the favorite to challenge the current hierarchy currently dominating the sport, and while that always did feel like a longshot, Scandal fell well short of doing so on Thursday.
Vancouver Traffic also underwhelmed with their offensive inefficiency, and Ozone was tested more by no. 14 seed Rival than they were a test for no. 2 seed Brute Squad. Scandal's stock certainly fell the hardest of the perceived second tier, but if Thursday is any indication, then the second tier of teams in the division doesn't contain any true challengers for the tourney favorites.
Brute Squad & Fury Are The Cream Of The Cream
All four pool no. 1 seeds held seed with conviction today to advance to the quarterfinals. However, two of the "Big Four" stood apart for their execution: Boston Brute Squad and San Francisco Fury.
Brute Squad and Fury tied for the fewest points scored allowed during pool play at 17. Riot let 20 points past them, and Molly Brown surrendered 24. These point differentials sound insignificant, you say? Brute Squad and Fury's games were a step above in control, too. The tournament no. 2 and no. 4 seed managed the tempo of every point they played today, regardless of wind or who they played.
Brute Squad closed their games with Pop and Rival by 10+ point margins each, and they kept a healthy cushion over Ozone throughout their game. They were able to test zones and open their lines without dropping points or taking their foot off the gas pedal. Their depth shows on their stats sheet: no Boston player scored more than five goals and 14 different players threw assists.
Fury had the toughest pool today, but you wouldn't guess it from their results. They nearly shut out their regional neighbor Nightlock in Round 1, and they polished off Nemesis and Scandal 15-7 apiece. They didn't trot out any surprises in their play – Fury still plays their system with the regimented pace of an army drill team. Alex Snyder and Carolyn Finney distributed the disc and threaded tiny windows in Scandal's defense to find waiting cutters like Marika Austin and Claire Desmond downfield.
Barring acts of God or worlds crumbling, the top four teams will make it to the semifinals. In this context, comparing pool play performance can seem like splitting hairs. But teams who play more efficient games play fewer points, and that makes a difference late in the tournament. Brute Squad and Fury made life easier for themselves on day one, and it will pay dividends later this weekend.
Hard Times For Heist
Madison Heist was not a favorite to go deep into the weekend. As a no. 10 seed, they were expected to qualify for the bracket, maybe win a prequarter, and likely not much else. But they had an intriguing top end of their roster that, put against the elite players of the top teams in the division, held its own. Robyn Wiseman, Georgia Bosscher, Sarah Anciaux and Michelle Phillips are an elite top four and together should create matchup issues for any defense.
Strangely, the four of them were hardly ever on the field at the same time. Even in critical, late game moments against Traffic and Portland Schwa, with their season on the line, Heist kept their top four split between two different lines. They finally played the four together in the final moments of their game against Schwa, but not until it was already out of reach.
In theory, the strategy makes sense. Heist has some nice depth pieces, and striving to keep a couple of elite players on every line seems reasonable. But with the season at stake, virtually every team in the world lives and dies by their top players. It was perplexing to not see all of Heist's best playing on the field together down the stretch of hugely important games.
It also has to be said, that decision was not the sole reason Heist underperformed. Their top players didn't always play at their best level when they were on they on the field. And they didn't get the performances from their depth that the team's decision makers clearly expected. But to see a team with their high end talent flame out the way they did, and to not leave it all out on the field in the way one would expect, was one of the more puzzling developments of Thursday.
Molly Brown Plays Containment Defense In Pool Play


Molly Brown has had one of the most impressive offensive units all season. Their pull plays are unmatched and their aggressive athletes score efficiently on almost every point. Despite this, Molly Brown played tighter pool games than the other top tier women's teams. This penchant for closer games has nothing to do with their offense, and everything to do with their defense.
The Denver defense is noticeably different from their offensive line. Instead of fast athletes and tremendous bids, Denver causes turnovers primarily through forced throwaways because they position themselves to frustrate the opposing handlers. They are not as athletic as much of their competition — something coach Joe Durst admits openly — but they remain competitive by clogging flow and disrupting rhythm downfield.
Unfortunately, defensive craftiness equates to sloppiness if communication breaks down. While Molly Brown often uses switches to their advantage, there are times when the opposition has a wide open field with no marks to be seen. The Molly Brown defense often prioritizes guarding spaces on the field over guarding players. Molly also utilizes a zone defense and uses a force middle to discourage hucks. Molly Brown has shown all season that they can execute on a wide range of containment-oriented defenses, and they've worked well against the teams in their pool. And yet…
For Molly to win Nationals, their defense cannot just contain. Trading points with Brute Squad or Riot is ineffective. These teams are willing to make the additional passes to exhaust any containment defense. The higher the stakes, the greater the pressure a defense has to exert. Considering the opportunities that Molly Brown has allowed in pool play, their containment defense and zone options need to do more than force additional passes. Molly Brown has trained all season for the chance to play their way to the finals. Regardless of the team they face, their offense will be unable to win the game alone. If containment is not enough to force turnovers, they have two days to find a solution that will.
Four Seeds Create Advancement Opportunities
Underground and Schwa created the drama in Pool A and Pool C, respectively, today by pulling themselves out of the no. 4 seed spot to earn a path into the prequarters. These two Northwest teams — seeded no. 13 and no. 15 — dialed in their focus and execution just enough to surprise their respective pool 3 seeds.
Seattle Underground got one over on Texas Showdown with a crushing second half, claiming a 12-6 upset win. The two teams were evenly matched throughout the first half of the game before Underground was able to pull away with a second half run.
"We leaned heavily on our two three two and tool box, as well as playing flat and forcing middle to prevent their hucks and inside throws," said Underground coach Frank Nam.
In addition, Underground played a bit looser and used their depth a bit more, spreading out playing time to keep energy high. Altogether, that gave them much more gas in the tank by the time the second half rolled around.
Portland Schwa faced off with Madison Heist, the no. 10 seed, in the final round of the day and wasted no time in landing haymakers with three straight breaks, eventually recording a 15-9 win. They stifled Heist's deep game with their athletes and adjustments, with Ella Hansen's ability to deliver strikes from the backfield acting as the Schwa offense's igniter. Portland also seemed fresher, perhaps better utilizing their depth over the course of the hot day. Heist came into the weekend projected as one of the stronger teams in the field, and the win was an impressive notch on Schwa's belt.