It's a new era in Boston.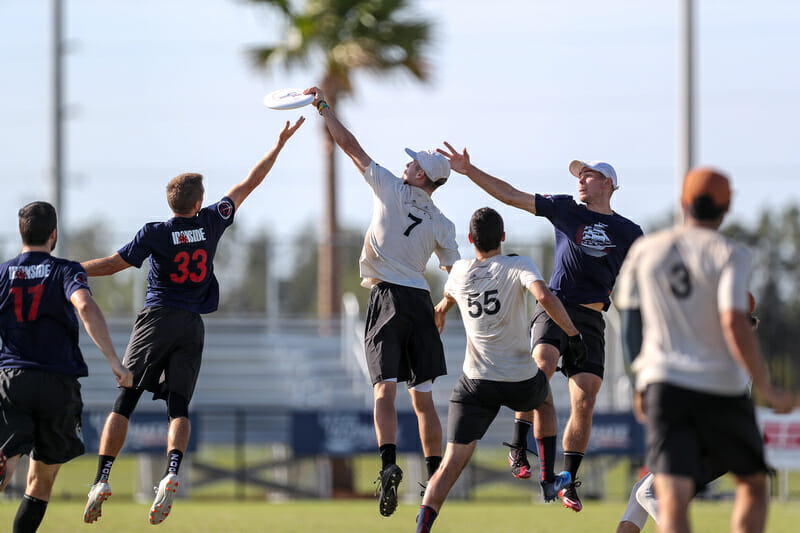 In a move rumored since last October, Boston Dig and Boston Ironside are combining forces as Dig, bringing the top Boston men's talent onto one roster.
Both teams reached the quarterfinals at the National Championships in Sarasota last fall, sparking conversation both inside and outside of the teams about what a combined team might have been able to accomplish.
"I think it's something that both teams have been interested in kind of even before last season ended," said former Ironside captain Jack Hatchett. "The idea of getting all the top talent on one team was really appealing."
Dig, particularly last year, out-recruited Ironside for the top young talent in New England. Dig was seen as the fun-focused team while Ironside had a reputation of being serious to a fault. Ironside struggled to retain gifted young players like Jeff Babbitt and Tannor Johnson.
"Dig has also obviously built a really strong and successful culture in just two years, and we wanted to embrace that and build with that," said Hatchett.
What's made it such a successful culture?
"The individuals and the attitude that we have towards what we're looking for in the season," said Dig captain Ben Sadok. "It is the pillar of our team. Everyone's comfortable and has a good amount of skill playing frisbee. It's just a recipe for success. I couldn't have asked for a better two years playing with this team. That's something I want to continue."
Ironside is likely going to fold as a team, but it is possible that, given the USA Ultimate rules that seek to preserve teams from year to year, the team will return if enough players from last year's team don't tryout for or make Dig and want to compete in the Men's Division.1 Most likely, though, Ironside will sail into the sunset after ten years and a hard-fought championship.
"It's a little sad to know that Ironside is done, but it's a really exciting time for men's ultimate in Boston," said Hatchett. "With the amount of talent in Boston that tends to skew pretty young with all of the colleges around here and the youth scene, it can feel a little bit natural for something like this to happen."
It certainly seems that way: Boston ultimate has a long history of schisms and mergers. After Death or Glory's six-peat from 1994 to 1999, the second team in Boston started to strengthen. In 2004, DoG and then-second team Boss Hogg merged into…DoG. Twisted Metal took the reins as the #2 team. In 2007, the DoG legacy came to a close as the team merged with Twisted, who went to Nationals in '05 and '06, to form Boston Ultimate. In 2008, the team became Ironside. Eventually, Garuda became the #2 team and nearly got to Nationals in 2013. But a backslide for Garuda eventually led to the team shutting its doors after the 2015 season. Dig picked up the mantle, made Nationals in 2016, got a lot better and went again in 2017, and has now assumed the role of top dog.
There was strong support for a merger among the members of Ironside, said Hatchett. The team picked him, John Stubbs, and Tyler Chan — all young players with solid connections to Dig — for the leadership committee, knowing that merger talks were likely. The idea of a combined team was exciting.
"John Stubbs and I talked about it briefly in Australia when we were down there for U24 Championships," said Sadok. "I thought that was a really interesting prospect. It also comes down to what our mindset is going into it — we're not fully taking a 'we want to win a National Championship' mindset. We spend months and grueling hours with this team, and we want it to be enjoyable. What's the point of winning a National Championship if it isn't enjoyable?"
It's clear that Dig's ethos is an important part of the team going forward, even as it gets set to add players from Ironside. Hatchett has joined the Dig leadership team, but, otherwise, everyone will have to tryout. Skill will be important, but so will a sense of cultural fit.
Ultimately, a unified Boston team just made sense.
"Having two teams from the same city making quarters, but no further than that," said Hatchett, "knowing that you can merge that talent and having a better chance of going further and contending for a championship is a big thing."
---