Five observations from an exciting day one of the D-III College Championships.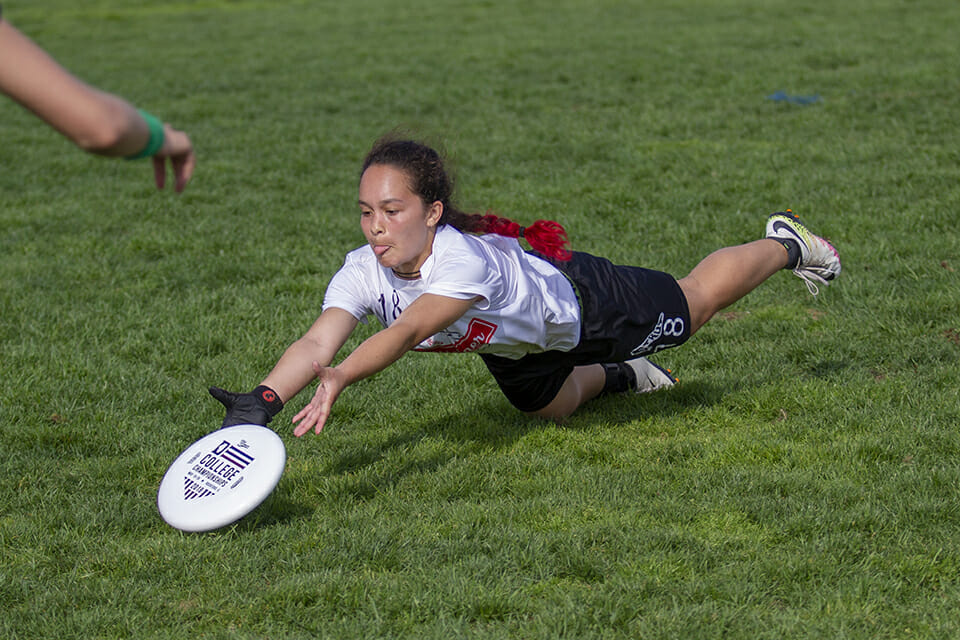 Coverage of the Women's Division of the 2018 D-III College Championships is presented by VC Ultimate as part of their season-long support of our women's coverage. All opinions are those of the authors. Please support the brands that make Ultiworld possible and shop at VC Ultimate!
The D-III College Championships are known to bring plenty of surprises and new stars, and this year's didn't disappoint. Here are five of our observations from the first day of play in Rockford.
Josie Gillett Throwing Her Way to Player of the Year
At the end of day one of Bates' Josie Gillett holds the lead in total assists at 33. That number is one better than St. Olaf's Tulsa Douglas' 32 and three better than Mount Holyoke's Katrina Meserve. The staggering thing, though, is that both Douglas and Meserve both played one more game than Gillett.
Gillett's importance and usage were only shadowed by her ruthlessness and efficiency on Saturday. It never felt like she was forcing throws, and it never felt like her teammates were forcing the disc to her. She simply got the disc in dangerous spots and consistently made a variety of throws to open cutters.
Gillett capped her day with a monumental 14 assist performance against St. Olaf in the game for the pool. It was a game for the ages to round off a resounding day from Gillett. Her Saturday play shot her to the top of the POTY conversation. There's still plenty of ultimate to be played, but there's no question Josie Gillett was the star of the first day of Nationals.
North Park Ends the Four Seed Drought
North Park become the first pool four seed to win a pool game at Nationals since 20151. The fateful game came in the final round of pool play against Pacific Lutheran. Erin Staurseth starred, posting 2 goals and 6 assists, while Jessie Rosell impressing in a supporting roll. Abby Gentile made some key plays late as well as they survived a late comeback bid from PLU to earn the 12-10 victory.
North Park's Cinderella run ended early with a tough 15-7 loss to Puget Sound in prequarters, but the pool play victory felt like a win for divisional parity in general, and the Great Lakes region collectively. Only one team can win a national title, obviously, and it often feels like pool four seeds can never be that team. While North Park's win over PLU didn't leave a lasting mark on these particular Nationals, maybe this result is a sign of an improving Nationals field from top to bottom, and the Great Lakes producing talent that can compete with the rest of the nation. That, in itself, feels like a win for the division as a whole.
Williams Wins as One
For the past two seasons, Williams had earned the no. 1 seed in the women's division, but failed to win their pool at the D-III Championships. They also failed to hold seed–with a title–in either case, coming up short of even the semifinal round. Today, they delivered with an impressive performance that marks them as a clear contender going into Sunday's quarterfinal round, with an expecting to break through the ceiling they've failed to these past two seasons.
"It's kind of a first step for them," said Williams' strategic consultant Emmett Blau. "They feel like this is their year."
No team got it done with as many high level contributors as Williams, who used the breadth of their team's skill to grind down other teams. They play tough person defense and have top end players like Haley Lescinsky and Caroline Weinberg to lean on when necessary. And they seem confident and bought in. "We plan to come out as a better team on Sunday," said Blau with a smile.
A team better than Saturday's strong howing should lead to improvement on their finish, but even that might not be satisfactory for a team with both championship-level play and ambition.
RPI's a Sneaky Bracket Threat
You wouldn't think RPI would be one of the more impressive teams in in Rockford, with their 1-2 record, including getting upset by Georgia College, in pool play. But RPI reached quarterfinals and displayed more skill and strategy than was to be expected or that their initial results demonstrated. Much of their success came from a breakout performance from sophomore Makayla Wahaus (Candy Zhang deserves a shoutout) and their formidable junk defense.
Wahaus is a diminutive lefty handler with a penchant for frustrating marks. Her hucks and quickness demand attention to the open side, while her around forehand pulls defenders back to the other. Most teams struggled to stop her from sending the disc to the exposed weak side of the field, where Zhang and company could attack the soft underbelly of the defense.
On the other side, Strut gained a big edge on their competitors by planting Nancy Bush in the deep line, Wahaus in the open side under lane, and begging teams to try to break around to their a couple of uncovered teammates. Most teams struggled to attack the mark, with cutters uncertain how to beat both their defender and the poaches clogging up the lane. Most teams ran vertical stacks, particularly susceptible to this type of defense.
While it wasn't a smashing start to their tournament, RPI survived long enough for their leader, Tamar Austin, to return to play. Austin added more size to the open side lane, replacing Wahaus and making the defense even more effective. She was a speedy cog for their offense. Since RPI has been getting better over the course of the tournament, teams in the bracket might need to be wary.
Lehigh Brings the Upsets to the Party
The biggest upset in pool seeding today belongs to the fierce break looks and up tempo efforts of Lehigh Gravity in Pool C. The ladies from the Ohio Valley went from third in the pool to confidently ending on top after defeating all other teams in the pool–No. 3 seed Puget Sound, No. 6 seed Amherst, and No. 15 seed Rice. That success is driven in large part by the senior offensive trio of Juliet Chung, Dana Waxenberg and Madison Cannon.
Each contributed to the goals, assists, and general flow of the offense, but each with their own special edge: Chung for her lefty backhand hucks in her break looks, Waxenberg for her pinpoint throws finding her targets and Cannon for maintaining possession with incredible, "how did she catch that?" grabs in the middle of traffic. As their coach Matt Lubitz states, "so much of what we do is based on winning the battle with our legs" and the throws and catches of Chung, Waxenberg and Cannon help keep those legs working up and down the field.
By winning their pool Lehigh avoided having to play a fourth match on Saturday. In quarters on Sunday they will face off against the RPI in the hopes of continuing to use their legs to carry them further into championship contention.
---
which was also the last time D-III Nationals took place in Rockford ↩