A run down of the players and moments that caught our eye on Friday.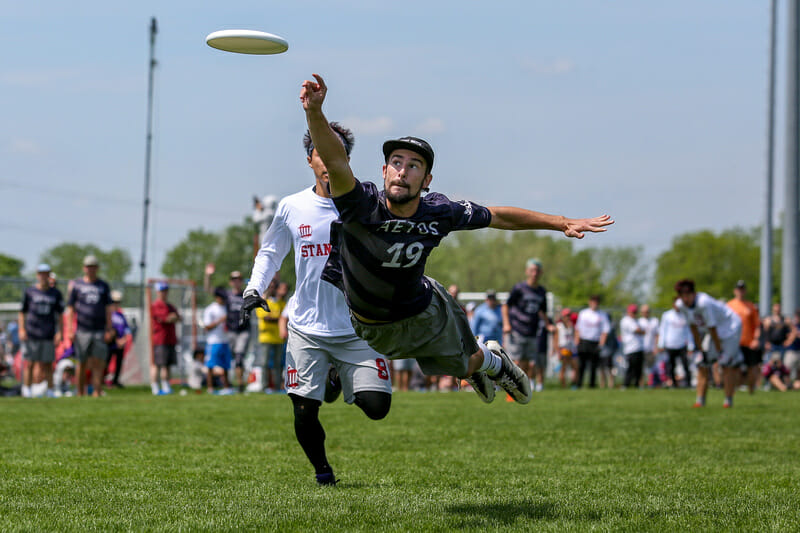 Coverage of the men's division at the 2018 D-I College Championships is presented by Spin Ultimate; all opinions are those of the author. Please support the brands that make Ultiworld possible and shop at Spin Ultimate! 
MILWAUKEE, WI – Day One mostly went to script in the Men's division at the 2018 D-I College Championships, but that doesn't mean there's nothing worth highlighting. Here's a recap look at the players and moments that stuck out to us today, and some thoughts on what to watch for heading into Saturday play.
Players That Caught Our Eye
Mack Hodges (Georgia)
Georgia is short on bodies, even if their talent floor is high. Hodges didn't blink in the wind today as a go-to thrower. He had a highlight-worthy inside-out flick huck against Maryland that hit teammate Sam Batson toeing the backline.
Trevor Knechtel (Victoria)
Knechtel is an absolute warrior. We wrote about it in the live blog, but the guy has a broken throwing wrist (he has surgery next week) and is playing with his off hand. On top of that, he's colorblind and all the painted lines on the grass fields are reddish pink, so he can't see them. Victoria was given mini cones by tournament staff to place along the sideline to help Knechtel have any idea where he is on the field.
Seth Lee (North Carolina)
A freshman, Lee exemplified the infectious enthusiasm of someone getting their first taste of Nationals. With his long, rangy defense and aggressive deep cutting, he took every opportunity that came his way today and probably played his way into a few more opportunities down the road.
Leandro Marx (Oregon Ego)
As good as Adam Rees and the gang were for Ego today, Marx's pulls and defensive versatility set up the team for success.
Kevin Tien (Stanford)
On a day that was largely a disappointment for Bloodthirsty, the biggest bright spot was surely sophomore Kevin Tien. Despite learning the game less than two years ago, the newly-minted Oakland Guerrilla was everywhere for Stanford. His lockdown defense led to a pair of layout blocks (and four total Ds on the day) along with four assists, and he consistently earned yards as a primary isolation cutter. On a day when his team sputtered, Tien shined.
Jay Valdillez & Joshua Venegas (Northwestern)
NUT came into Nationals as a cinderella qualifier through the Great Lakes, so they were always a bit of a wildcard. Kyle Rutledge and Christian Rozolis were billed as the stars for NUT–and they were solid–but it was Vadillez and Venegas who carried the team to their upset win over Stanford with their defense and cutting. Venegas came up with three big layout blocks and added three goals while Vadillez finished with a final line of 6G/3A/2D on the day.
Keivaun Waugh (Texas)
Waugh was a rock for Texas, taking handling duties on both offensive and defensive lines. His ability to consistently break the mark and shrewd sense of space were instrumental in steering TUFF to a 2-0 day.
Branavan Yogarajah (Wisconsin)
The Hodags needed more consistency downfield today. Yogarajah was the consummate workhorse defender and cutter, using his speed and strength to gum up the open side and find space for Wisconsin throwers.
Moments of the Day
Northwestern NUT Came to Play
We knew that NUT were a respectable squad coming in having posted solid results at Warm Up–where they beat Florida, Auburn, and Texas–but they're also the squad that dropped games to Chicago and Illinois State at Conferences a month ago. Today they got a sound upset win over Stanford and played CUT two goals closer than UMass. For a wildcard bottom-seed, they were a pleasant surprise.
Wisconsin and Maryland Slog to the Finish
Pool C might've offered some of the worst ultimate on the men's side during Friday play. The double game point bout between Wisconsin and Maryland was such a slog that Oregon was able to break Georgia nearly four times during one knockdown, drag-out point that ended in a Maryland break. The game was soft capped to 12, but never made it past 11 as the final few points were marred by a number of rhythm-devouring calls. It was a mental victory for The Hodags, but that's about it.
Benaloh Burning It Up
Washington head coach Mark Burton gave handler Steven Benaloh an ear-to-ear smile and a congratulatory hug after UW's win over Brown. And for good reason. Benaloh played out of his mind throughout the game and racked up a wild stat line in the face of a stingy defense: six assists, a goal, and only one turnover. That gives the Sundodger captain 11 assists and four goals through just two games.
Texas Getting It Done With Fundamentals
Entering Friday Texas had one job: Hold seed. They did just that, cruising past William and Mary before engineering an impressive comeback against UConn. With first and second round byes, Texas were the last team in Pool B to take the field. Based on how they played today, it doesn't look like they will be the first to leave.
While TUFF doesn't do anything all that spectacular, they run an effective vert stack offense that creates easy resets and do a good job of keeping the opponent pinned to the low side of the field. Two basic skills, but ones the proved essential to their success. Their fundamental defensive solidity in particular was crucial in their comeback against UConn during the last round of play. After starting slow and finding themselves in a 6-2 hole, Texas got back in the game by doing all of the little things right on defense and forcing UConn into tough shots down a narrow sideline lane. Eventually those shots started to miss, and Texas rallied for a comfortable 15-11 victory.
Texas may not have a lot of flash, but they play smart and hard. If you can do both of those things well, you can play with anyone.
North Carolina Dominates with Swagger
North Carolina laid a smackdown of biblical proportions on Minnesota in their third round matchup on Friday. What was expected to be at least a reasonably compelling game turned into a rout before you could blink. It felt like Minnesota never even started playing the game, they were just holding on for dear life as the overwhelming tide of Darkside battered them to and fro.
It was a stunning evisceration, the complete unmaking of a team at the hands of an opponent relishing the chance to not just compete with, but dominate an opponent. It was chilling how easily UNC made Minnesota bend to their will. Darkside was in total control of not only what they were doing on the field, but also of what they were allowing Minnesota to do.
If North Carolina can continue to play like the rest of the weekend, everyone (yes, that means you too, Carleton) should be scared.
What To Watch For On Saturday
Pool A
The drama for Saturday will be focused on the three 1-1 teams battling for two spots into prequarters: UMass, Auburn, and Northwestern. UMass will look to continue their chalk results to hold a two seed, while pool bottom seeds Auburn and Northwestern will be looking to exploit Stanford's tough Friday to break seed for a place in the bracket.
The path forward for CUT and Stanford is much clearer. CUT is 2-0 and has thoroughly outclassed their competition thus far; they seem assured of a pool win. Conversely, Stanford is 0-2 after losing to the two bottom seeds in the pool (with harsh point diff) so will likely be out unless they can pull a miracle upset on CUT and also beat UMass.
The big matchups Saturday are the morning UMass vs Northwestern matchup, where the victor would be sitting on two wins and likely have a spot in the prequarter. In the last round, Auburn and Northwestern will go head-to-head in what will likely be a functional elimination game.1 If Friday's mildly gusty conditions continue, the clash of Auburn and UMass' zones against Northwestern's Midwest-wind-honed throws will make for interesting duels.
Pool B
Pool B is largely settled at this point in terms of which teams will be advancing to bracket play, barring any truly shocking upsets. The biggest question is whether or not Minnesota can rebound from the shellacking North Carolina put on them and hold seed. Their game against Texas tomorrow afternoon will likely decide who finishes second in the pool.
Pool C
Make no mistake, there is one Pool C game to watch on Saturday. Oregon and Wisconsin, both 2-0, will play for a bye to quarters mid-morning at 11:30 AM ET/10:30 AM CT.
Though both teams went undefeated on Friday, they were wildly different performances. Oregon notched two clinical wins, beating Georgia 15-7 and Georgetown 15-6. Save a few throwaways that gave Georgia four looks at a break Oregon cruised, crosswind or not. Leandro Marx's pull placement was excellent and his teammates capitalized, easily.
Wisconsin's Friday was different. The Hodags squandered an early lead against Georgetown in the morning and let Catholic Justice creep within two at the half. They needed a second wind to push the lead back out to four points and take the game. Maryland brought out a higher degree of difficulty. The Space Bastards hucked mercilessly in the wind and forced the Hodags to go 70 yards on possession after possession during long, call-heavy points. Interestingly, Wisconsin seemed stuck on playing matchup defense for most of the day, despite having strength and size advantages that might've leant themselves nicely to zone in the steady wind.
On offense, Wisconsin struggled to string together continuation plays efficiently, while Oregon seemed at ease regardless of opponents or elements. On defense, both teams generated pressure, but the Oregon D-line played better offense than their own O-line. The Hodags need to complete passes under pressure to win their top-of-pool matchup. They also need  some kind of foil to slow down offense from both Oregon's O and D-lines.
Before the tournament, this game had shades of a potential instant classic. But after the starkly different days these teams had on Friday, Oregon looks like a heavy favorite to take Pool C.
Pool D
Brown needs a bounce back performance Saturday morning against Pittsburgh. In a 14-12 loss to Washington, Brown defenders gave too much priority to in cuts and were taken deep repeatedly. A few plays really underscored B-Mo's over-pursuit… Reed Hendrickson made a long circle cut in the middle of the force lane to fool Mac Hecht and tally a break on a huck from Derek Mourad. A little later, Lucas Chen centered a pull up to Steven Benaloh and then burst deep to catch the next throw: a screaming Benaloh backhand. Both times Brown was defending a vertical stack and both times there wasn't last-back awareness. That will need to change for B-Mo Saturday morning as they take on Pitt, who is not afraid to shoot deep to playmaking athletes like Dylan Best and Mike Ing.
Brown is going to make the bracket. They can technically still win the pool, though they'll need to do it by way of a tiebreaker. But getting back on track against a quality opponent like Pitt will be paramount if they hope to make run.
Meanwhile, Pittsburgh needs to be measured against a quality opponent. It was difficult to tell how well Pitt played today. They solidly beat the tournament's last seed Florida State. Pitt got another win against a banged up and inexperienced Victoria team 14-8 in a game that that went on about 30 minutes too long. So how well are they actually playing? We won't know until Saturday when they take on the top two seeds Brown and Washington. Friday was just about checking boxes.
---
A pre-pre-quarter. ↩