A dominant performance from Riot quieted fan favorites Revolution.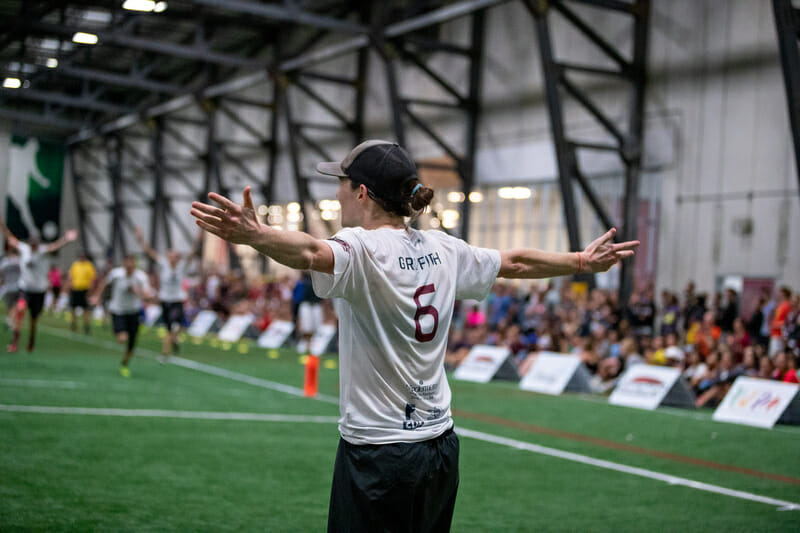 Ultiworld's coverage of the 2018 WFDF World Ultimate Club Championships is presented by VC Ultimate; all opinions are those of the authors. Please support the brands that make Ultiworld possible and shop at VC Ultimate!
Seattle Riot (USA) claimed their second straight WUCC title with a 15-8 victory over Revolution (COL). It was an overwhelming, dominant performance from Riot, and one that surprised most of those who had followed the two teams throughout the tournament. Both teams had been impressive all week long, notching wins over other elite teams, and making it through the week undefeated against the best teams from all over the world. This was the matchup everyone had hoped for: Revolution, the top team from outside the United States, versus Riot, the American team that had most impressed all week long.
Through the week-long buildup of intense games, crazy weather, and last minute venue changes, Riot and Revolution had been a class above the world class field at the WFDF 2018 World Ultimate Club Championships. A massive crowd of players and fans packed the indoor venue for the game to point of being a fire hazard.1 It felt as though the whole tournament was present to see the highly anticipated game, the final that seemed to have the highest potential for a thrilling, back and forth match.
Before the game got underway, the two teams danced together, in truly impressive synchronicity. Revolution had danced their way through the entire tournament, often including other teams, but to see the two teams together in such a way before a World Championship game was one of the brightest moments of the entire week. The performance only added to the hype inside the stadium.
It was clear very early on that Revolution was the fan favorite. They were the fun, exciting, dancing team, and the international crowd was desperate for a non-American team to win a gold medal. But after all the build up and hope for a thrilling conclusion to the tournament and all the excitement for Revolution, Riot absolutely steamrolled their opponents.
Riot broke on their first defensive point of the game to take a 2-0 lead, but it shouldn't have been a moment of worry for Revolution. After all, they'd gone down two breaks early in their games against Molly Brown (USA) and HUCK (JPN), and they'd gone on to win those games by a combined 11 goals. But Riot's relentless defensive pressure, most notably impactful in the Revolution reset space, did not relinquish for one point, and Revo never had a chance to get back in the game.
Riot broke twice more in the first half, at 4-2 and at 6-3, and they took half with an 8-4 lead. It was Riot's defense that earned them that lead. They were too much for a Revolution offense that dazzled against every other team they'd played to that point. Revolution was often forced high into the stall count, and as their handlers struggled to become available for resets, had to settle for punts downfield. They couldn't complete their hucks, they couldn't find any exciting layout blocks, and everything about their play that had thrilled and taken them to that game was nowhere to be found.
Riot coach Andy Lovseth had a pretty simple explanation for what his team did to throw Revolution off of their game. "Part of our gameplan was forcing them backhand," he said. "If you watch them, they play all their offense against forehand, so I think that threw them off balance a little bit." Coupled with the lockdown defense to take away resets, Revolution struggled to adjust offensively and never found their rhythm.
There were, however, a couple of points in the first half that felt like opportunities for Revolution to get back in the game. They had break chances at 4-2 and right before half at 7-4, but they couldn't capitalize on them. Revolution was particularly wasteful on the point before half, as they threw away three chances to break. Had they converted on either or both of those points, perhaps the game could have gone differently. But as the game played out, they had no real answer for Riot's quality and intensity. Riot took the crowd that had been so excited in the moments before the game out of it early and emphatically with their first half performance. Even the high flying Revolution were unable to bring them back into it.
While Riot's defense was too much for Revo's offense to overcome, Jac Verzuh was too much offensively for the Colombians to overcome. They simply had no answer for Verzuh, regardless of who they used to cover the 21-year-old star. It was Verzuh's best game in a Riot jersey, with a game high three goals, including some thunderous skies, and three assists. While Riot's depth and defense were the biggest advantages they had over Riot in the final, the game was Verzuh's coming out party at the club level. The rising college senior was unstoppable downfield, lethal as a thrower, and generally athletically unrivaled on the field offensively and defensively.
Verzuh and company were just as dominant in the second half as they were in the first, grabbing three more breaks. They were broken once, up 12-6, but they never came close to letting Revolution back in the game. Charlie Eide hit Sarah Griffith on the final point of the game, a break for Riot, to end it 15-8.
Riot were as dominant as they'd been all week, and when Griffith made that grab in the endzone it made Riot convincing world champions. Not only did Seattle blitz past their opponents in the final, they did the same in nearly every other game they played all tournament. They played close games against Fury in power pools and Molly Brown in semis, but otherwise Riot were an untouchable force. Team captain Alyssa Weatherford explained how Riot remained unfazed by every challenge the tournament threw them. "One of our major things is just being fearless. Fearlessly supporting each other, fearlessly making mistakes, fearlessly doing the on-field stuff, and just being so prepared that literally anything can happen."
They showed that fearlessness in their play in the final and it's what won them the game in such resounding fashion. On the flip side, Revolution was stunningly overwhelmed. They'd been loose and unshakable all week, but in the final they quickly crumbled. Head coach Mauricio Moore was filled with regret after the game, and acknowledged that his team fell short across the board. "It's a battle. Every one of us just lost the battle. I definitely lost it, in a part of the game I just realized really close to the end, it was my fault, but it was too late."
But in spite of his disappointment with how the final played out, Moore was proud of how Revolution represented themselves. "It's a game, but it's life. We lost this one," he said. "We built a really big thing, I think, in this tournament, for the world. We are trying to build house, and we came here to build a pretty nice house. We just built the base. But we ran out of materials, and we ran out of energy, so now we have a base, so we need to come back next year, and next year, and next year."
Riot was able to fully seize their moment and as a result they are now back-to-back world champions. "[I] just [feel] gratitude for another year with the team and putting it together," said Lovseth. "That was a great week. I thought we played well the whole week and never let up."
---
Too many people tried to watch the game through the glass wall that separated the playing field from the rest of the complex, and many of them had to leave the facility as a result. ↩